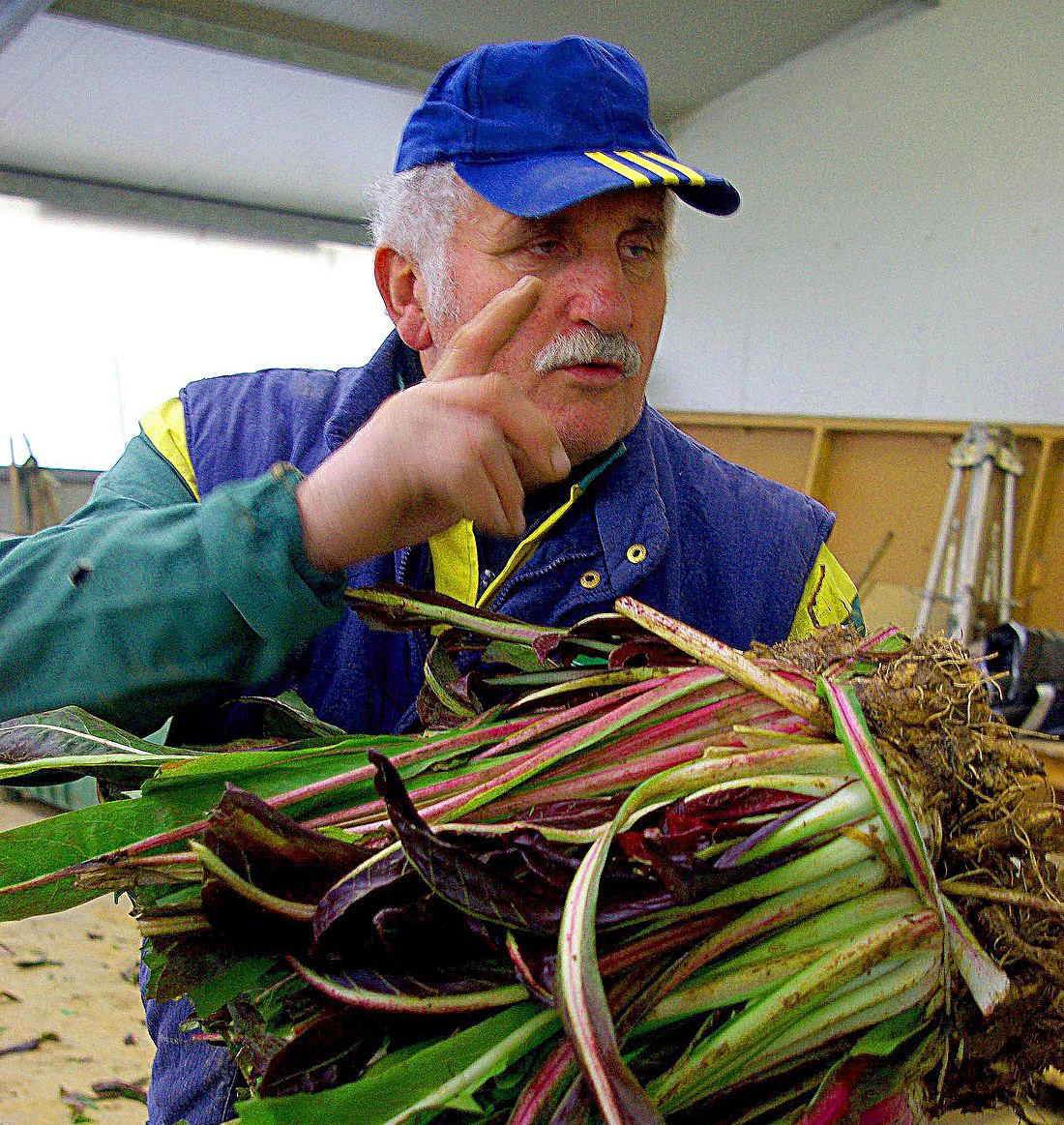 We've written about the beautiful Venetian city of Treviso as a center for Prosecco DOC and the birthplace of tiramisù, but it's also home to one of our favorite winter vegetables. Radicchio Rosso di Treviso IGP is the blanched winter chicory indigenous to the region.
Treviso radicchio generally comes in elongated, slightly pointy, tightly packed heads. But as Lucio Torresan of Park Farm (actually, Azienda Agricola Tenuta al Parco) shows above, field-grown radicchio looks little like the market product. Those big red and green weeds he's holding "are so bitter that even the goats won't eat them."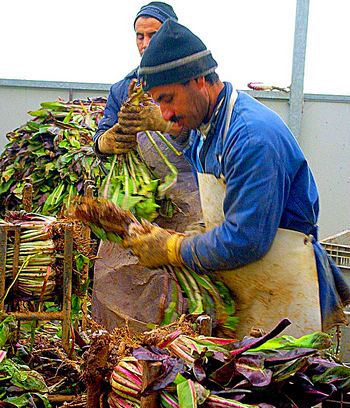 When Torresan and his workers get done with the field-grown plants, though, they will be tender and sweet, with just a slight residual bitterness.
Magic in the dark
"You must force it in cold water in the dark," he explains. "It becomes a completely different vegetable." His barn includes a room-sized refrigerator stacked high with field-harvested radicchio. From October into the winter, his workers pull up the plants by the roots, removing the top half of the leaves with machetes. With part of the root still attached, the plants hold in cold storage for a month before they are replanted in water for forcing.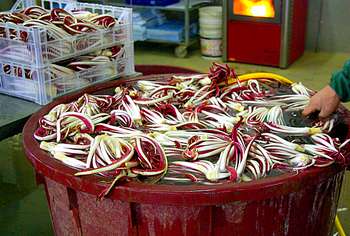 Torresan sets the field-harvested plants into indoor shallow tanks fed with a constant flow of spring water. Under the low light, tender inner leaves begin to grow at the heart of the plant in about 10 days. After another 15-18 days, they are ready to harvest. Workers strip the outer leaves, leaving the tender hearts. The market vegetable has burgundy-red leaves with white ribs. Once the tanks are clear, the process repeats with more plants from the cooler. This system produces delicate radicchio di Treviso until early May.
The farm store at Tenuta al Parco is open daily at Via San Martino 24/B, Morgano (+39 042 273 9028).
Both tasty and lovely
Venetians go wild over Treviso radicchio, preferring it to its softball-shaped cousin, radicchio di Chioggia. (The latter is the bitter variety grown in the U.S.) Restaurateurs serve it in risottos, chopped into a raw salsa for steak tartare, and roasted and drizzled with vinegar. Portions are usually small, since the intense flavor can be sharp. My favorite treatment was duck ravioli with radicchio-chestnut sauce. It's a seasonal specialty at Graspo de Ua, a tiny hotel restaurant in Venice. The restaurant has excelled at traditional Venetian fare since 1860. It's on Calle dei Bombaseri not far from the Rialto bridge (+39 041 520 0150, ristorantealgraspodeua.it/en). The following recipe is adapted from their version, as shown below.
RADICCHIO AND CHESTNUT SAUCE ON RAVIOLI

The traditional Venetian dish uses ravioli stuffed with duck and spinach. Ground pork ravioli or mushroom ravioli can substitute.
Serves 4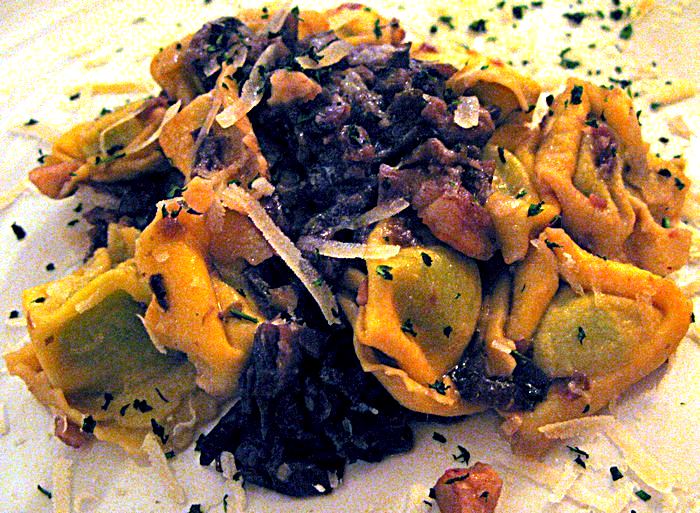 Ingredients
1/2 cup (1 stick) unsalted butter
1 large shallot, minced
4 heads radicchio di Treviso, chopped
1 teaspoon white wine vinegar
1 teaspoon sugar
1 7-ounce can of Italian chestnuts, drained and coarsely chopped
1 teaspoon sea salt
1 lb. fresh ravioli
2 ounces Gran Padano cheese, coarsely shredded
1 small bunch Italian parsley, minced
Directions
Bring large pot of lightly salted water to a boil for pasta.
In 10- to 12-inch frying pan, melt butter over medium heat. Add shallot and cook 2 minutes until soft. Then add radicchio to pan and cook, stirring frequently, until it wilts (7-10 minutes). Add vinegar, sugar, chestnuts, and sea salt and continue to cook until radicchio is almost melting.
Meanwhile, cook ravioli al dente. Drain and keep warm.
Divide ravioli evenly onto four preheated 10-inch plates and top with sauce. Sprinkle with shredded cheese and minced parsley.