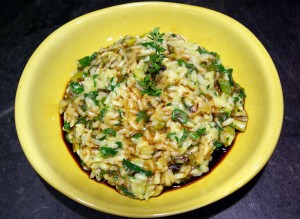 Before we bought a pressure cooker, asparagus risotto was one of the few risottos we would bother to make because it's smoky, luscious, and deeply satisfying. It also pairs nicely with a crisp white wine like a Vermentino from Sardinia. It had become one of our go-to quick dishes, in part because every time we light up the backyard grill, we grill some asparagus, making sure we have enough for dinner and enough left over to chop into salads and to make grilled asparagus risotto. This 2-serving recipe evolved rather radically from the version of non-roasted, non-pressure-cooked asparagus risotto made by Fanny Singer that we found in a 2003 issue of Food & Wine. Cooking time is about 10 minutes—quick food, not fast food.
GRILLED ASPARAGUS RISOTTO

Ingredients
olive oil
1 medium onion, finely diced
1/2 teaspoon dried thyme or 1 teaspoon fresh thyme finely minced
1 cup arborio rice
1/3 cup white wine
1 1/4 cups strong chicken stock
1/2 pound leftover grilled asparagus, cut into 1-inch lengths
2 cups chopped baby spinach leaves (about 3 oz.)
2 oz. Pecorino Romano cheese, finely grated (about 3/4 unpacked cup)
balsamic vinegar for drizzling

Directions
1. In medium-sized pressure cooker, heat oil and sauté onions and thyme until onions are soft. Add rice and stir well to coat.
2. Turn heat up to high and add wine, stirring constantly until nearly absorbed (about 90 seconds).
3. Add chicken stock and stir well. Secure lid on pressure cooker and bring up to pressure. Cook for 7 minutes before quick-cooling pot to remove lid.
4. Place pot back on low heat and stir. (The risotto should be soupy and the rice slightly too firm. Add asparagus and spinach. Stir to mix thoroughly and continue stirring over low heat 90 seconds-2 minutes.
5. Remove from heat and stir in the cheese, blending well..
6. Divide risotto into two 16-20 ounce shallow bowls. Drizzle with balsamic vinegar and serve.