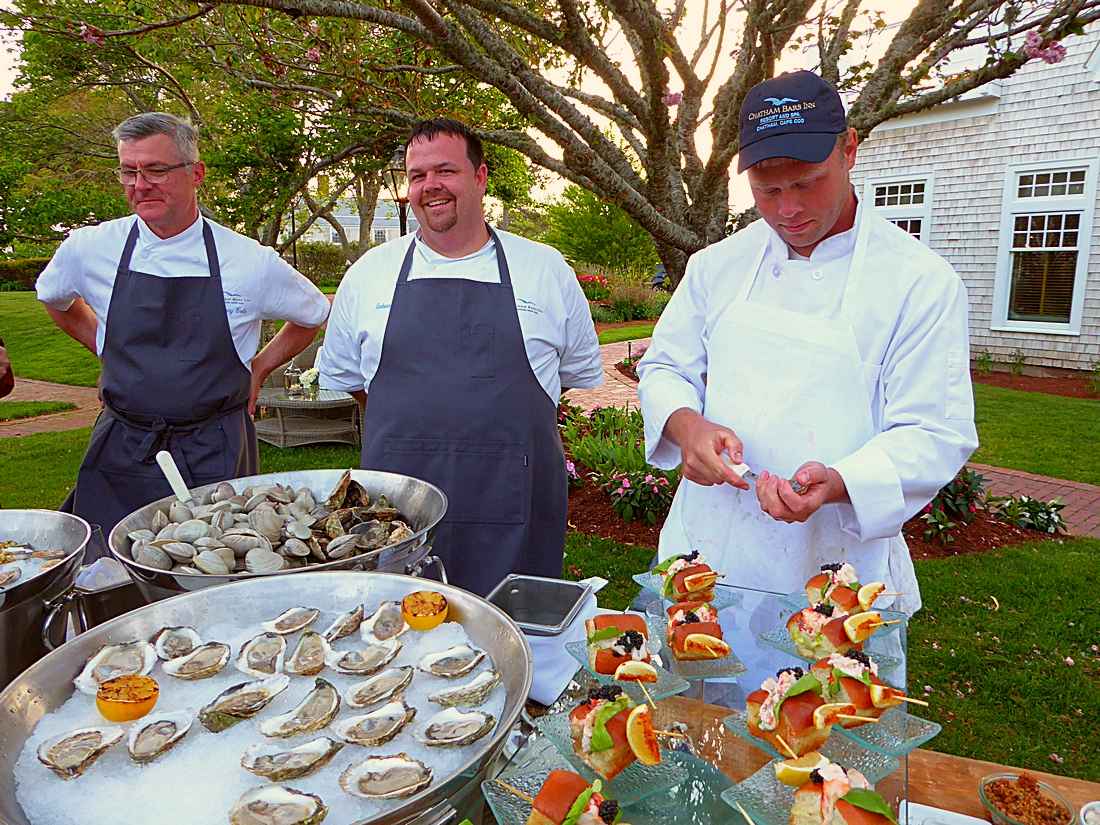 "Think of it as a party on wheels," said Chatham Bars Inn general manager John Speers. He was speaking over cocktails on the inn's wrap-around front porch. "Our kind of gran fondo always incorporates food and wine."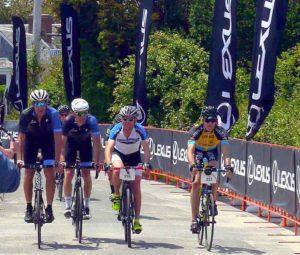 The Lexus Gran Fondo launched in high style on Memorial Day weekend. The cycling and gastronomic events all centered on the historic inn at the elbow of Cape Cod. The luxury car brand has long supported other cycling events. But Lexus pulled out all the stops for this first Gran Fondo under the company name.
A team of Lexus-affiliated professional riders led the 100-mile ride on Saturday from the XV Beacon (xvbeacon.com) hotel in Boston to the Chatham Bars Inn (chathambarsinn.com). Less ambitious riders could opt for 50-mile and 28-mile loops entirely on Cape Cod. Even the shorter rides worked up everyone's appetite.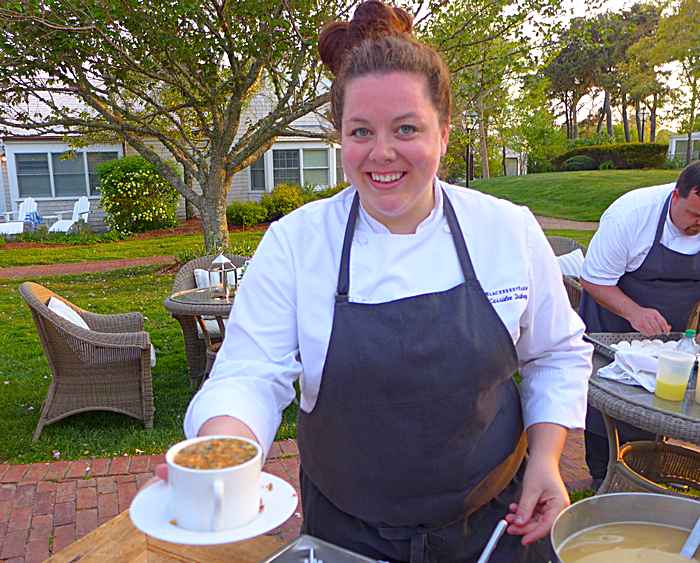 Those who elected to spend Friday night in Chatham rather than Boston enjoyed an outdoor buffet. Lexus Culinary Master Cassidee Dabney, executive chef of Blackberry Farm (www.blackberryfarm.com) in Walland, Tennessee, did a star turn with a turbocharged soup. She served a bowl of smoked chicken broth with a soft boiled egg, grits, and chicken skin cracklings and chopped peanuts on top.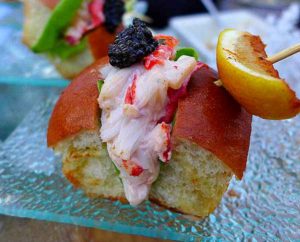 But Cape Cod bounty drove most of the gastronomic events. Executive chef Anthony Cole of the Chatham Bars Inn laid out a seafood extravaganza. In addition to a raw bar of local oysters and littleneck clams, his staff served chopped razor clams in a citrus mignonette. A dab of caviar topped the de rigeur lobster rolls served on heavenly brioche rolls. The inn also served roasted beets with Bluebird, an organic blue cheese made on the nearby island of Martha's Vineyard.
Cole's kitchen also prepared a rock crab risotto with baby fava beans and walnuts. It was a gutsy choice, since risotto for the masses can be hit or miss. While we didn't get the recipe for a 60-serving version, we've come up with this smaller recipe for home consumption. We missed the window for fresh baby fava beans, so we've substituted baby limas.
CRAB RISOTTO WITH WALNUT PISTOU AND BABY LIMAS
Serves 4 as a appetizer course
Pistou
3/4 cup Italian parsley leaves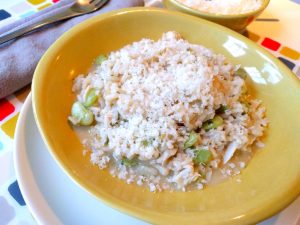 1/2 cup walnut pieces
1/4 teaspoon sea salt
zest of one lemon
juice of one lemon
1/4 cup olive oil
Process parsley and walnuts in small food processor until finely chopped. Add salt, lemon zest, and lemon juice. Purée. Add olive oil and purée until smooth. Reserve for later step in risotto.
Risotto
1 tablespoon olive oil
1 shallot, minced
1 cup arborio rice
1/4 cup white wine
2 cups seafood stock
3/4 cup crab meat
3/4 cup baby lima beans, steamed until just tender
1/4 cup grated Parmigiano Reggiano (plus more for table)
In 2-3 quart pressure cooker, heat olive oil over medium heat. Add minced shallot and cook until translucent. Add rice and stir until well-coated with oil. Raise heat to high and add white wine. Stir to keep from burning until wine is absorbed. Add 1 1/4 cups of stock, stirring well. When pot begins to simmer, tighten lid and cook on medium pressure for exactly 8 minutes, turning down heat to keep pressure steady.
Remove from heat and run pot under cold water to decompress. Remove lid and place pot back on low heat. Stir in crab, precooked lima beans, and a little remaining stock. Cook for 1 minute and test rice for doneness. (It should be al dente in the middle but rather creamy.) Add more stock as needed. When rice is desired texture, stir in pistou and continue to heat. Add grated cheese and stir to incorporate. Serve in bowls and pass more grated cheese.