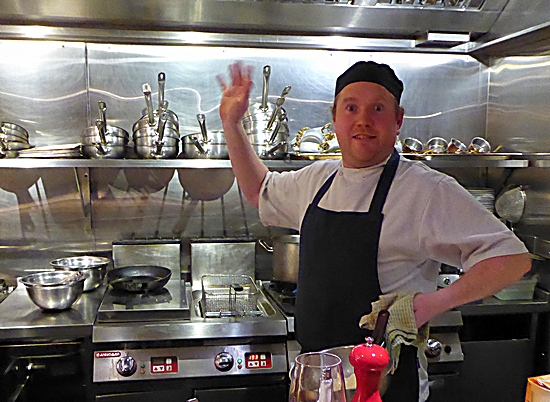 Chef and restaurateur Niall McKenna bet on Belfast's revival and won. After opening the posh James Street South in 2003, he got hammered with the economic downturn of 2008. So he transformed the upscale dining venue into a great-value steakhouse, The Bar and Grill. As Belfast began to climb out of the economic doldrums, he followed up in October 2014 with Hadskis (33 Donegall St., 28 9032 5444, hadskis.co.uk) in the suddenly desirable Cathedral Quarter. Once again, he hit the sweet spot of serving the kind of food people want to eat at a price they're happy to pay.
You might have to do a little looking to find Hadskis. It's off Donegall Street in Commercial Court, one of those alleyway cul-de-sacs in the Cathedral Quarter warren. The name honors 18th century iron foundry founder Stewart Hadskis, who made pots and pans. Hadskis loved to make them, and chef McKenna loves to use them.
Simplicity made manifest

It's a refreshingly nonsense-free place. Cooks work in an open kitchen near the entrance. They have a single line of two flat-top grills, two stoves with big open gas-fired hobs, a couple of ovens, and a deep fryer that mostly churns out chips to accompany the protein-centric plates. The room is long and narrow, which means that no table has more than one or two neighboring tables.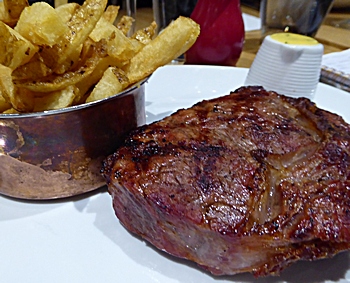 Like The Bar and Grill, Hadskis is known for grilled beef, which McKenna buys from Hannan Meats (hannanmeats.com). Top chefs affectionately call Peter Hannan the god of meat. He sources the animals from about 120 Irish farms, most in Northern Ireland, and dry-ages the beef in cold rooms lined with slabs of Himalayan salt. It sounds all hocus-pocus, but it's not. The animals are pasture-fed and humanely treated, and the meat is packed with flavor. The Irish do love their beef—maybe even more than the English—and Hannan provides truly great products.
Hadskis handles most of its meat simply by cooking steaks and chops on a charcoal grill. The grilled ribeye shown above is accompanied by a bowl of fried potatoes and a small pot of Béarnaise sauce. The latter must be included so the diner doesn't feel shorted on cholesterol.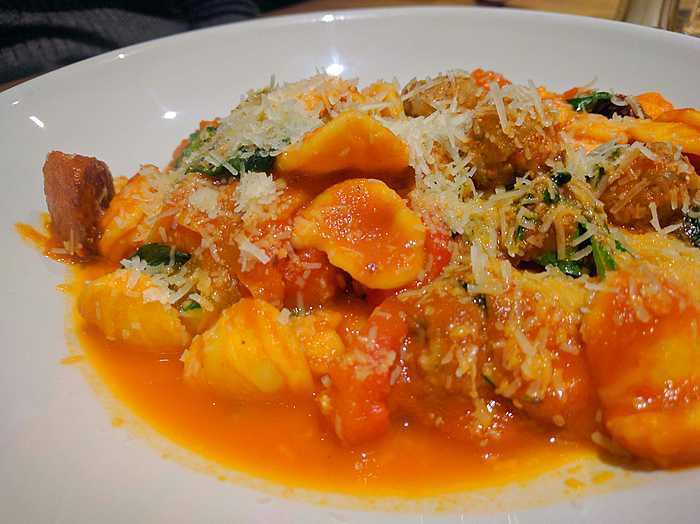 Hannan meats find their way into more humble dishes as well. "Hannan's spiced meatballs" is a gorgeous plate with orecchiete pasta, a harissa-spiced tomato sugo, and grated parmesan. Neither Italian nor North African nor Irish, it works as a warming combination of all three. The meatballs, naturally, are the star.
Equal time for fish

The kitchen also treats fish to searing heat. The menu almost always features two or three roasted fish options.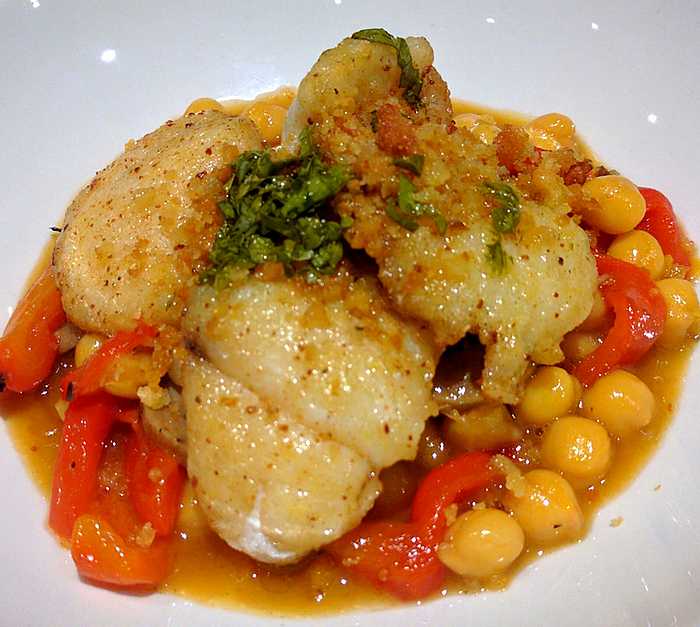 When we visited they included bream encrusted in herbs, pollock roasted in a spicy crust with fregola (known better to most Americans as Israeli couscous), and roasted stone bass with braised fennel and crab orzo. Usually served as a starter, an entrée portion of monkfish and spiced sausage with chickpeas (above left) right was a nicely warming dish on a cool night. Vaguely Moroccan in the flavor profile, it was also a nice way to highlight the local catch.
What was perhaps most striking about dining at Hadskis was how local all the products were. Sure, the menu says in fine print "We source our ingredients from local suppliers." But everyone says that and few follow through so thoroughly. There's an economic method to the locavore obsession, too. The pound sterling has taken a beating since the Brexit vote, but McKenna doesn't build his menu on items he has to buy in euros or dollars. As a result, his costs stay constant even as the pound slides.