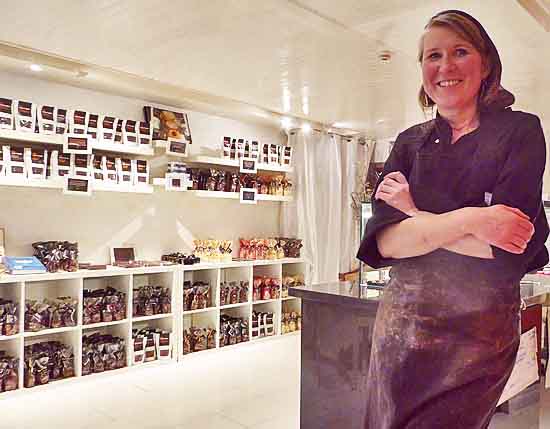 Deirdre McCanny had never made a chocolate in her life when she decided to leave her job in international sales and marketing to start a chocolate shop in Belfast. From modest beginnings in her apartment, she moved into her cozy shop with a big workroom in back in December 2009. It's just a few steps down from the sidewalk on the corner of Donegall Square East, literally around the corner from Belfast City Hall. It has become, as Deirdre calls it, "a chocolate oasis in the city center." The first time we visited, a regular customer had just stopped in for a cup of hot chocolate and a cherry-sencha truffle as a treat at the end of the work day. (The tart cherry and herbaceous green tea are a perfect match.)
Deirdre calls her shop Co Couture in homage to Coco Chanel. "Whenever you think of chocolate, think Coco Chanel," she explains. "Less is more in chocolate as well as in fashion. The fewer the ingredients, the better."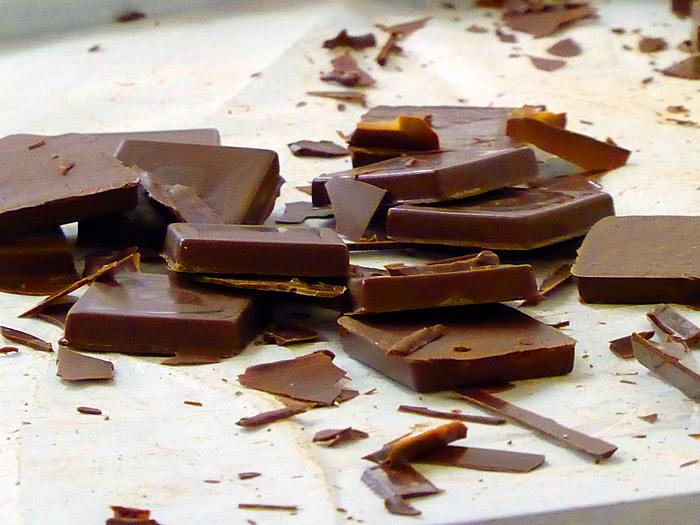 If you are going to limit your ingredients, they had better be really good, she reasoned. "A lot of chocolatiers were playing in the middle ground," Deirdre says. "I decided to go right to the top." She sources her deeply flavorful organic chocolate from Madagascar, where the cacao trees are grown in the shade of a rain forest and the beans are transformed into chocolate. "It's a sustainable economic model," she says, "fairer than fair trade." For other ingredients, she works with local producers.
But good product is not enough. Deirdre trained as a chef before taking another career path and is flexing those culinary muscles again. "I have quite a classic palate," she says. "I try to keep things classic." She learned the basics of candymaking by training in Barcelona with renowned chocolatier Ramon Morató.
Exquisite tastes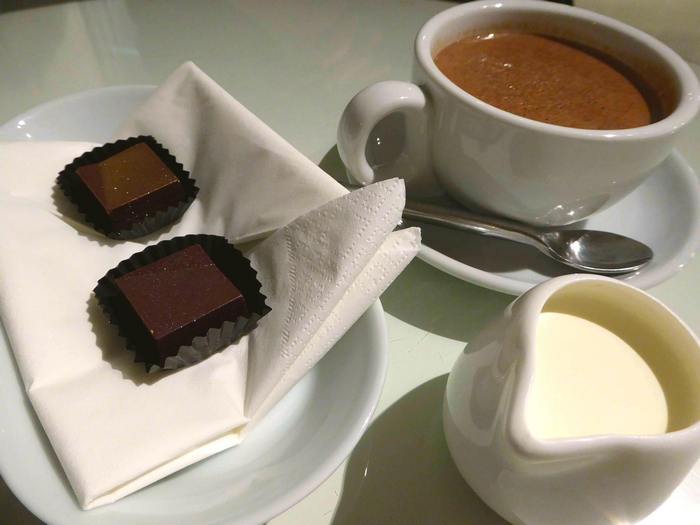 The proof, of course, is in the pudding—or in this case, the cup. Nothing seemed more appealing to us than settling in at one of the shop's tiny tables for cups of hot chocolate—accompanied by small truffles. The hot chocolate (also available as a mix to take home) was so rich and thick that we actually found ourselves thinning it a bit with milk from a small pitcher.
"Hot chocolate," says Deirdre, "is like a hug for the soul."
She is most proud of the ganache fillings that she has perfected for her truffles. She was one of the first in the United Kingdom to work with water-based ganaches. Not only are they dairy-free, they lack any of the additives like butter, cream, or lecithin that would coat the palate and mask the pure chocolate flavor. Her ganaches are not technically vegan, as she sweetens with honey rather than refined sugars.
Deirdre uses locally distilled Bushmills Black Bush whiskey for her Irish Whiskey and Irish Coffee truffles. The pure chocolate notes melt away to reveal the high sweet whiskey flavor harmonized with the caramel treacle of the oloroso sherry casks where the spirit was aged. The Irish coffee variant adds the round richness of dark roasted coffee beans for an additional complexity. At the other end of the taste spectrum, her Fresh Mint and Honey Truffle has an airy delicacy, like walking through a patch of blooming summer mint surrounded by the buzz of honeybees. No wonder it won a gold medal from the British Academy of Chocolate.
"I am a chocolate addict," says Deirdre. "If one must work, working with chocolate is one of the heavens on earth."
Co Couture, 7 Chichester Street, Belfast, 078 8889 9647, cocouture.co.uk