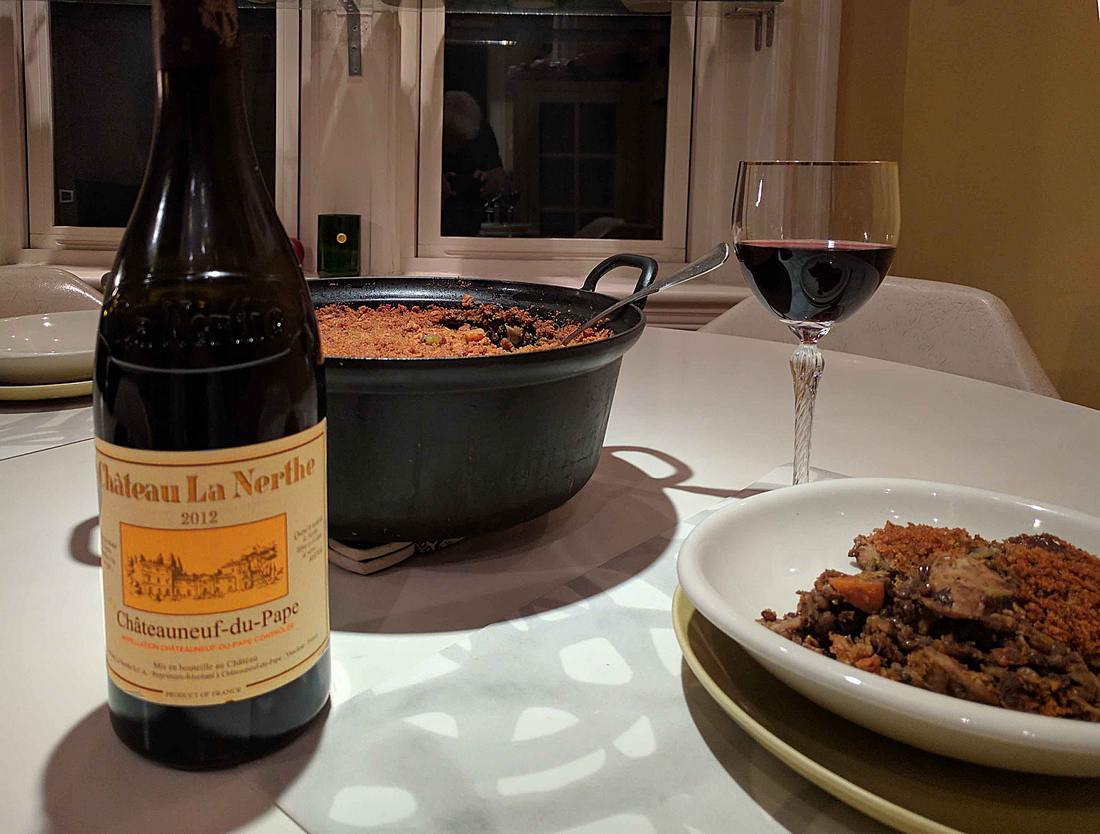 Châteauneuf-du-Pape might be the ultimate late autumn comfort wine. At its best, it's rich, nuanced, and warm. It has a gentle power that responds to those hormones that surge when the days get shorter. It also plays very well with food.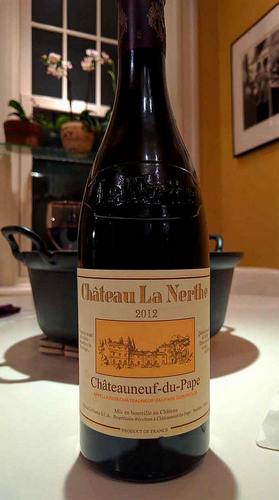 The 2012 Château La Nerthe is the very model of what Hugh Johnson once called "a glowing, roast-chestnut warmth" characteristic of good Châteauneuf-du-Pape.
Admittedly, good wines from this southernmost portion of the Rhone cost enough to be out of our league for everyday drinking. But this bottle comes in at a reasonable $65 suggested retail price—closer to $55 at discount wine shops. Just entering its drinking years (now through 2023, we're told), it blossoms when double-decanted and served at around 60° F. We opened the bottle two hours ahead of dinner and found it tannic and tart. Placed back in the bottle after decanting and rested on a cool windowsill, it was spectacular with a classic cool-weather cassoulet.
Great Châteauneuf-du-Pape in tough year
Châteauneuf-du-Pape had a difficult year in 2012. A severe winter froze a lot of buds and some entire vines. Grenache was afflicted with coulure (a tendency not to develop grapes after flowering). Plus the region had a very dry summer. The 225 acres of vineyards at Château La Nerthe weathered these vicissitudes better than most.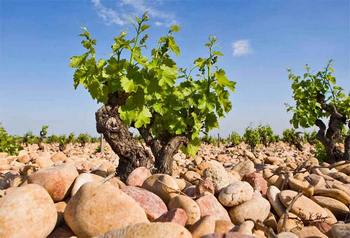 Certified organic since 1998, the vineyards depend on a thick layer of glacial cobbles (galettes) that seal in moisture and radiate heat up to the vines at night (see photo at right, courtesy of Château La Nerthe). The vineyards were harvested on schedule in late August. The vintage ended up with a blend of 44% Grenache Noir, 37% Syrah, 14% Mourvedre, and 5% Cinsault. That's about a quarter less Grenache than usual for Château La Nerthe, but Grenache still dominates the finished wine. The nose is rich with blackberries, dark cherries, and aromatic spices. Hints of oak remain on the palate, and just a hint of leathery Syrah comes through.
It was the ideal wine for the dank weather that followed Thanksgiving in New England. Low turkey prices inspired the following cassoulet using Puy lentils, roasted garlic, and charcoal-roasted turkey thighs in place of duck confit.
POST-THANKSGIVING SMOKED TURKEY CASSOULET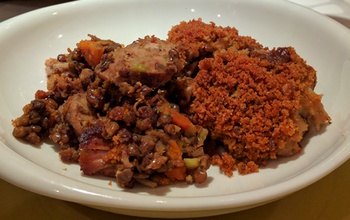 Turkey is ridiculously cheap in the weeks running up to Thanksgiving. We butcher the birds, saving the breasts to brine and roast separately. The backs and wings go into stock. We slow-roast the thighs and legs in a charcoal grill to produce the next best thing to duck confit without the fat. Rub the legs with 2 teaspoons ras al hanout and 1 teaspoon sea salt and refrigerate in a plastic bag overnight. Add 2 tablespoons olive oil to the bag and rub well to coat. Roast about 15 minutes per side in closed but vented Weber grill with fire built on the other side of the grill. This produces smoky, overcooked turkey. Let cool and strip the meat. It should yield 12-14 oz. of stringy, smoky pulled turkey.
8 servings
Ingredients
4 ounces smoky thick sliced bacon, cut in 1-inch strips
12 ounces chicken garlic sausage
1 head of garlic
white wine to deglaze pan
meat from charcoal-roasted turkey legs
2 tablespoons olive oil
2 medium onions, diced
3 medium carrots, peeled, diced
3 celery stalks, diced
sea salt and freshly ground pepper
1/4 teaspoon cayenne pepper
2 teaspoons coarsely chopped fresh sage
2 teaspoons coarsely chopped fresh thyme
1 bay leaf
2 cups French green lentils (lentilles du Puy)
8 cups chicken or turkey broth, preferably homemade
3 cups breadcrumbs made from day-old white bread (or panko, if necessary)
1/4 cup (1/2 stick) butter, melted, or equal amount of olive oil
1 tablespoon chopped flat-leaf parsley
Directions
Set oven at 350ºF. Place half the bacon strips, sausages, and whole head of garlic in heavy-bottomed roasting pan or 12-inch cast iron skillet. Roast 25-30 minutes, turning sausages at least once, until sausages are browned, bacon has rendered its fat, and garlic is roasted through. Remove sausages and bacon to a plate to cool. Place garlic on separate plate to cool. When garlic is cool, cut head in half horizontally and squeeze out roasted garlic for use later with vegetables.
Drain fat from roasting pan into a Dutch oven. Deglaze pan with wine and reserve liquid.
Add remaining bacon to Dutch oven and heat over medium-low until bacon begins to color but is not yet crisp. Remove bacon to plate with sausages and other bacon.
Turn up heat in Dutch oven and add turkey meat. Cook, stirring often, to crisp up edges. Remove from pan and reserve.
Add olive oil to Dutch oven and add onion, carrots, and celery. Reduce heat to medium low. Cook, stirring occasionally, until the onions start to become translucent and vegetables are al dente. Season with salt and pepper to taste. Add cayenne, fresh herbs, and the mushy garlic squeezed from roasted head. Cook, stirring, about 1 minute. Remove from pot and reserve.
Turn oven up to 375ºF.
Deglaze Dutch oven with a little chicken stock. Then add lentils and bay leaf. Add remaining stock. Bring to a boil, then reduce to a simmer and cover. Cook about 15 minutes, until lentils are tender but not mushy. Remove bay leaf. Stir in vegetable mixture and turkey. Cut cooked sausages into 1/2 inch slices and stir in. Add reserved deglazing liquid.
Assemble and finish
At this point you can transfer everything into a 4 quart casserole, if desired, but the Dutch oven will work fine as well. Mix bread crumbs with melted butter and spread evenly over surface. Place lid on Dutch oven or casserole (or use aluminum foil) and bake in oven about 30 minutes. Remove lid or foil and continue cooking another 20 minutes until breadcrumb topping has turned dark gold.
Remove from oven and sprinkle with chopped parsley. Let rest about 15 minutes before serving with a green salad topped with pear slices and dressed with a mustardy, garlicky vinaigrette.