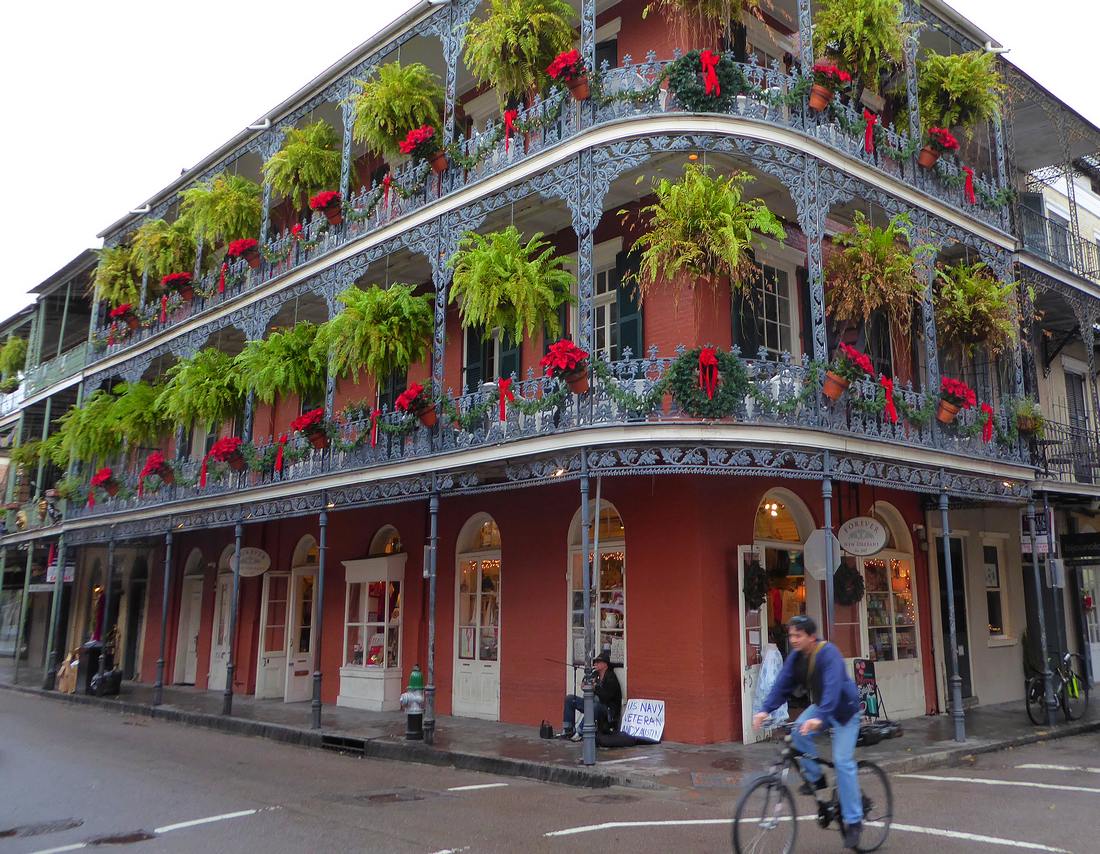 As a New Englander, I always secretly pitied people who had to celebrate Christmas in a warm climate. But after one day in New Orleans, I realized the error of my ways. Even in December, potted trees and ferns flourish on wrought iron balconies and poinsettias and camellias bloom profusely. All it takes are a few red bows and some twinkling white lights to deck the city for the holidays.
With decorating out of the way, New Orleanians can spend more time at the table. Great food is a city birthright and I can't think of another place where you can eat better—or at a more reasonable price—than New Orleans at Christmas.
Until the Civil War, Creole families enjoyed lavish feasts after Mass on Christmas Eve and again on New Year's Eve. Today's chefs have improved on that tradition. Now more than 50 restaurants—including many of the city's best—offer four-course, fixed-price Reveillon menus throughout the holiday season. (See holiday.neworleansonline.com for a full list.) The term "Reveillon" refers to a late night meal. But today's diners don't have to wait until after midnight to feast. Moreover, they can choose between contemporary cooking or the city's signature Creole cuisine, which blends French technique, African tradition, and Spanish spices. Reveillon menus are almost evenly divided between the two.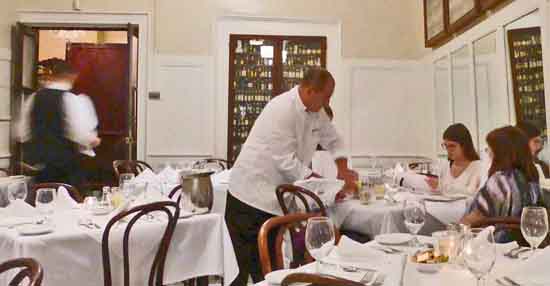 Celebrate at venerable Tujague's
For tradition, it's hard to beat Tujague's (823 Decatur Street, 504-525-8676, www.tujaguesrestaurant.com). Founded in 1856 by immigrants from Bordeaux, Tujague's is the second oldest restaurant in the city. The long wooden bar in the front room was brought from France that same year. The bar is a lively place for a drink, but the dining room with historic photos on the walls is a better choice for a leisurely meal. The Reveillon menu hits on many of the city's classics. Fresh local seafood finds its way into bacon-wrapped oysters en brochette or crawfish and goat cheese crepes. One of the entree choices is Chicken Pontalba, a city favorite featuring a chicken breast on a bed of crunchy fried potato cubes, ham, and mushrooms—all topped with Béarnaise sauce, that piquant daughter of Hollandaise.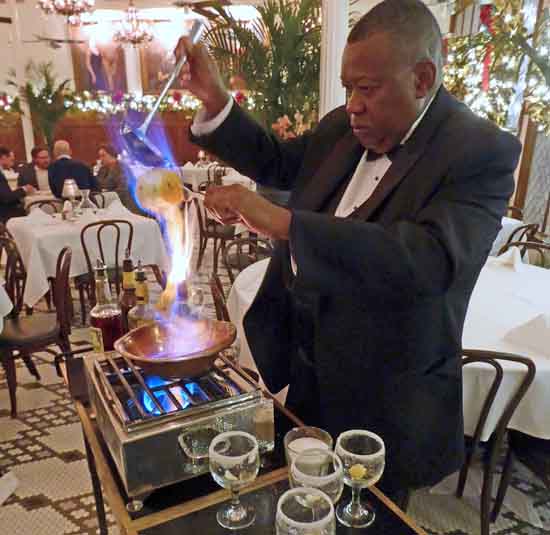 Drink to the season at Arnaud's
Tujague's was into its seventh decade when Arnaud's (813 Bienville Street, 504-523-5433, www.arnaudsrestaurant.com) was founded in 1918 by a French wine salesman. An attention to fine libations has always been part of the Arnaud's experience. The best way to start a Reveillon dinner is with a French 75 cocktail: cognac and lemon juice topped with champagne. Menu choices usually include a version of Arnaud's signature dish of shrimp in remoulade sauce. (Made with mayonnaise, Creole mustard, paprika, chopped pickle, and a slew of spices, Arnaud's remoulade is the standard by which all Creole versions of the French sauce are measured.) The most satisfying and dramatic way to end a meal is with a cup of Café Brûlot. The mix of black coffee, lemon and orange rinds, cinnamon sticks, and orange Curaçao is prepared tableside and flamed with brandy (above).
Broussard's strikes French pose
Broussard's (819 Conti Street, 504-581-3866, broussards.com) was founded in 1920 by chef Joseph Broussard, who merged his classical Parisian training with the flavors and flair of Creole cuisine. Still located in a mansion owned by his wife's family, Broussard's is formal enough to make a meal feel special and casual enough to make diners relax. The Reveillon menu includes such classics as Creole Turtle Soup—a rich, almost gumbo-like soup always topped with sherry—and such celebratory dishes as Filet Wellington accompanied by blue cheese puff pastry and wild mushrooms. Broussard's also served my favorite dessert of my Reveillon dining: peppermint stick panna cotta topped with chocolate ganache, a few raspberries and a dab of whipped cream. (Next post will have a recipe!)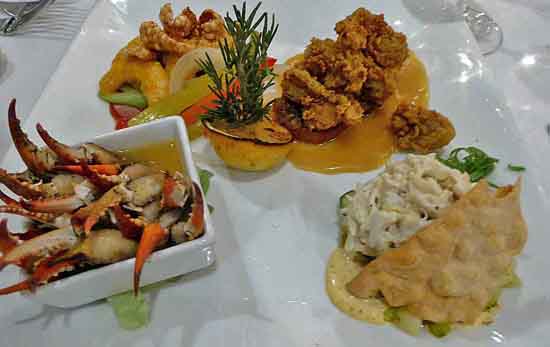 Tableau makes holiday stage set
The latest venture from Dickie Brennan (a scion of New Orleans' dominant restaurant family) is Tableau (616 St. Peter Street, 504-934-3463, www.tableaufrenchquarter.com). Brennan purchased part of the Jackson Square property of the historic Le Petit Theatre (www.lepetittheatre.com), renovated the building and created a contemporary restaurant with an open kitchen in the main dining room. The renovated theater space presents all manner of performing events. Tableau is a great spot for a pre-theater dinner or for dining on a balcony overlooking Jackson Square on a warm evening. It's also a perfect place to enjoy a contemporary interpretation of time-honored Creole cuisine.
Chef John Martin makes the most of local products. His rich Gulf Oyster Stew, which gets a sassy anise hit from Pernod, comes topped with a Southern black pepper biscuit. His mixed grill of Gulf pompano and Gulf shrimp (with a side of roasted root vegetables) pops to life on a base of citrus gastrique and satsuma gazpacho.
The inventive pairings certainly give diners a lot to talk about. In fact, wherever you choose to eat, expect to be drawn into conversation with diners at neighboring tables. The holiday season only enhances New Orleanians' gregarious nature and the Reveillon menus are such a good deal that many locals dine out as often as possible in December.