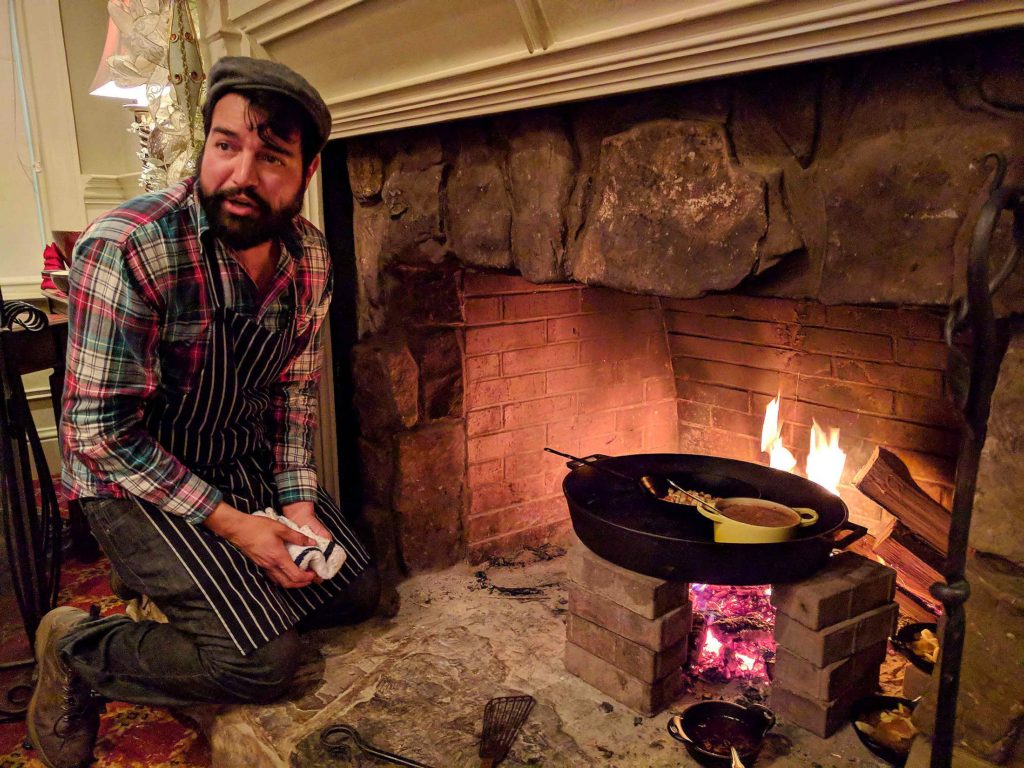 About 30 years ago, a farmhouse from the Rice Plantation in nearby Rome, Georgia, was dismantled and moved to the Barnsley estate. Carefully rebuilt and restored, the Rice House is now the setting for Friday and Saturday night dinners at the Barnsley Resort (597 Barnsley Gardens Road, Adairsville, Georgia, 877-773-2447, barnsleyresort.com). The meals celebrate the rich tradition of Southern cooking. "Southern cuisine is much more than fried chicken and lots of butter," says Aaron Stiles, the resort's director of food and beverage. "You never hear people brag about discovering this really great Northern restaurant."
With its stone fireplace big enough for some hearth cooking, the Rice House feels a little bit like stepping back into a Southern grandmother's kitchen. And that's just as it should be. "We consider our food modern farmhouse," Stiles says. "We pay homage to our Southern roots, but use modern technique."
A picture may be worth a thousand words, but a taste is worth even more. A meal served in the Rice House by chef Evan Babb and sous chef Hugo Cifuentes (above) told a rich tale in three courses. The dishes, by the way, may have started in a modern kitchen, but they were finished in a big cast iron skillet in the fireplace.
Cornbread, first and foremost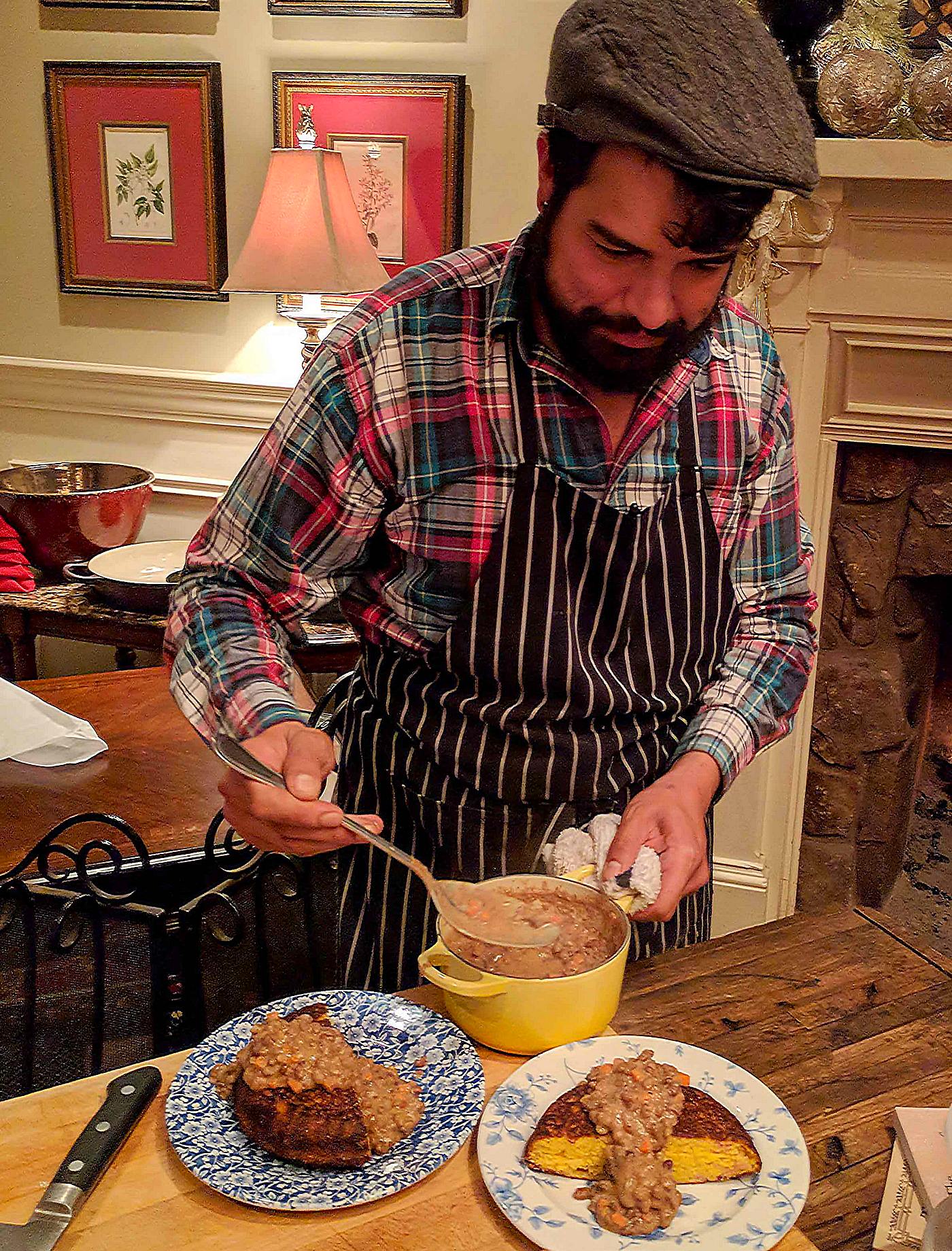 We began with cornbread and peas, a dish that many Southern grandmothers probably do have in their repertoire. But Babb and Cifuentes elevated the homey staple. They first cooked red peas from South Carolina's sea islands (sourced from Anson Mills in Columbia, South Carolina) in a smoked hamhock broth. Then they made a soupy potage with the peas and "preacher ham," a smoked country ham with a lower salt content because it wasn't hung to age. The peas and ham "gravy" was spooned over an all-cornmeal cornbread cooked in a small cast iron skillet.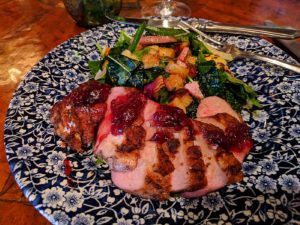 Most grandmothers probably don't have the second course in their recipe files, but it was nonetheless a taste of the South. Sliced sorghum-lacquered duck breast spiced with cardamom and cinnamon was served with a roasted winter vegetable salad with a warm duck vinaigrette. Babb and Cifuentes treated crisp morsels of butternut squash and white yams as croutons.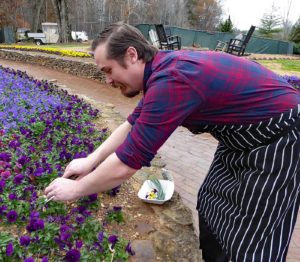 Babb (right) loves to forage on the 3,300-acre Barnsley estate. Even in early winter he found dandelion greens and wild onion to add to the salad, along with pansies harvested from the decorative border at the Rice House. Cifuentes, who is also an organic and biodynamic farmer, grew the lettuce. He will also be tending the kitchen garden under construction.

Another taste of sorghum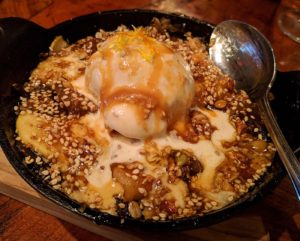 The meal concluded with Appalachia Apple Crumble, a twist on apple crisp, one of my favorite New England desserts. But I'm quite certain no chef in New England would think to top the dish with burnt sugar bourbon ice cream and salted sorghum caramel. As a Yankee raised on maple syrup, I was pleasantly surprised by the slight sourness that sorghum syrup gave the dish. Sweet, sour, and salt—how could you go wrong!
"It's all about region and simplicity," said Cifuentes, "getting back to the roots of old Southern cooking." Babb and Cifuentes generously shared the recipe for Cornbread and Peas.

PREACHER HAM CORNBREAD & SEA ISLAND PEA GRAVY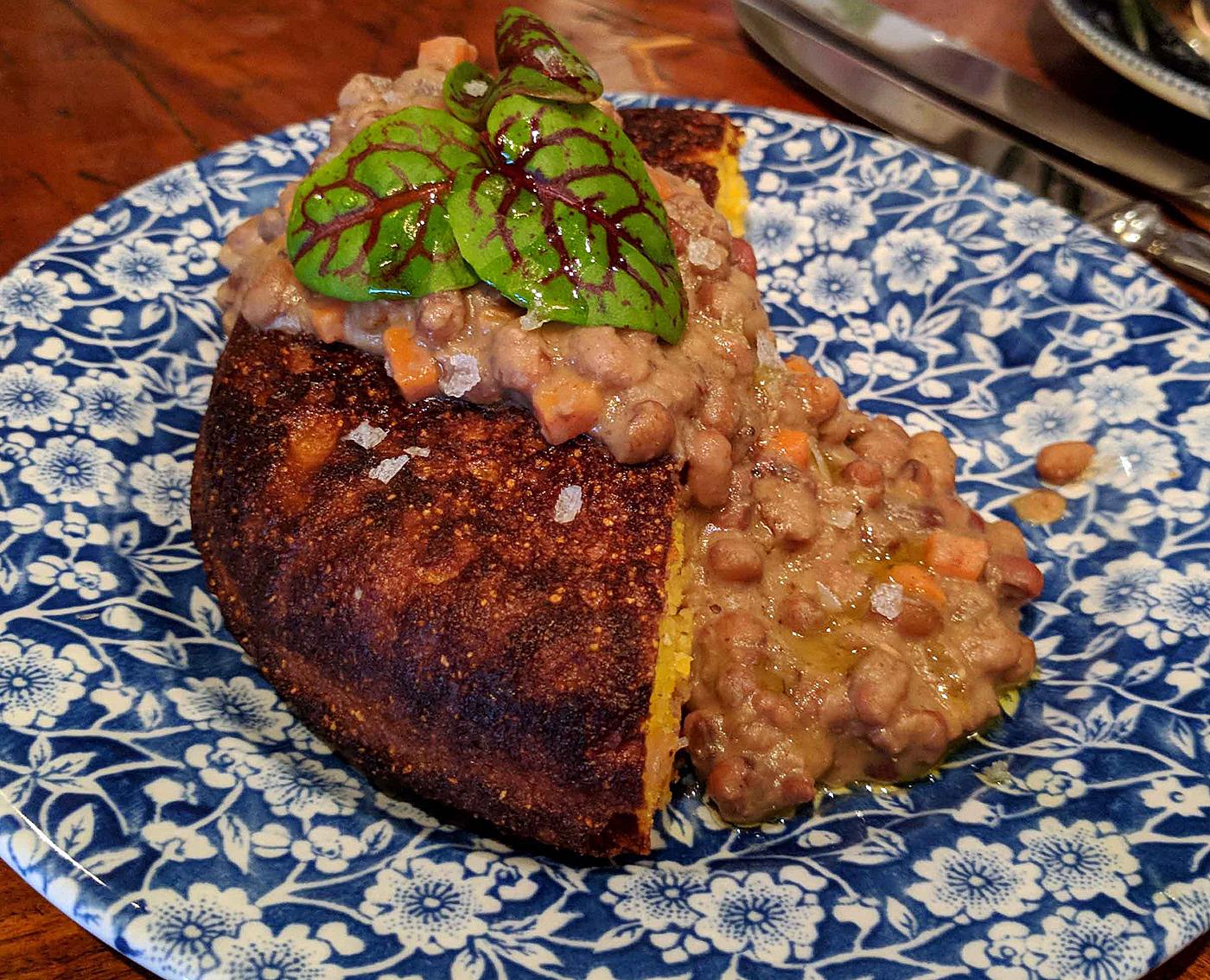 Sea Island red peas are a diminutive, ruddy strain of field peas that originates in Africa but is still grown as a heritage crop by the Gullah inhabitants of the Carolina and Georgia Sea Islands. For an authentic flavor, order them from Anson Mills. Preacher ham is hard to find outside the South, but a nice corncob-smoked Vermont ham makes a good substitute.
Serves 2
Preacher ham skillet cornbread
Ingredients
12 oz. (2 1/2 cups) Anson Mills yellow cornmeal
1 1/2 teaspoons baking powder
1 teaspoon salt
2 oz. (4 tablespoons) unsalted butter
1 1/2 cups whole milk, room temp
1 large egg, beaten, room temp
1/2 cup chopped BBQ "preacher" ham (andouille sausage is another great substitute)
4 tablespoons local raw honey
2 teaspoons butter, bacon fat, or duck fat for skillet
Directions
Set oven to 425°F. Heat a seasoned 8-inch cast iron skillet over medium heat. While skillet heats, whisk together cornmeal, baking powder, and salt in a large bowl.
Melt butter in a medium saucepan; add milk and warm slightly. Remove pan from heat. Ladle some of the milk mixture into the beaten egg and whisk to combine. Pour egg mixture into saucepan and whisk to combine.
Pour the wet ingredients into the dry and whisk lightly until smooth. The batter will be fairly thin. Fold in ham and honey. Add butter or fat to skillet then pour in batter, which should sizzle. Bake in oven for 15 minutes or until a toothpick inserted in middle comes out clean.
Sea island pea gravy Ingredients
3 smoked ham hocks
Half bunch celery, washed and trimmed
2-3 +1 large carrots, peeled
3 large yellow onions, peeled and quartered
3 bay leaves
2-3 sprigs of thyme
1 tablespoon whole peppercorns
2 cups Anson Mills Sea Island red peas
Salt, pepper and vinegar (white wine, apple cider or pepper) to taste
Directions
Make ham broth by simmering ham hocks, celery, 2-3 carrots cut into 4 large pieces, quartered onions, bay leaves, thyme, and peppercorns for an hour.
While the broth simmers, cut remaining carrot into small dice and set aside.
Remove vegetables and continue simmering ham hocks for another hour or two.
Strain stock and add peas. Return to heat. After 15 minutes, add the diced carrots. Simmer peas until soft but not falling apart—20-30 minutes. Strain and cool.
Reduce pea cooking liquid (potlicker) by a quarter.
Place a quarter of the peas and blend in a blender with enough cooking liquid to create a "gravy." Place strained peas and pea "gravy" into a medium saucepan. Adjust consistency with cooking liquid and season to taste with salt, pepper, and vinegar.
Invert corn bread onto cutting board and cut into wedges. Place a wedge of cornbread on plate and spoon pea gravy over it.