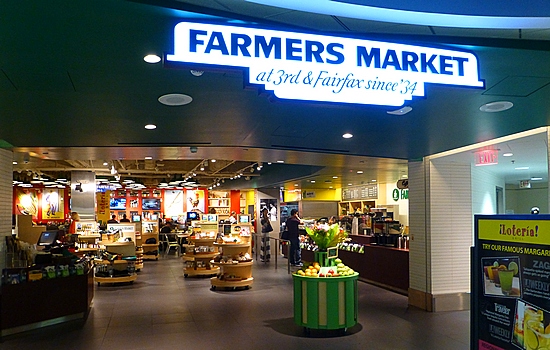 Operating at the corner of Third and Fairfax since 1934, the Original Farmers Market is a Los Angeles landmark that celebrates great California fruits and vegetables as well as good cooking from around the world. Now a little piece of this city treasure has been transplanted to Los Angeles International Airport (LAX). Opened in June, Farmers Market at Terminal 5 includes such market stalwarts as Bennett's Ice Cream (look for the chocolate-covered frozen banana), Magee's House of Nuts (perfect for munching on the plane), and the Dog Bakery (in case you need a treat for Fido waiting at home).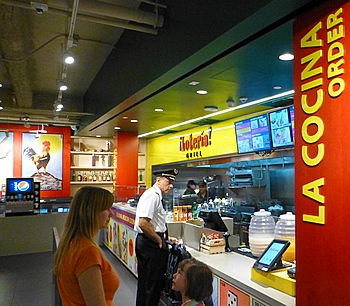 Two spots are stand-outs for a satisfying meal before a flight. At Monsieur Marcel Pain Vin et Fromage (www.mrmarcel.com), you can select some great cheese and bread for a quick snack or order a bowl of French onion soup or a wedge of quiche Lorraine. Much more in tune with southern California's Mexican heritage, Lotería! Grill (loteriagrill.com) serves lightened versions of regional Mexican cuisine. The green tomatillo enchiladas and shredded beef tacos are among the most popular with airport diners. But for my money, nothing beats a bowl of chef Jimmy Shaw's purée of tortilla soup. The creamy, slightly spicy soup is topped with corn tortilla strips, sliced avocado, queso fresco, and toasted ancho chile. It's the ultimate comfort food before a long flight back to the East Coast.
I didn't want to wait until my next trip to Los Angeles to enjoy another bowl, so I developed this recipe to try to approximate the version served at Lotería! It's inspired by the chicken tortilla soup I've been making for years from a Consumer Reports cookbook—crossed with Dean Fearing's famed puréed tortilla soup that he reveals in his Texas Food Bible that came out last April. I have lightened up the recipe by baking the tortilla strips rather than frying them.
By the way, if you're going to be in Terminal 7 at LAX, see this post on where to eat.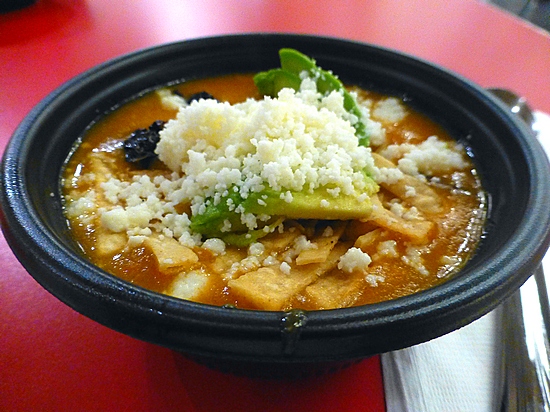 PURÉED TORTILLA SOUP
Serves 6
Ingredients
12 corn tortillas (6-inch), halved and cut crosswise into 1/2-inch strips
1 tablespoon light, neutral-flavored oil (sunflower, peanut, or canola)
2 medium onions, puréed in the blender or a food processor
6 whole large garlic cloves
1 tablespoon ground ancho chile
2 teaspoons ground cumin
1/2 teaspoon dried oregano
1 bay leaf
6 cups chicken stock
juice of a small lime
8-oz. can tomato sauce
1 tsp. sugar (optional)
salt and pepper to taste
For garnish:
fresh avocado, peeled and thinly sliced
queso fresco, crumbled (cow's milk feta cheese makes a fine substitute)
Directions
Preheat oven to 350°F. Arrange tortilla strips in single layer on cooling racks and place in oven to bake until lightly browned and crisp (about 5 minutes). Reserve.
In large pot, heat oil over medium heat. Add onion and garlic cloves and cook until onion turns a golden brown. Stir in chile, cumin, oregano, and bay leaf. Add chicken stock, lime, tomato sauce, and sugar. Bring to a boil and reduce to a simmer. Cover and cook 20 minutes.
Taste soup and add salt and/or pepper, if needed. Add about one-third of toasted tortilla strips and cook at a simmer for 10 minutes. Remove bay leaf and purée soup in batches in a blender or by using an immersion blender. It should be the texture of light cream. If it is too thin, add more tortilla strips, cook, and purée again. If too thick, add a little chicken stock.
To serve, ladle into bowls and top with queso fresco, chopped avocado, and tortilla chips.