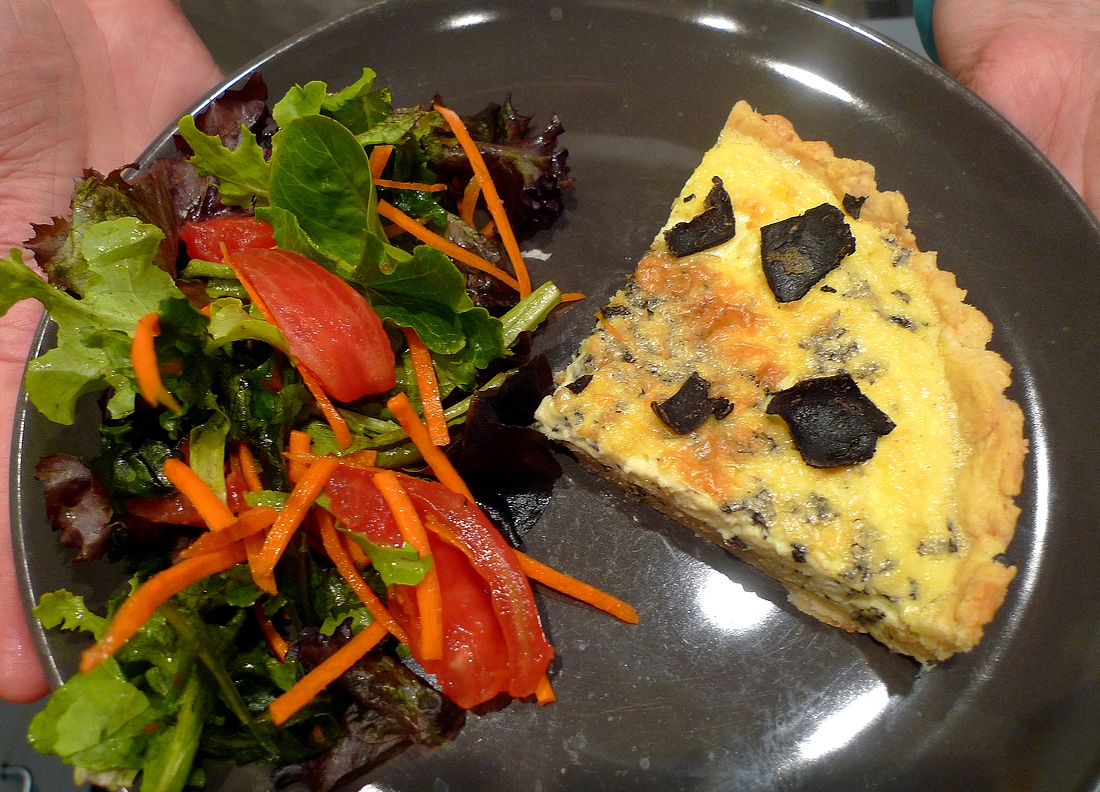 Everyone always says that truffles pair well with eggs so I thought a black truffle quiche would be a natural. But when I went looking, the only recipes I could find for truffle quiche use truffle oil—an interesting ingredient in its own right if you like laboratory flavors, but not exactly real truffle.
To create a quiche worthy of truffles, I turned to two late, great chefs whose teachings inform pretty much everything I cook. I combined my favorite savory crust, which is adapted from Charles Virion, and Julia's Child's quiche Lorraine recipe, substituting truffles for bacon. She was right—quiche doesn't need cheese. I scaled the recipes for a seven-inch tart pan that makes just the right size for light lunch or a good appetizer course. It goes very well with a glass of deeply chilled Muscadet.
BASIC QUICHE CRUST

1 cup cake flour
1/8 teaspoon salt
4 tablespoons butter, cold
2 tablespoons vegetable shortening (or lard), cold
2-3 tablespoons ice water
In a food processor fitted with a steel blade, place flour and salt and process briefly to mix. Cut the butter and shortening (or lard) into half-inch pieces and drop through feed tube. Process about 3 seconds. Add 2 tablespoons ice water and process another 3 seconds. If dough masses on blade, you're done. If mixture is still crumbly, add rest of ice water and process a few seconds.
Roll out on flour-dusted counter and drape into 7-inch fluted tart pan. Push dough into the flutes to form an attractive edge. Chill at least 2 hours.
Remove from refrigerator and bake in 450°F oven for about 7 minutes, or until crust begins to color. (Pie weights will help keep the crust from puffing up.)
BLACK TRUFFLE QUICHE

2 large eggs
1/4 teaspoon salt
1/3 cup heavy cream
10 grams grated black truffle
5 grams shaved black truffle
Mix eggs and salt. Add heavy cream and grated black truffle and mix.
Add mixture to partially baked crust (above) and bake at 375°F for 15 minutes. Check to make sure it's beginning to set by inserting cake tester. Bake another 15 minutes. Remove quiche from oven and sprinkle shavings of black truffle on top. Return to oven for 2-5 minutes, or until egg mixture begins to brown slightly.
Cut in wedges and serve.