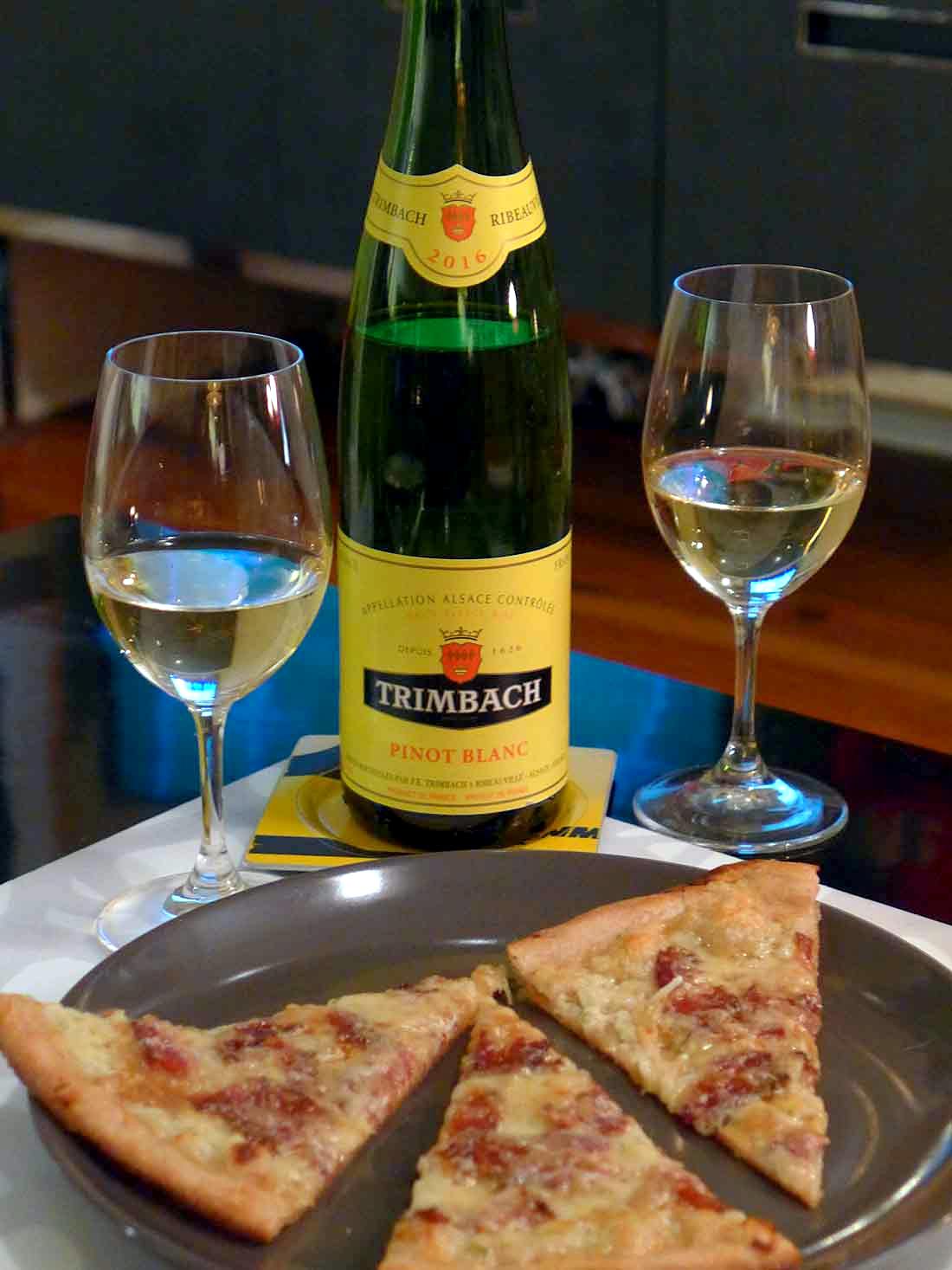 Wine preferences are a funny thing. Most wine drinkers name the grapes of Bordeaux and Burgundy as their favorites—irrespective of where they are grown. Few name Alsatian wines, yet we think they are the very model of magnificent cold-climate viticulture and winemaking. When we first met, we drank a slew of Rieslings, Gewürtztraminers, and Pinot Gris from many of the great names in Alsace. You could say we got to know each other over glasses of spicy, sophisticated, dry whites. So we were pleased to see a Trimbach Pinot Blanc in the mixed case from Esprit du Vin (edvwines.com). It was like running into an old friend.



The Wine: Trimbach Pinot Blanc 2015
Pinot Blanc isn't usually the first grape that comes to mind in Alsace, but it's one of the most widely grown. That's especially true around Ribeauville, where most of the Trimbach vineyards are located. They're in the rain shadow of the Vosges mountains and the soils on the ancient geologic fault line include the famed "Muschelkalk" of calcareous limestone and biodegraded fossil sea shells. This particular wine is vinified from 75 percent Pinot Auxerrois (a Chardonnay relative) and 25 percent Pinot Blanc (the offspring of Pinot Gris, itself an offspring of Pinot Noir). All those Burgundian cousins don't figure into the taste, though, and it's common for Alsatian Pinot Blancs to contain both grapes.
The Pinot Auxerrois gives some flesh to the naturally lean Pinot Blanc, resulting in a wine with lush mouthfeel, strong aromatics, delicious fruit, and a backbone of almost bracing acidity. It's about as food-friendly as wine gets. We like the way the citric acidity and freshness cuts through the unctuousness of bacon and cheese, hence this pizza choice.



The Pizza: Onion, bacon, and Gruyère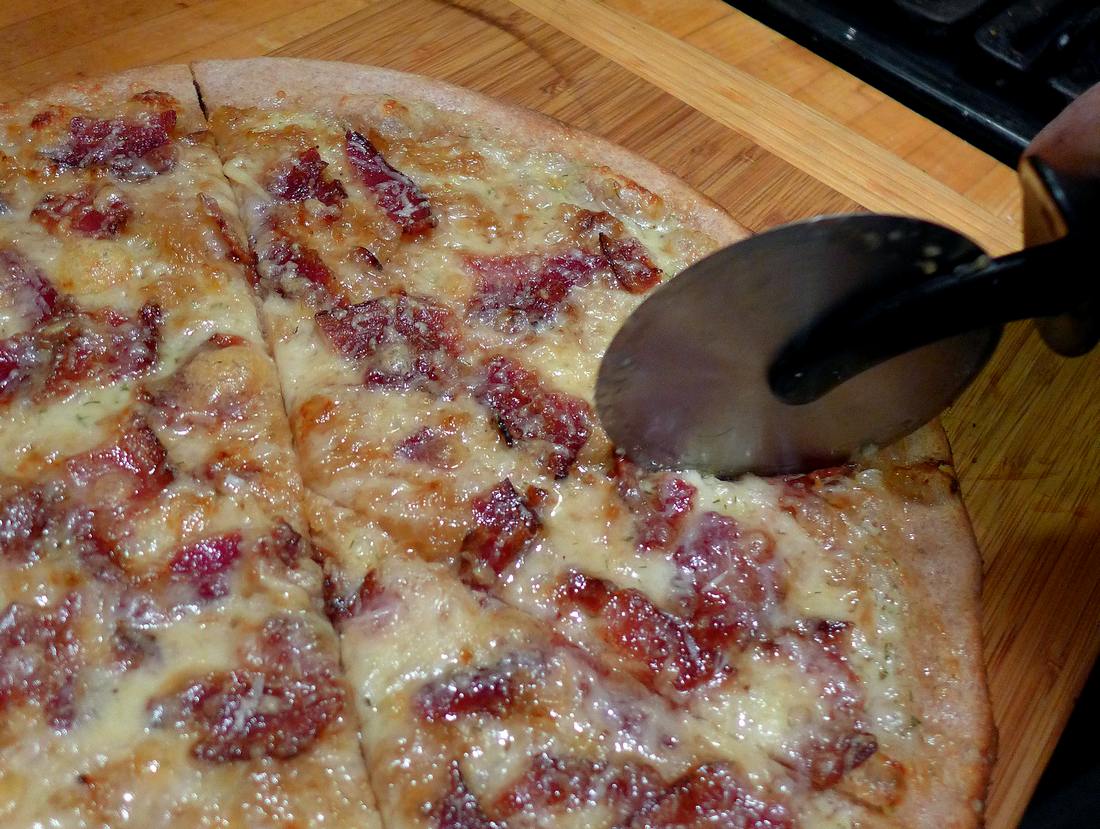 We decided to take a hint from classic Alsatian bar food. Raymond Ost, a French Master Chef who used to own Sandrine's Bistro down the street from us, loved to serve flammekueche at the bar. It's an unleavened flatbread cooked in an open-hearth oven and topped with bacon and caramelized onions. If you search Ost's name, you'll find his rather complex recipe in several places. He used to get irked when people called it "pizza" because flammekueche is truly an indigenous Alsatian flatbread, not an Italian import. Here we've decided to simplify and use Ost's creation as an inspiration for a true pizza.
FLAMMEKUECHE AS PIZZA
Ingredients

6 strips extra thick bacon
dough for 16-inch pizza (see this post for recipe)
1/2 cup bechamel sauce
1/3 cup Greek yogurt
1/2 cup caramelized onions
6 oz. Gruyere cheese, coarsely grated
Directions

Set oven at 350°F.
Lay out bacon strips on wire rack over a lipped baking sheet. (A jelly roll pan works well.) Let roast about 20 minutes or until brown. Remove bacon to drain on paper towels. When cool, break up.
Reset oven at 450°F while assembling pizza.
Combine bechamel and Greek yogurt, mixing well. Stretch out pizza dough and spread with this white sauce. Evenly distribute the caramelized onions and sprinkle evenly with bacon pieces. Cover lightly with grated Gruyère cheese. When oven is heated, slide pizza in on top rack. Cook about 8 minutes, 30 seconds. Bottom crust should be a little crisp but not burnt. Serve slices with well-chilled wine.