You literally walk on wine in Beaune, the center of Burgundy's wine trade, because the town is honeycombed with cellars dug by the monks who were Burgundy's first vinters. Millions of bottles sleep their way to perfection under the cobbled streets, and millions more are tucked into the cool, dark recesses of the town's 15th century fortified walls. The rough streets, old stone buildings, and a profusion of statues of the Virgin Mary (including one where she holds the infant Jesus in one hand and a bunch of grapes in the other) make Beaune undeniably picturesque. But it's even more fun to taste Beaune than to look at it. As close as I can tell, there are no statues of Mary hefting a bag of mustard seeds, but there should be.
In the Middle Ages, mustard was made everywhere in France. Today the Burgundy region is best known for mustard, especially the Maille firm in Dijon, 25 miles/40 km north of Beaune. But Beaune's own family-owned La Moutarderie Fallot (31, Faubourg Bretonnière, 011-33-0380-221-002, www.fallot.com) holds its own against the bigger, slicker operation. The last moutarderie in Beaune, Fallot began stone-grinding mustard seed in 1840 and still uses stone wheels to make mustard paste, which is still stored for 24 hours in wooden barrels before bottling. Tours are sometimes arranged through the tourist office (port Marie de Bourgogne, 6 boulevard Perpreuil, 011-33-0380-262-130, www.beaune-burgundy.com).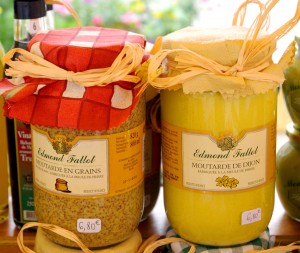 Given the French fixation with terroir, I was surprised to learn that most French mustards are made with seeds from Canada. Within the last couple of decades, the French have started to replant mustard, but the mustard fields can only meet about 5 percent of the demand. If you're a purist, look for mustard labeled "made with mustard from Burgundy." It is also made with white Burgundy wine (Aligoté) instead of vinegar to blend with the seed, water, and salt. Most processors also make flavored mustards — tarragon, cassis, gingerbread, etc. — but Burgundians far prefer the unflavored "natural" product.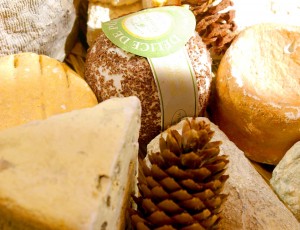 I always bring home a few jars for the pantry, but some of Beaune's mustard delicacies are best enjoyed there. I can't visit the town without stopping at Alain Hess Fromagerie (7 Place Carnot, 011-33-0380-247-351), an affineur (cheese-ager) who also produces his own Delice de Pommard, a soft cow's milk cheese rolled in mustard bran. It's great first cheese for a picnic, ideally followed by a Cîteaux (a semi-soft cheese that Hess procures from a 12th century Cistercian monastery) and finally a spectacular Époisses de Bourgogne, a soft cheese whose rind is washed with Marc de Borgogne. The great epicure Jean Anthelme Brillat-Savarin called it the "king of cheeses." To drink? A modest Burgundy, of course.
No surprise — the wine is also good with chocolate. Chocolatier Bouché (1 Place Monge, 011-33-0380-221-035) blends mustard seed into chocolate ganache, then enrobes the pieces in dark chocolate. Called Le Sénevé, the morsels combine a complex sweetness with bitter and salty undertones.