Of all the wonderful food in Burgundy, I have a special soft spot for the bistro staple known as oeufs en meurette. The dish is hearty and warming on a cool autumn night and it is a classic in the region. Maybe I like it so much because sauce meurette is very similar to the sauce in coq au vin. Despite its rich flavors, French cooks usually pair meurette with mildly flavored proteins, like poached eggs or a poached fish. Restaurants in Burgundy often feature this dish as a first course (one egg per person) because everything but the eggs can be prepared ahead and re-heated, making it a quick dish to assemble.
POACHED EGGS IN RED WINE SAUCE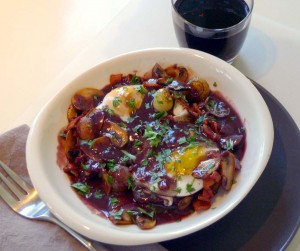 Most of the ingredients for this dish are readily available in the U.S., though a light pinot noir from Oregon or Washington can be substituted for the Burgundy. And, in a pinch, so-called "Italian bread" will substitute for a pain de campagne. The key, though, is to use great eggs – ideally from free-range hens. The yolks have a deeper color and the eggs are easier to poach without making a mess of them. This recipe serves two as a main dish, or four as an appetizer, with a little extra sauce to go around.
Ingredients
For the sauce
1 bottle (750 ml) light red wine (a simple négociant Burgundy)
2 cups strong homemade chicken stock
1 onion, thinly sliced
1 carrot, thinly sliced
1 celery stalk, thinly sliced
1 garlic clove, minced or grated
a bouquet garni of parsley, thyme, and bay leaf
1/2 teaspoon black peppercorns
2 tablespoons butter
2 tablespoons flour
salt to taste
For the garnish
2 tablespoons butter
1/4 pound mushrooms, sliced
1/4 pound piece of bacon, diced
12 baby onions, peeled
For the toast
4 diagonal slices of white country loaf
2 tablespoons olive oil
4 fresh eggs
Preparation
1. Add wine, stock, onion, carrot, celery, garlic, bouquet garni, and peppercorns to a large shallow pan. Bring to boil, reduce heat, and simmer until reduced by half (about 20 minutes).
2. While sauce is reducing, prepare garnish and toast. Melt 1 tablespoon of butter in saucepan, add mushrooms, and sauté until tender (about 3 minutes). Remove mushrooms and add remaining tablespoon of butter and bacon. Fry until bacon browns. Remove bacon to drain on paper towels. Add onions to fat and sauté gently about 10 minutes until tender and lightly browned all over. Remove and combine with mushrooms and bacon. Pour off excess fat from garnish pan (used in Step 2), then deglaze pan with some of the simmering wine. Return liquid to the wine/sauce.
4. Meanwhile, trim crusts from bread, making each slice about the size of a poached egg. Heat olive oil in small frying pan and fry bread until browned on both sides (about 1 minute per side). Drain on paper towels and set aside.
4. When wine-stock mixture is reduced, strain and return sauce to pan over low heat. Taste and add salt if necessary.
5. Blend 2 tablespoons each of flour and butter in a small bowl with a fork to form a soft paste. Whisk paste a little at a time into hot sauce. Stir constantly until all butter-flour mixture is incorporated. Bring sauce to boil, stirring constantly, until thickened (about 5 minutes).
6. Poach eggs for 4-5 minutes — until whites are set but yolks are still runny. Place two toasts each in shallow bowls and top with eggs. Spoon on sauce and add mushroom-bacon-onion mixture.
Serve with a glass of Burgundy.