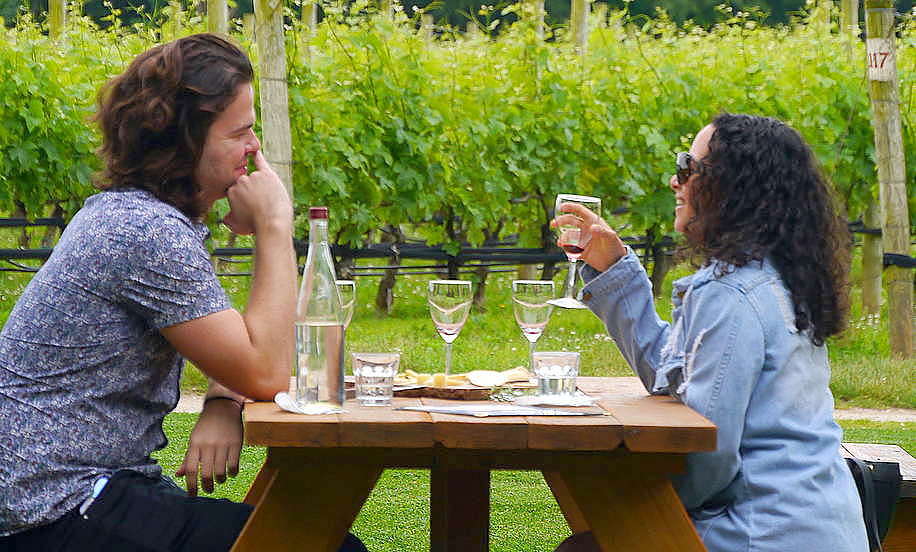 "A loaf of bread, a flask of wine, and thou…." Omar Khayyam was talking about the medieval wilderness in Persia, but his vision of "paradise enough" works just as well for a picnic at one of the North Fork wineries that permit outside food. Almost by definition, vineyards are beautiful places. And a nice meal with a glass of good wine is bound to soften you up to purchase more wine to take home. Most wineries have some food available, but few are set up to provide a spread like the one you can make yourself. Below, we've included two picnic fare recipes from newly published cookbooks that make our mouths water. By the way, the wineries allowing you to bring your own food are Jason's Vineyard, Laurel Lake Vineyards (Dec.-Apr.), McCall Wines (Mon.-Thur.), Old Field Vineyards, One Woman Wines & Vineyard, Osprey's Dominion Winery, Pindar Vineyards, and Pugliese Winery.
GIANT COUSCOUS SALAD FROM BAZAAR
Bazaar: Vibrant Vegetarian Recipes is a gorgeous cookbook by Persian author Sabrina Ghayour. Published by Mitchell Beazley ($34.99) in the U.K., it tends to favor ingredients available there and harder to find this side of the Atlantic. That said, it's worth seeking them out. For this dish we substitute so-called "Israeli couscous," which is only slightly smaller than the British "giant couscous." We also found that the fresh dill weed is a bit overpowering in the proportions given. We found that fennel fronds were much more to our taste and equally authentic in Persian cookery. It's a hearty vegetarian dish with big flavors, and it happens to work well with the big but soft Merlot style of the North Fork.
MOGHRABIEH SALAD
Despite its exotic name, moghrabieh is essentially giant couscous, or small dots of pasta. Infinitely versatile, it works very well in stews, soups, salads, and on its own as a main dish, as you might serve a pilaf. This lovely salad is great at any time of year. Perfect for warmer weather, with gentle spicing and comfort it's great for the colder months, too. The golden raisins give a wonderful burst of sweetness to every bite. This salad is even better the next day, so make it the day before and refrigerate to allow the spices to intensify.
2 cups moghrabieh (giant couscous)
2 tablespoons olive oil
1 large red pepper, cored, seeded, and cut into ½-inch dice
1 large yellow pepper, cored, seeded, and cut into ½-inch dice
⅔ cup pine nuts
2 small packs (about 2¼ oz) of dill weed,
 finely chopped
2 cups coarsely chopped flat-leaf parsley
Maldon sea salt flakes and freshly ground black pepper
For the dressing
3 tablespoons olive oil
3 tablespoons red wine vinegar
3 tablespoons honey
2 teaspoons ground cinnamon
1 teaspoon dried red chile flakes
Serves 6 to 8
Boil the moghrabieh following the package directions. Drain the grains and rinse them thoroughly under cold running water until completely cool, then drain well. Set aside.
Heat the olive oil in a saucepan over medium-high heat. Add the peppers and sauté for about 8 minutes, or until soft and browned at the edges. Set aside to cool.
Place a small skillet over medium heat and add the pine nuts. Toast for a few minutes, shaking the pan, until golden all over, then remove from the heat and set aside.
Mix the dressing ingredients together in a small bowl and set aside.
Put the cooked moghrabieh into a large bowl. Add the peppers, herbs, and pine nuts and mix well until they are evenly distributed. Season generously with salt and pepper. Now pour in the dressing and stir. Let stand for at least 30 minutes to allow the flavors to develop before serving.
AN ISRAELI TWIST ON A TUNA SANDWICH
Honey & Co. at Home by Sarit Packer and Itamar Srulovich (Pavilion Books Ltd., $35) is subtitled "Middle Eastern Recipes From Our Kitchen." The Israeli-born chefs have parlayed those flavors into a small food and spice empire in London, and the cookbook shows why: Their dishes are delicious. This recipe shows an easy approach to elevating the run-of-the-mill deli tuna salad sandwich. Even better, it holds together nicely in the cooler without making the bread soggy. If you don't have preserved lemon on hand, grate some lemon peel into the mixture. The "Jerusalem bread" is an elongated bun covered with seeds. We can attest that a lightly grilled grinder roll works just as well. Drink a nice cold Sauvignon Blanc with a lot of citrus to counterbalance the salt and fish.
TUNA, CAPERS AND ROASTED PEPPER SANDWICH
Makes 6–8 sandwiches, depending on the size
2 tins tuna in oil (about 320g/11 1⁄4 oz), drained
2 tablespoons capers
2 preserved lemons (skin only, discard the pulp), finely chopped
2 tablespoons rose harissa paste
1 small bunch of parsley, leaves picked and chopped
2 tablespoons olive oil
2 roasted peppers (roast in a hot oven for 10 minutes)
4 hard-boiled eggs
Jerusalem sesame bread
1. Put the drained tuna in a large mixing bowl. Add the capers, preserved lemon, rose harissa, parsley and olive oil, and mix well. Use to fill the sandwiches.
2. Peel the roasted peppers, tear them into thin strips and lay them on top of the tuna. Finally, peel and slice the hard-boiled eggs and add to the sandwiches, allowing about half an egg per sandwich.