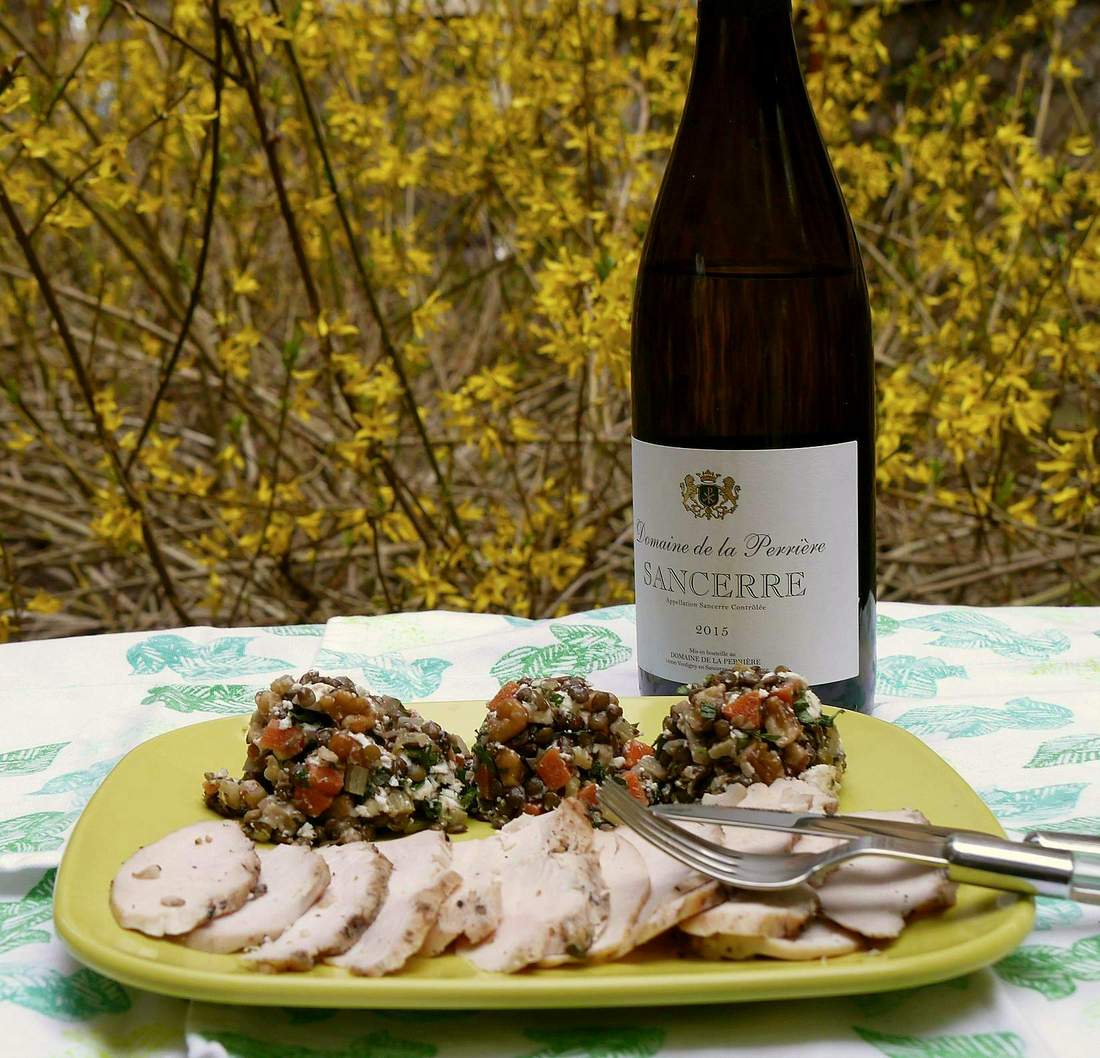 Pat has fond memories of traipsing through the Loire Valley one summer. As much as the rolling green land and the amazing fairy-tale châteaux, she remembers the food-friendly local wines. Then this winter we encountered some Cabernet Franc that reminded us how good Loire Valley reds can be with fish and lighter summer fare. The valley is home base to some of the greatest French wine grapes not called Cabernet Sauvignon or Chardonnay. With summer on the horizon, we realized it was time to rectify our lack of attention to Loire Valley wines—some of which are the quintessential sips at the end of long, warm day.
We got a respite from our chilly, damp spring last week in time for the forsythia to burst into bloom. It was warm enough to light the grill, so we brushed some lightly brined chicken with sesame oil and slow-grilled it over indirect heat. The non-vinous star of the meal was the accompanying cold lentil salad with crumbled goat cheese. (See recipe below.)
The wine was a 2015 Sancerre from Domaine de la Perrière. It's the flagship white of Saget Perrière, ninth generation winemakers from Pouilly-sur-Loire, and worth far more than its $24 list price. U.S. consumers often dismiss Sancerre as "merely Sauvignon Blanc." That's a little like saying that a grand cru Burgundy is "only Chardonnay." Sancerre is one of the best-rounded expressions of Sauvignon Blanc—full of luscious white fruit, full but not tart acids, and a minerality that cuts through unctuous cheeses or fish. This particular Sancerre has a remarkable freshness from the flower aromas of the first sniff to the lingering lemon zest in the aftertaste. It's made entirely with wild yeasts and aged at least three months on the lees, where it picks up some bread-y aromas and an almost meaty mouth feel.
FRENCH LENTIL SALAD

This recipe is adapted from a version that David Leibovitz published in My Paris Kitchen. He has another variation on his web site (www.davidlebovitz.com), and we've found additional variants in several French cookbooks. But we credit Leibovitz for turning us on to the dish, which we've altered and adapted over the years. Thanks, David.
Makes 6 cups
Ingredients
1 1/2 cups Le Puy green lentils
4 cups water
2 teaspoons sea salt
1 bay leaf
1/2 teaspoon dried thyme
1 cup peeled and finely diced carrot
1 cup peeled and finely diced celery
1 small onion, peeled and finely diced
1 tablespoon wine vinegar
1 1/4 teaspoons sea salt
1 teaspoon Dijon mustard
1/3 cup olive oil
1 shallot, peeled and minced
freshly ground black pepper
1/2 cup chopped flat-leaf parsley
1 cup walnuts, toasted and chopped to small pea size
1 cup crumbled fresh chèvre
Directions
Place lentils in a 3-quart saucepan. Add 4 cups of water and 2 teaspoons salt to cover lentils by about 2 inches. Add bay leaf and thyme. Bring to a boil, then reduce heat and simmer for 15 minutes. Add the carrot, celery, and onion and cook 5 minutes more. Be careful not to overcook lentils.
While lentils are cooking, whisk together the vinegar, salt, mustard, oil, and shallot in a large bowl.
Drain the lentils and vegetables well. Stir them into the dressing while still warm, coating the lentils completely. Remove the bay leaf and let mixture cool to room temperature, turning it over a few times as it cools to distribute dressing. Add a few twists of black pepper and stir in parsley, walnuts, and goat cheese before serving. We like to serve in small crowns molded in a 1/3 cup measuring cup.