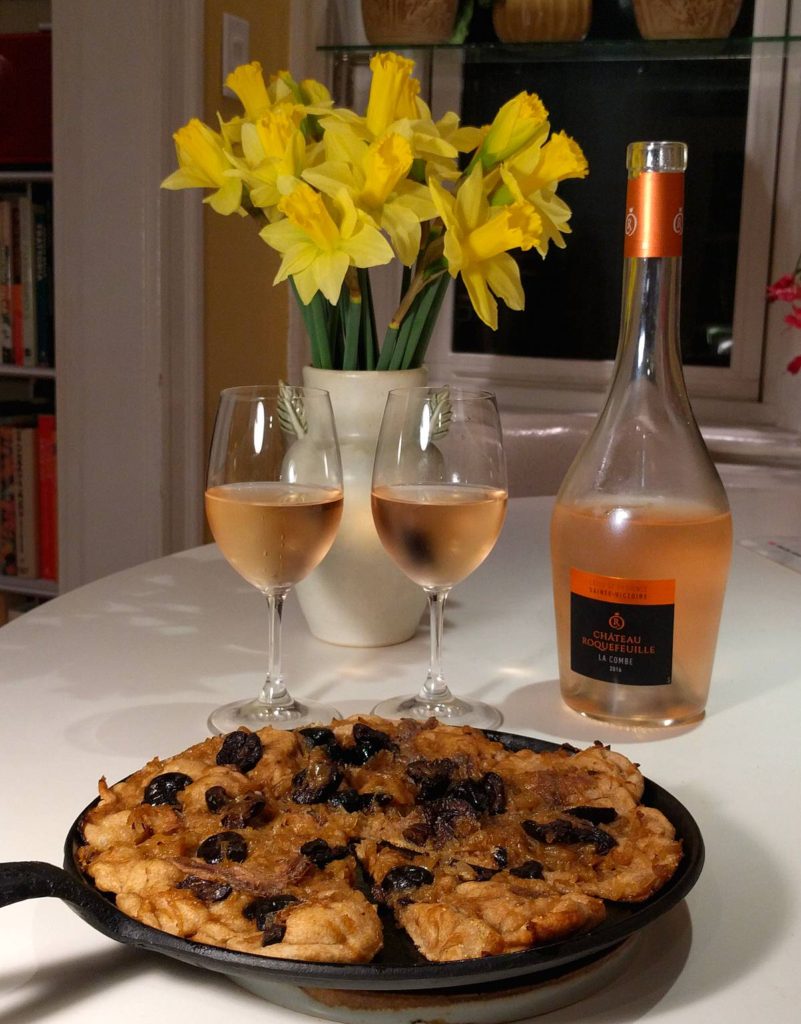 Sometimes the wine demands a departure from the best-laid plans. With a pretty upscale version of Provençal rosé on hand, we racked our brains for flavors of the Provence countryside. But we couldn't bring ourselves to make a lavender pizza. So we did the next best thing. We adapted the classic flatbread snack of the Riviera to a pizza-like round topped with onions, black olives, and anchovies. It was a match made in heaven—or maybe in Nice.
The wine: La Combe Rosé, Château Roquefeuille
Côtes de Provence Sainte-Victoire

The 250-acre estate of Château Roquefeuille sits in the heart of Provence at the south end of the Sainte-Victoire valley. A gorgeous pale pink, La Combe Rosé embodies a very different style than the Fleurs de Mer mentioned in a recent post. The terroir consists of a mix of clay and limestone pebbles, and the wine expresses both soils. Moreover, it is crafted promarily from Grenache (84 percent) with a powerful shot of Cabernet Sauvignon (13 percent) that gives it more structure and roundness than is typical for a Provençal rosé. The aromatics lean toward petrols, with lychee and ripe mango on the nose. It is very full and fruity in the mouth with a crisp zing at the end. List price is around $50, but the wine can be found as low as $35.
The pizza: Pissaladière

This traditional snack food of Nice is usually made in the morning and sold at room temperature all day. For our version, we used our usual pizza dough, divided it in two, and made two 10-inch flatbreads on cast-iron griddles. The dough comes out a little thicker than for a pizza.
Ingredients

one recipe for pizza dough
extra-virgin olive oil
1/2 cup caramelized onions
1 tin whole anchovies
24 Niçoise olives or other oil-cured black olives
Directions

Preheat oven to 450°F.
Divide dough in half and stretch into 10-inch rounds. Place each round on a cast-iron skillet and roll up the edges. Brush the rounds lightly with olive oil. Spread caramelized onions evenly. Distribute anchovies over surfaces. Pit the olives and cut each one in half. Cover rounds evenly with olives. Bake 10 minutes or until top puffs and starts to brown.