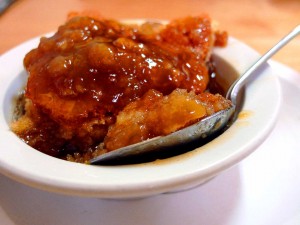 One Quebecois comfort food that doesn't seem to have crossed over into fine dining is the very old-fashioned cake and syrup dessert known as pouding chômeur. It translates literally as "the jobless person's pudding," although most English versions of the recipe call it "Poor Man's Pudding." (Anglophone Montrealers call it pouding chômeur.) Either way, the original version is real Depression food, with a cake that's like a butter-deprived biscuit dough and a brown sugar syrup. But as pouding chômeur makes its comeback on luncheonette menus, the cake is often more buttery and the syrup is maple. This recipe brings together some of the best we've tasted. The vinegar in the syrup curdles the cream, giving the syrup an instantly thicker texture.
POUDING CHÔMEUR
Serves 6
Ingredients
For syrup:
1 1/4 cups maple syrup (dark amber)
3/4 cup light cream
2 teaspoons apple cider vinegar
1/8 teaspoon salt
For cake batter:
6 tablespoons butter
1/3 cup granulated white sugar
1 large egg
1 teaspoon vanilla extract
1 cup flour
1 teaspoon baking powder
1/4 teaspoon salt
Directions
Preheat oven to 350F. Have an 8x8x2 pan ready.
Make the syrup. Combine the syrup ingredients in a large saucepan and bring to a boil, stirring to mix well. Remove from heat.
Make the cake batter. Cream butter and sugar with mixer until fluffy. Add egg and vanilla and beat until combined. In a separate bowl, combine flour, baking powder and salt; mix well. Using a wooden spoon or rubber spatula, add flour mixture to butter-sugar mixture and mix until incorporated.
Pour 3/4 cup of syrup into pan. Spoon batter over syrup. (Batter will expand to cover any gaps.) Pour remainder of syrup over the batter. Bake 25-30 minutes until top is golden and firm to the touch. Serve warm or at room temperature.