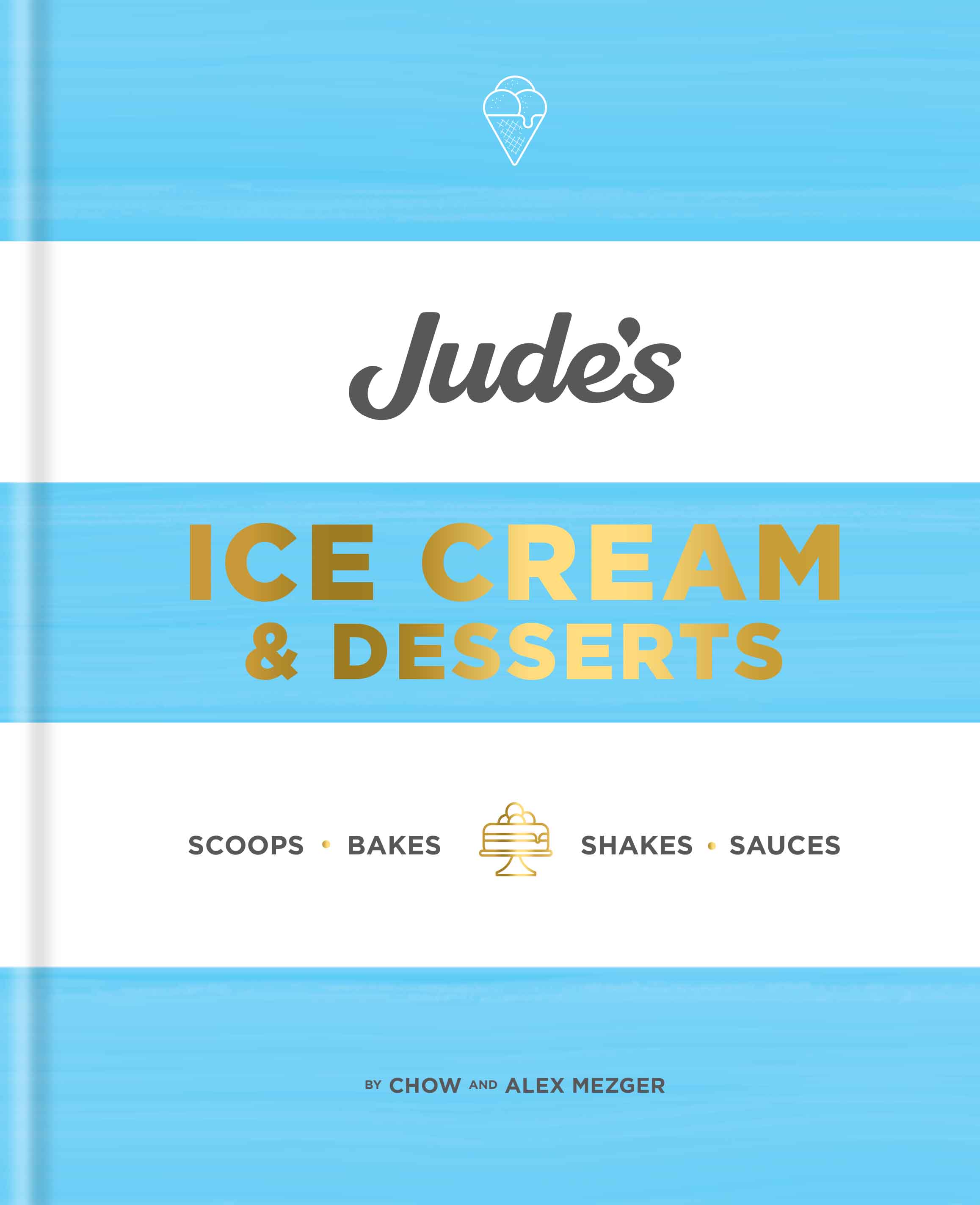 Chow and Alan Mezger could almost be the Ben Cohen and Jerry Greenfield of ice cream in the U.K. The two brothers have transformed their dad's hand-churned ice cream business into a kingdom-wide taste phenomenon called Jude's Ice Cream (www.judes.co.uk). But being Brits, their taste references are very different from Ben & Jerry. On this side of the pond, their ice creams seem rather exotic. We doubt that Pillsbury is about to issue Roasted Strawberry and Buttermilk or Vegan Malted Banana anytime soon.
But you can make your own. A cookbook/wishbook of their recipes has just been published by Kyle Books, and it's available in the U.S. Called Jude's Ice Cream & Desserts: Scoops, Bakes, and Sauces, it retails for $19.99. It's also on Amazon, just in time for summer ice cream season.
We like the unusual flavor combinations and the concise directions for making small batches without an ice cream maker. But certain ingredients, like brown caster sugar, are pretty hard to find outside the U.K. And tempting as the confections may be, we have so many great artisanal ice cream makers with a 10-minute walk from our abode that we're little tempted to make our own.
But we are intrigued by how the British palate influences ways to consume ice cream. One of the cleverest is the Guinness Stout ice cream float with salted caramel. The book's version uses Jude's vanilla ice cream recipe, though we substitute a premium North American ice cream with a pronounced vanilla flavor. The vanilla is dreamy with the heavy malt of the stout. It's an unusual treat on a summer night. Thanks to Kyle Books for sharing the recipe:
MINI CARAMEL AND GUINNESS FLOATS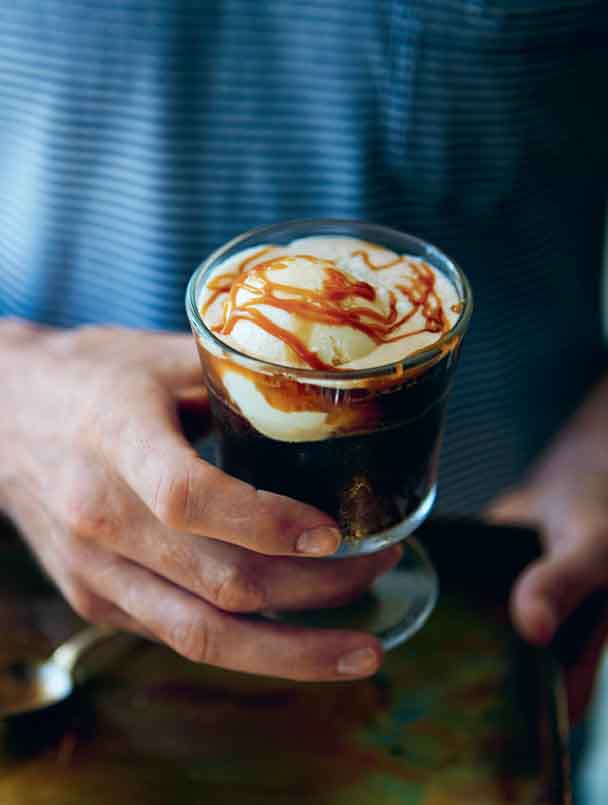 The luck of the Irish, in float form! Make sure your Guinness is really cold—that's the trick to helping the ice cream stay in shape. And reach for small glasses when it comes to serving, ice cream and Guinness is a deliciously rich combination. This one is perfect for dinner parties, and if you prep it at the table you'll bring a spot of theatre to the occasion.
Serves 3
6 tablespoons Salted Caramel Sauce (below)
6 large scoops Vanilla Ice Cream
440ml (15½ fl oz) Guinness
Drizzle 1 tablespoon of caramel sauce into the bottom of each glass, then top each with two scoops of ice cream. Slowly pour the Guinness over the ice cream, waiting for any froth to dissipate. Finish with a final drizzle of caramel, and serve.
SALTED CARAMEL SAUCE
This sauce is heaven sent. No contest: it's the most luxurious topping for an ice cream. Make yours in advance and keep it in a jar in the refrigerator. Then gently reheat it in a small saucepan to turn it into molten gold and unleash those legendary flavours and textures. If you're not a fan of salt 'n' sweet, simply omit the salt from the recipe, but if you've never tried it, give it a go—it allows the caramel notes to sing.
Makes 350ml (12fl oz)
250g (9oz) golden caster sugar*
180ml (6¼ fl oz) cold water
40g (1½ oz) butter
150ml (¼ pint) double cream (heavy cream)
2–3 drops of vanilla extract
A pinch of sea salt flakes
Put the sugar and water in a medium heavy-based saucepan over a medium heat and allow the sugar to dissolve. Once the sugar has dissolved, increase the heat and gently boil. Do not stir the caramel at any stage, but swirl the pan lightly (this will help prevent the caramel from crystallizing on the sides of the pan). Once the caramel is a deep golden brown, remove from the heat and swirl in the butter. Working quickly, beat in the cream with a wooden spoon. Stir through the vanilla and sea salt flakes. Serve warm or at room temperature but not cold; the sauce becomes thick if left in the refrigerator.
TIP: When making caramel, it's best not to select a non-stick pan because the surface tends to be dark or black, making it almost impossible to see the colour of the caramel develop, and the temptation will be to add the butter too early.
* We substitute Demerara or Turbinado sugar and grind it very fine in a spice grinder before weighing.