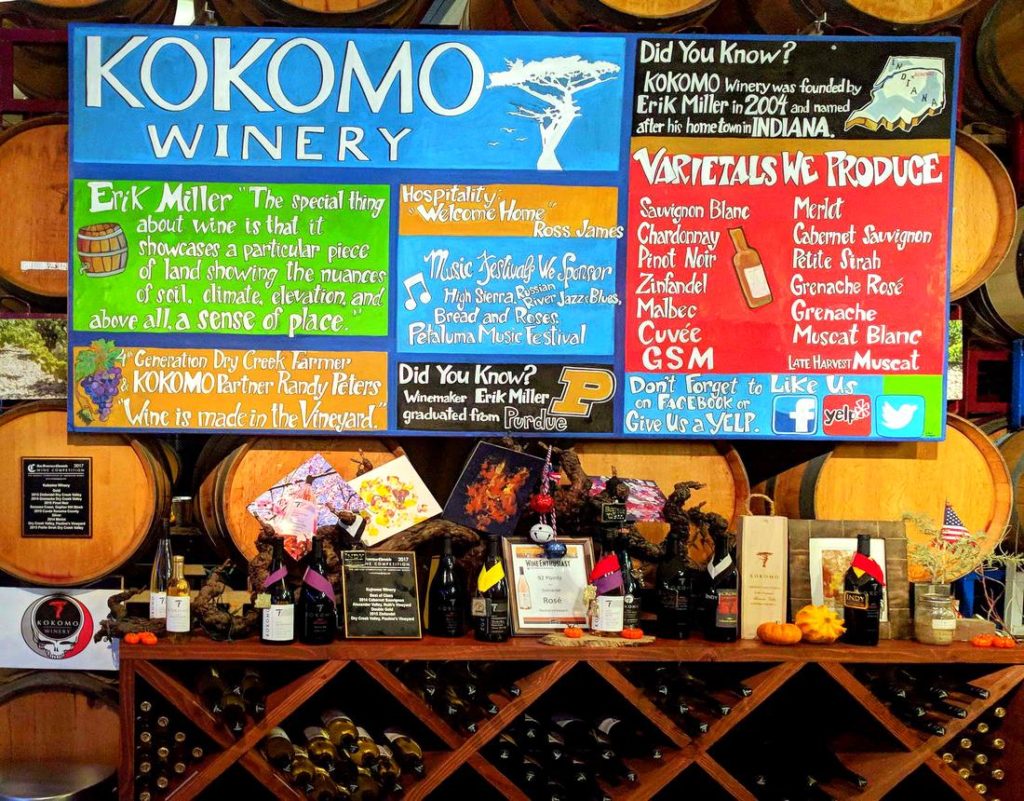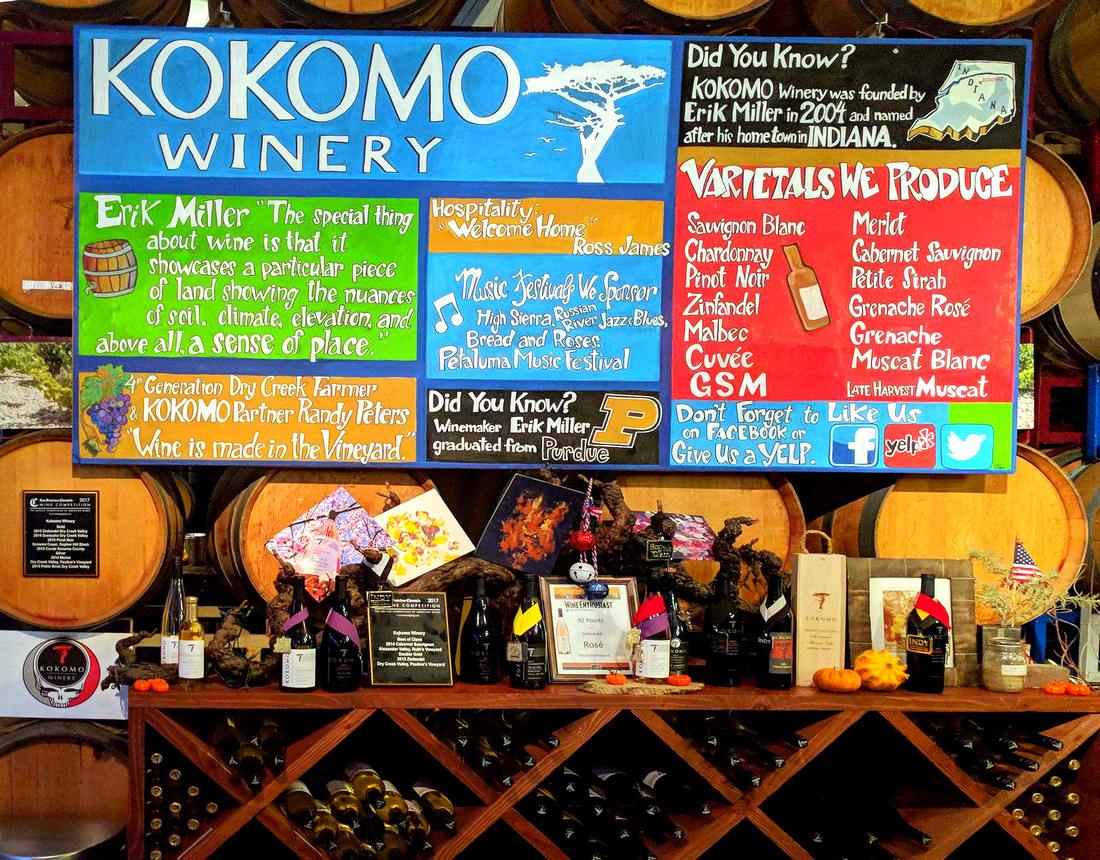 The small red industrial building on the Timber Crest Farms property that houses Kokomo Winery (4791 Dry Creek Road, Healdsburg, 707-433-0205, kokomowines.com, tastings $10-$25) is deceptively modest. The winery was founded by Erik Miller in 2004, who named it for his Indiana hometown. The vineyards date much, much farther back. Some Zinfandel plantings on the estate are more than 150 years old. Partner Randy Peters, a fourth-generation grape grower, has tended other vineyards here since 1974. He grows about 70 percent of Kokomo's fruit in all three Healdsburg appellations: Russian River Valley, Alexander Valley, and Dry Creek Valley.
We say the building is modest because the wines are anything but. Miller's philosophy of winemaking is terroir-driven. "The special thing about wine is that it showcases a particular piece of land showing the nuances of the soil, climate, elevation, and, above all, a sense of place," he says. He parses the wines by varietal and vineyard, which results in small runs of exquisite wines with distinct personalities. The total production of about 8,900 cases sells almost entirely to the winery's wine club and at the tasting room. In other words, to taste these outstanding wines, you need to visit.
Sampling a bit of Kokomo
We started with a hello glass of sparkling 2013 Blanc de Blancs—a pure Chardonnay from the Peters vineyard. Crisp and full-bodied with nice toasty notes on the nose, it was an exemplar of California sparkling. We weren't surprised at the quality. It's a consistent medal winner and scores in the 90s from the various wine publications.
With limited time, we sampled some still wines that demonstrated Kokomo's range. The 2016 Sauvignon Blanc from the Timber Crest Vineyard confirms the wisdom of letting great fruit do its own thing. The grapes were picked at different ripeness levels to capture both acidity and tropical fruit. The wine was fermented and aged partly in acacia wood, which affords the micro-oxidation of oak without imparting the flavor of wood. It is a great sipping wine and very complementary to a local brie we nibbled alongside it. Retail is $22.

Friendly reds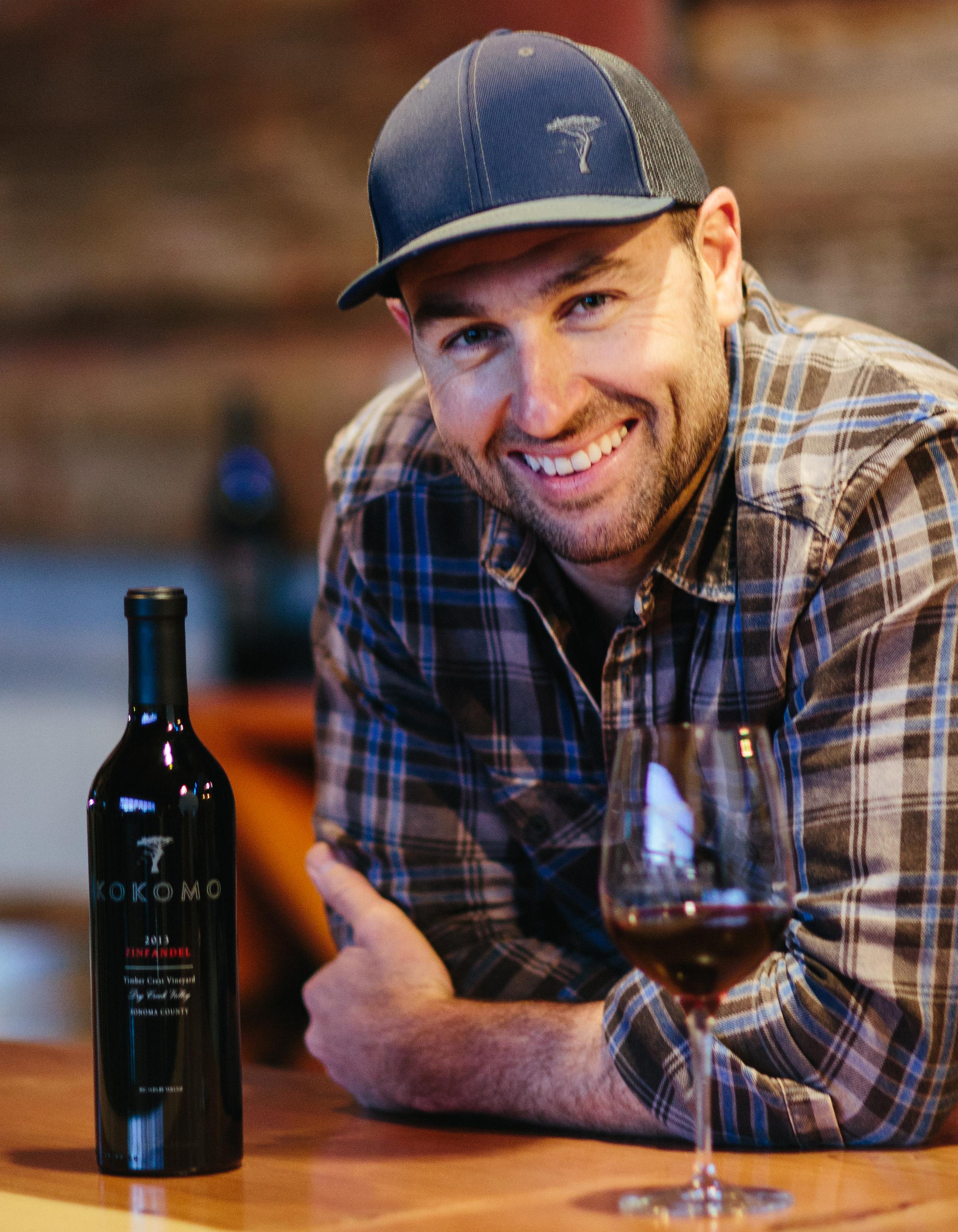 Erik Miller's wife Kimia calls the 2015 Pinot Noir from three different vineyards her "five o'clock wine." Very soft and delicate, it has rose notes on the nose and a touch of black pepper in the mouth. It finishes with a full, food-friendly acidity. Retail is $44.
Zinfandel is so variable in the Healdsburg region that Kokomo produces four different variations. (The photo at right, courtesy of the winery, shows Erik with a bottle of Zin.) We tasted the 2015 Zinfandel, Dry Creek Valley. Made from a blend of grapes from two vineyards, it showed the intense concentration of fruit grown in the third straight year of record drought. The nose is full of black fruit and cocoa. The tannins are exceptionally smooth, making this full-bodied red a great food wine. Retail is $36.
Cabernet also has several local expressions, and we were delighted with the 2014 Cabernet Sauvignon from Ruth's Vineyard in the Alexander Valley. This version is silky and elegant. The nose shows pronounced notes of eucalyptus and those giant blackberries that Californians call boysenberries. The new French oak comes through in the mouth but full Cabernet fruit dominates, evoking hints of black currant. Spectacular!