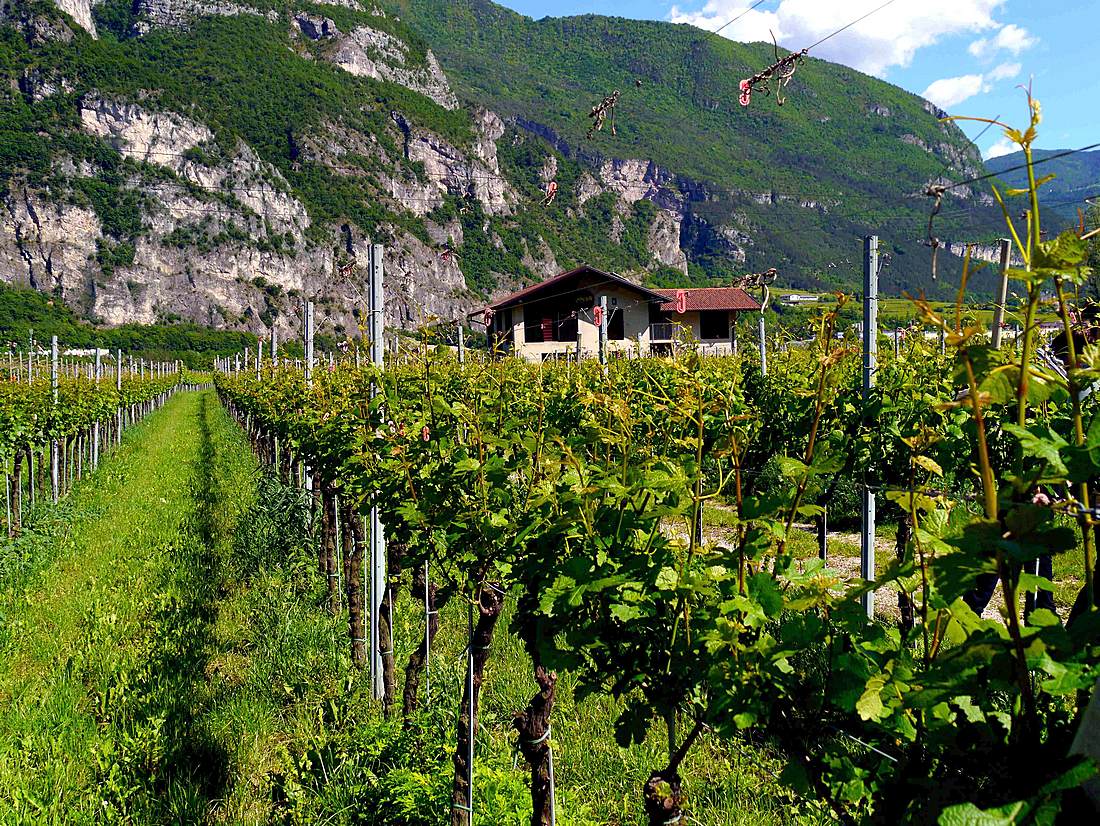 Slender and willowy, Bruno Grigoletti reaches his big hands into the canopy of a grape pergola and starts ripping out the extra foliage. In his late 70s, he works at a pace that would exhaust a man a third his age. Bruno manages a dozen family vineyards. They total about 15 acres (6 ha) in and around the commune of Nomi on the west bank of the Adige river, 9 miles (15 km) south of Trento. Some of the heat-loving varieties grow at the edge of the village in the alluvial soils of the Adige. But the most striking wines come from steep vineyard plots on the limestone hills behind the village.
Bruno prunes the white grapes—mostly pinot grigio, chardonnay, and sauvignon blanc—three times across the summer. He then cuts out foliage a few weeks before harvest to improve air circulation and maximize sun exposure. Some special plots of white grapes and all the red grapes—merlot, marzemino, cabernet sauvignon, cabernet franc, and schiava—get an extra pruning across the summer to keep their yields in check.
Although this end of the Adige valley lies far north in Italy, the southern end is strongly influenced by Lake Garda. The lake effect makes it warm enough to raise lemons and olives. A warm wind siphons up the valley, extending the growing season around Nomi and providing warmth and moisture to go with the intense summer sunlight. Vineyard managers work hard to keep yields down and acids and sugar up.
Vineyard management is just the beginning. Azienda Agricola Grigoletti is a true family affair. Bruno commands the vineyards, and his son Carmelo makes the wine and runs the cellars. Marica, Carmelo's wife, runs the tasting room and sales. They produce about 50,000 bottles per year of a dozen wines. Ten are table wines and two are sweet wines they call their "Meditation" series.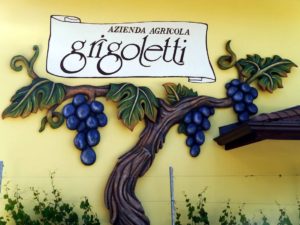 I can heartily recommend them all. But I confess a special affection for Marzemino and for the four "selection" wines. Marzemino is a native grape, probably an offspring of Teroldego. It's best known outside the region through a reference in the opera Don Giovanni. The rake calls for a glass just before he is cast into hell. (The librettist, Lorenzo Da Ponte, probably drank Marzemino when he grew up a few miles away.)
Most of Marzemino Trentino D.O.C. that I tasted at the big Trentino tasting in May (Mostra Vini) were an almost opaque dark plum color with a gentle warmth and very little tannin or acid. Grigoletti's version is a cut above. It shows pronounced red fruit on the nose and a dried fruit aftertaste that's very pleasant with food.
At the moment, North Americans must visit Italy to try these wines. But if Grigoletti breaks into distribution on this side of the Atlantic, the four "selection" wines will lead the way. They stand on their own with anything similar in the world.
L'OPERA
L'Opera chardonnay (9€ at the winery) comes from a mountainside vineyard where the vines are all at least 25 years old. Most of the soil is dolomitic limestone with a thin covering of topsoil, but part of the vineyard overlays a band of gravel. The grapes are soft-pressed and the juice is fermented in stainless tanks. The wine rests on the lees (with regular stirring) for six months. L'Opera is never touched by oak, but the influence of the lees and and high mineral content of the soil gives it an intensity and backbone usually associated with barrel aging. This is a chardonnay with pronounced fruit (golden apples more than pineapple or banana), a honey-like viscosity. and a well-defined structure. It mates well with ocean fish and mild young cheeses.
RETIKO
Retiko (11€) is Grigoletti's complexly flavored white blend—70% chardonnay, 30% sauvignon blanc. Sauvignon blanc is very aromatic in this part of Trentino, almost mimicking riesling and gewürztraminer in its intensity, though the flavor is much more like lychee. Carmelo ferments the wine directly in large barrels made of French acacia (black locust). That gives the developing wine access to oxygen without picking up the vanilla and other flavors from oak. He leaves it on the lees for another five months (with regular battonage) and then rests the wine in bottles six months before release. It's clearly a sister wine to L'Opera, but with a more sprightly personality and a prickly acidity that makes it a good complement to veal carpaccio.
MERLOT ANTICA VIGNA
Grigoletti makes Merlot Antico Vigna (13€) from vines that are 60 or more years old. During the harsh economic times after World War II, merlot was "the family bread." In those years, the Grigolettis overcropped the grape. But they have narrowed the historic pergolas and have retrained many old vines to wire. That drastically reduces yields and concentrates flavor and sugar. Carmelo makes a simpler merlot for ready drinking. But the grapes from the old vines are fermented in wood, then spend six months in French oak barrique, and two years in the bottle. The resulting wine tastes of cherries and bramble fruits with a pronounced spiciness. It is merlot in a very Trentino style—warm and round and slippery in the mouth due to soft tannins. Drink with a country salami, grilled lamb, or aged cheese.
GONZALIER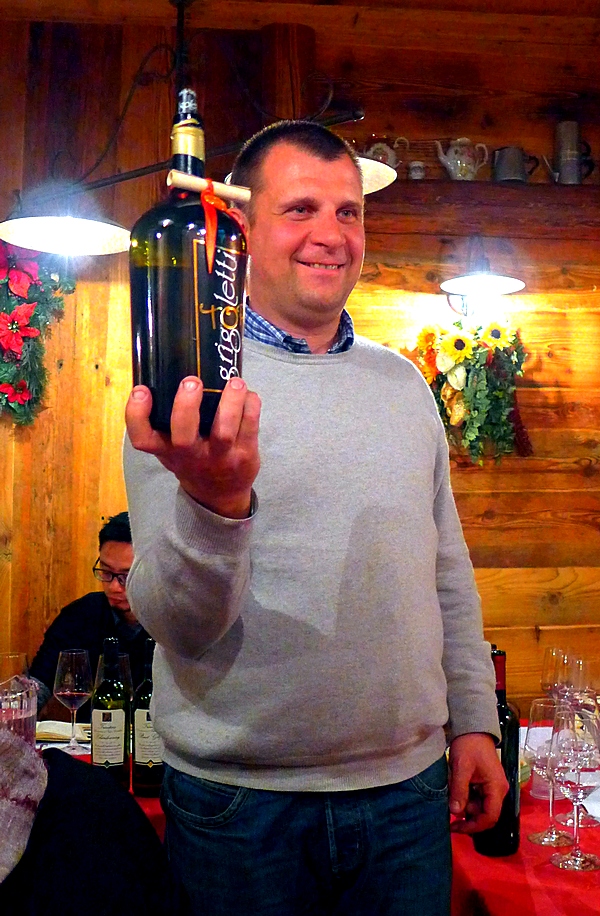 Gonzalier (16€) is Grigoletti's meritage. It contains 50% merlot, 25% each cabernet sauvignon and cabernet franc. They harvest most of the grapes a month later than the rest of the family vineyards. That is always tricky here, since they run the risk of rain. Gonzalier is fermented in oak and aged in a mix of oak and cherry barrels. Vineyard management is key, and the wine displays none of the green pepper aromas common in unripe Trentino cabernet. Carmelo has elected to make Gonzalier velvety and fruity with just a hint of vanilla and spice, and has kept the alcohol level to 14 percent. Every few years, he will blend three vintages to create magnums, available only at the winery for 65€.
Grigoletti welcomes visitors to the tasting room and store at Via Garibaldi, 12 in Nomi Monday-Saturday 10 a.m.-5 p.m. Call them at (011-34) 0464 834 215 or visit the website at www.grigoletti.com.