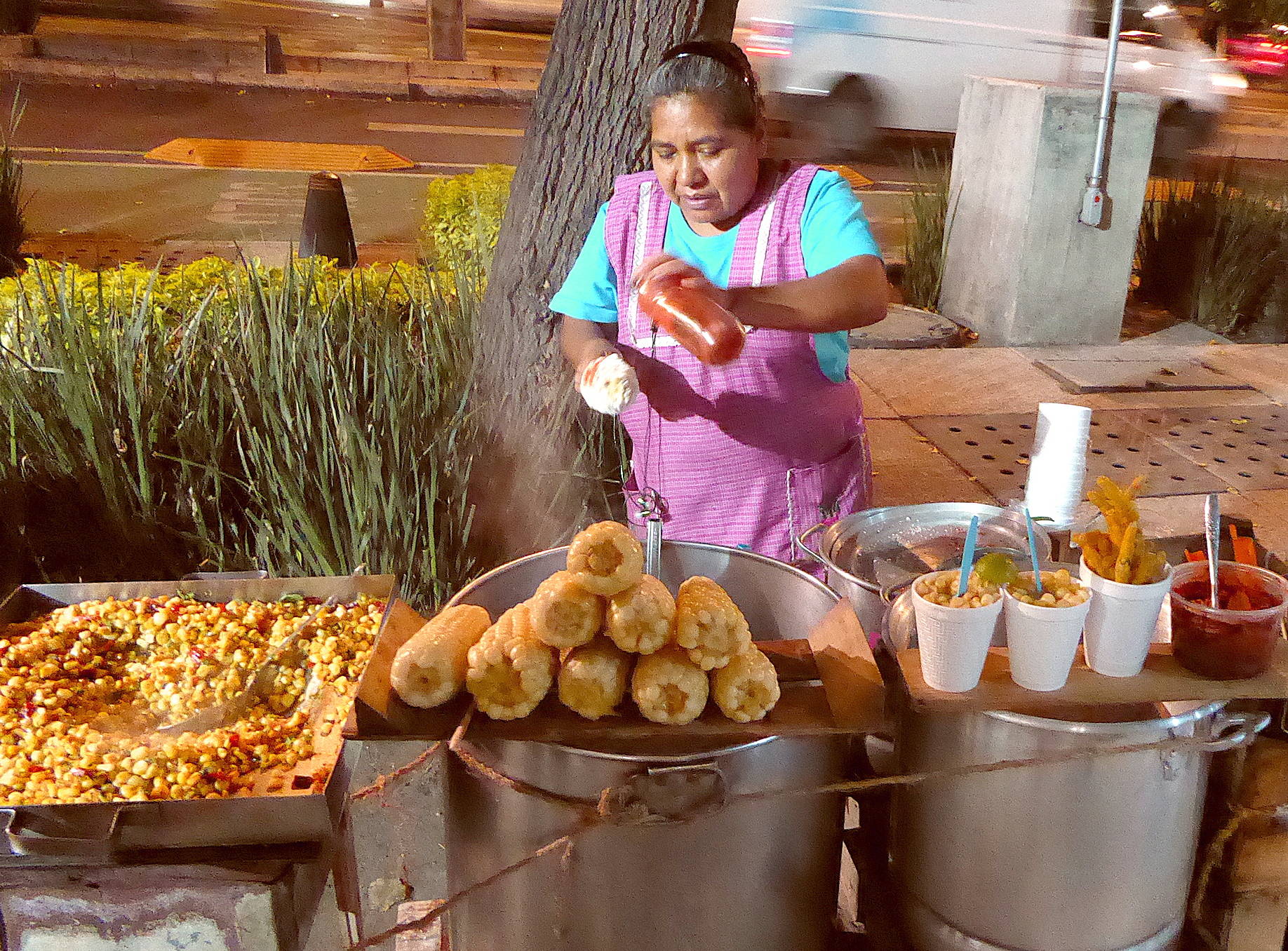 Wherever we travel, we're always amazed by how many of our favorite meals were served in a modest eatery—or even by a street food vendor. Before our recent trip to Mexico, we revisited an interview we conducted for the Boston Globe with street food experts Bruce Kraig and Colleen Taylor Sen. They're the editors of Street Food: Everything You Need to Know About Open-Air Stands, Carts & Food Trucks Around the Globe (Surrey Books, $24.95). If you're looking for the best food, they advised, pick the vendor with the biggest crowd of local people. Here's a condensed version of the interview with other tips about healthy outdoor dining around the world
What are your favorite places for street food?
Collen: I go to India all the time. I really like Delhi. The street food is amazing. There's such an incredible variety, including Muslim street food during Ramadan. Kebabs are my favorite. There are so many different kinds served with paratha and other wonderful breads.
Bruce: It's really hard to choose but I would say Mexico. There is nothing like the richness of the cuisine – even home cooking – anywhere else in the world. The street food is an expression of that. You have handmade tortillas and everything made on the spot. There's just great variety, including chapulines [grasshoppers], which are really good. If you are down in Oaxaca that is what you are going to find on the streets. The Sunday Maxwell Street market in Chicago is a smaller representative of that. It's in the old Jewish quarter of the city, which is now entirely Mexican. There are people from Michoacán and from Oaxaca. There are wonderful Oaxacan tamales. It's one of the best street food scenes and it's only a couple of blocks.
What precautions should travelers take to stay healthy while eating on the road?
Colleen: In 2014, Angela C. Erikson of the Institute of Justice in Washington, D.C., did a study comparing restaurant food and street food in seven cities around the U.S. She found that street food was marginally safer than restaurant food. Think about it. Street food is made in front of you. You see it. You know how long it has been there. As long as you see the food made in front of you and it is hot and it is not sitting there, and there are no flies, I think you are pretty safe.
Bruce: In Mexico where I have been often and in Central America your stomach has to adjust to the different microflora and fauna. So I eat yogurt beforehand and then eat yogurt there. Maybe that helps. I follow the same rules Colleen does about eating freshly made food. I was in East Africa, for example, and I saw the vendors chop up the vegetables. I saw the market where they got them and the vendors just cooked them up on the spot. You should also watch where the water comes from to make sure fresh vegetables are not contaminated.
Are there other reasons—besides low cost and good flavor—that you encourage travelers to eat street food?
Bruce: Street food vendors are small entrepreneurs, families who generally have nothing but are trying to make it in the world. They are not big corporations. They are local people. This is local culture and food is the way of expressing local culture.
Colleen: I think when you are traveling in a foreign country, people are very happy to see you eat street food. It's part of their lives. You're not isolating yourself, you're not being finicky and picky. It makes you part of the culture. In India, a lot of people speak English so you can ask them what they are eating, what they recommend. It makes you more a part of the local lifestyle.
Bruce: It's true. There is no better way to get into a local culture than to share food with people. They are so happy to see you eat their food.
What countries would you each like to visit next to sample the street food?
Colleen: I'd like to go to Peru even though I don't know anything about the country. But I like South American food and I am intrigued about the variety of empanadas. I'd love to do an empanada tour sometime. I have been all over Asia where everybody eats probably at least one meal every day from a street vendor. Now I think I would like to go to South America.
Bruce: I have been in East Asia, but I have never been to Vietnam or Laos and I would like to go. I really like Vietnamese cuisine and Laos, especially, has a huge variety of street foods that are unfamiliar to us.
What advice do you have for travelers who are reluctant to try unfamiliar foods?
Colleen: Watch the locals eat first to see how the food is consumed. Do they add sauces, for example? Then ask for a small sample.
Bruce: Be adventurous. What's the point of visiting new places if you don't partake of the culture? But watch the food preparation and cooking. Freshly peeled fruits and vegetables are good, fully cooked on the spot is a must.
Click here for the full interview as it appeared in the Boston Globe.