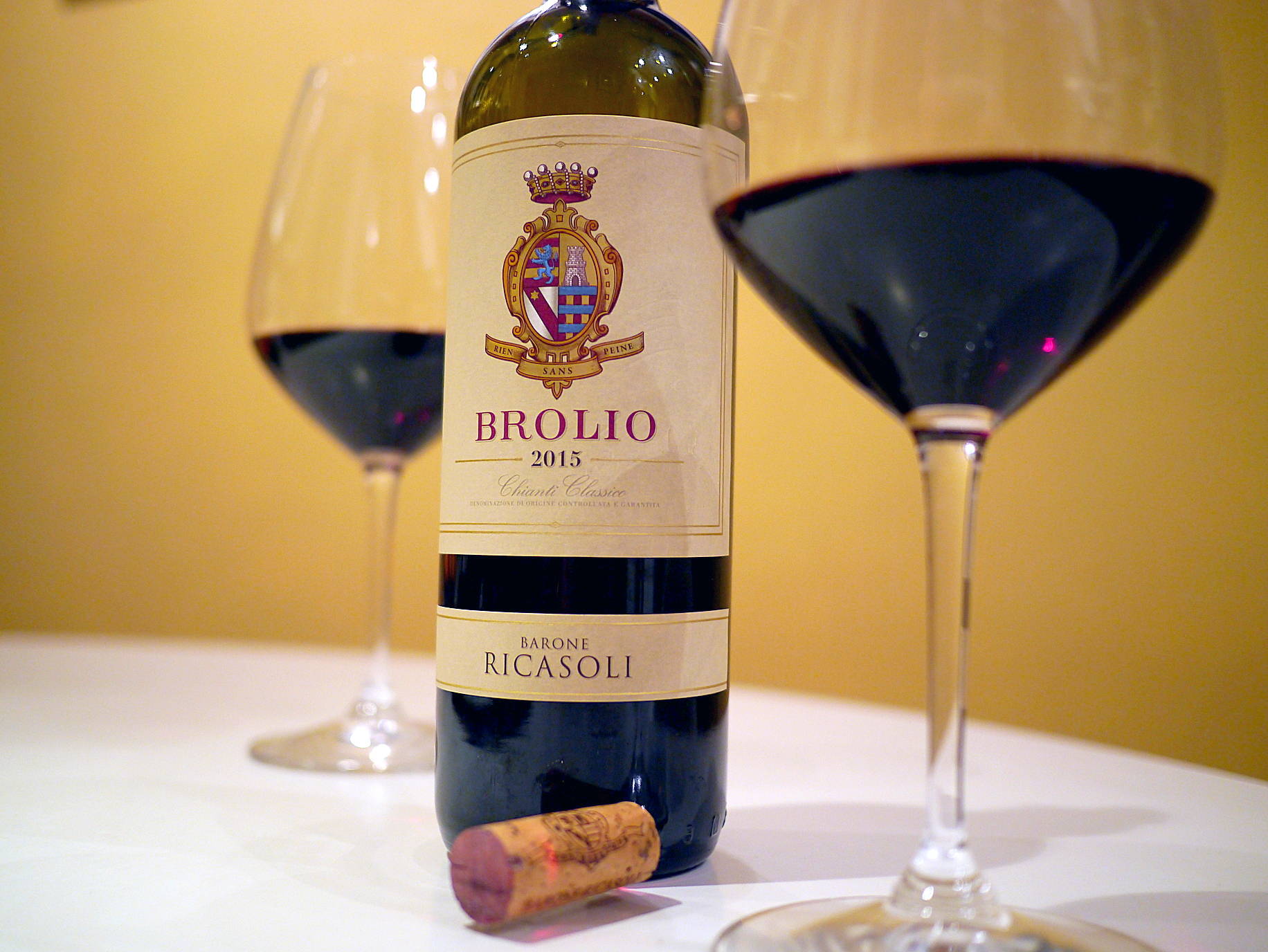 As readers of our last post know, we've been exploring Chianti with dishes for the Christmas season. Our last post highlighted a Brolio Chianti Classico Riserva with roast pork. But we're also fond of Brolio's basic Chianti Classico, which sells for about two-thirds the price of the riserva.
The wine is intensely ruby red, with a more open nose than the riserva. Floral notes of iris and violet mix with red fruits and woodsy aromas. With less barrel aging, the wine is more loosely structured and the tannins are very soft. Typical of Brolio wines, though, it shows a slightly flinty minerality that we quite enjoy.
With apologies to Italy, we decided that this wine would drink well with a French-influenced version of lasagna. Our recipe below is a French-Italian hybrid. It draws equally on Julia Child's "Lasagne francaise" and a northern Italian lasagna from Michele Scicolone's 1,000 Italian Recipes. We think it's fair play, since the grapes in the wine are 80 percent Sangiovese and about 20 percent Bordeaux varietals. The aromatic onion white sauce (a milk-free béchamel) plays well with the wine's round fruits while the orange and saffron notes in the tomato sauce harmonize with the wine's flinty tones.
CHRISTMAS LASAGNA
Serves 6 as a pasta course, three as a main course
Ingredients
NOODLES
1 1/3 cups flour
1 teaspoon salt
1 tablespoon olive oil
2 eggs
6 quarts salted boiling water
large bowl of ice water
FILLING
1 bunch spinach, lightly steamed, well-drained and chopped
1/2 cup grated Parmigiano-Reggiano combined with 1/4 cup finely grated Gruyère
1 cup diced roast pork
WHITE SAUCE
1 tablespoon olive oil
1 cup minced onion
3 tablespoons butter
1/2 cup + 2 tablespoons flour
2 cups chicken stock
TOMATO SAUCE
2 cups marinara sauce
1 clementine or mandarin orange
1 pinch saffron
Directions
To make the noodles, place flour in bowl and make a small well in center. Add salt and olive oil, then the two eggs. Mix well and as dough begins to cohere, use your hands to form a ball. Divide ball into thirds and roll out to thinnest setting on pasta machine. Place 9×6 pan over each strip and cut pieces big enough to fill interior. You will only need three strips. (Leftover dough can be cut into fettuccine or used to make ravioli or tortellini.) Cook each piece for about 15 seconds in boiling water, then scoop out and place in ice water. When cool, drain well and drape sheets of pasta over side of colander to keep them from sticking together.
To make the white sauce, heat olive oil in a large saucepan. Add onions and cook slowly until soft. Remove and reserve half the onions. Blend in the butter and when melted, stir in 1/2 cup flour. Cook mixture about two minutes, stirring constantly. Whisk in all but a few tablespoons of chicken stock and cook over medium heat until thickened. Add remaining flour to remaining stock and whisk thoroughly to dissolve. Add this slurry a little at a time to cooking stock until it will thickly coat the back of a spoon. Remove from heat and reserve.
Set oven to 400°F.
Add marinara sauce to a separate pan. Stir in reserved onions. Grate zest of clementine and add to marinara. Squeeze the juice into the sauce as well and stir in saffron. Heat to cook about 5 minutes.
ASSEMBLY AND BAKING
Assemble the lasagna by placing one noodle strip on bottom of pan. Spoon a few tablespoons of white sauce over noodles and spread half the spinach, then half the pork. Sprinkle with a few tablespoons of grated cheese. Add a few tablespoons of white sauce and top with another noodle. Repeat white sauce, spinach, pork, grated cheese, white sauce. Add another layer of noodle and top with remaining white sauce, then with tomato sauce. Sprinkle remaining grated cheese on top.
Bake in 400°F oven for 30-35 minutes until lasagna is bubbling. Let cool 10 minutes before cutting. Serve with a Chianti Classico DOCG.