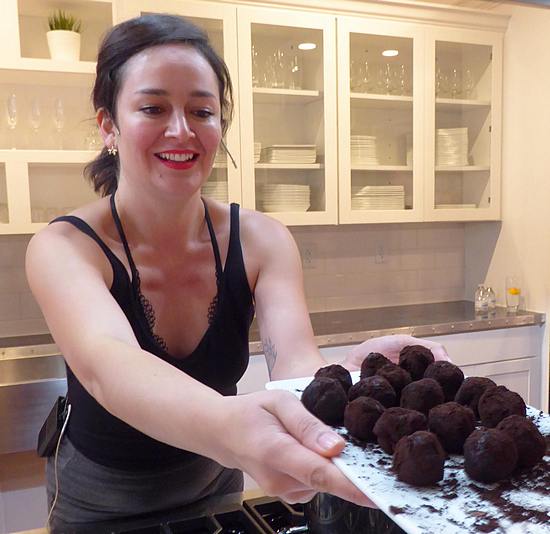 We were glad to see Andy Embry behind the counter at the cookware store and demonstration kitchen Mesa (216 Pearl Street, 812-725-7691, mesachefs.com) in New Albany. Mesa offers an ambitious schedule of cooking demonstrations led by local chefs. We had signed up for the bourbon and chocolate tasting program that is usually offered once a month, according to Mesa owner Bobby Bass.
Embry had been remarkably engaging and knowledgeable when he guided us through the Evan Williams center in Louisville (see this post). And he had offered some good pointers on tasting bourbon. So we were curious to see how he approached pairing bourbon with chocolate. His partner in the demonstration was Erika Chavez-Graziano, founder of Cellar Door Chocolates (cellardoorchocolates.com), which has three shops in Louisville.
"Chocolate brings out the sweetness of bourbon," Embry told our group as the tasting began. We each had three small glasses of bourbon and three of Chavez-Graziano's confections in front of us. "Take a bite of chocolate and let it melt in your mouth," Embry advised. "Then take a sip of bourbon and let the flavors blend in your mouth."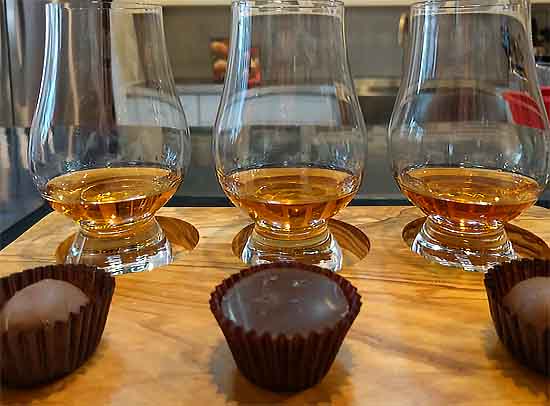 Bernheim Wheat and milk chocolate

We began with Bernheim Wheat Whiskey. At 90 proof, it was the lightest and the softest of the Heaven Hill whiskies. Embry and Chavez-Graziano had paired it with a 38 percent milk chocolate truffle. Embry prefers milk chocolate with bourbon. "It pairs better because it is smoother," he said. "It brings out the best in bourbon." The milk chocolate was light enough that it didn't step all over the toffee and spice of the wheated whiskey
Elijah Craig and salt caramel

Next was Elijah Craig Small Batch Bourbon. This is one of our favorite bourbons. The nose has sweet fruit, fresh mint, and vanilla notes. The taste is woody with a hint of nutmeg and smoke. It's one of those bourbons with a pronounced "Kentucky hug" in the finish—warming all the way down. Pairing it with a bourbon-barrel-smoked sea salt caramel gives the caramel a slight toasted note, while the caramel accentuates the wood and spice in the whiskey.
Henry McKenna and cinnamon truffle

Finally, we tasted Henry McKenna Single Barrel with a cinnamon truffle. The McKenna is bottled in bond with the barrel number on each bottle. The nose shows caramel and vanilla, while the taste is a swirl of oak, toasted spices, and honey. The cinnamon in the truffle plays especially well with the sharp spices in the whiskey.
Make your own bourbon balls

Chavez-Graziano is a self-taught chocolatier who is so serious about her craft that she imports and roasts her own cacao beans. She participated in the tasting with great enthusiasm, but also managed to make a batch of bourbon balls to share with the group while Embry was talking.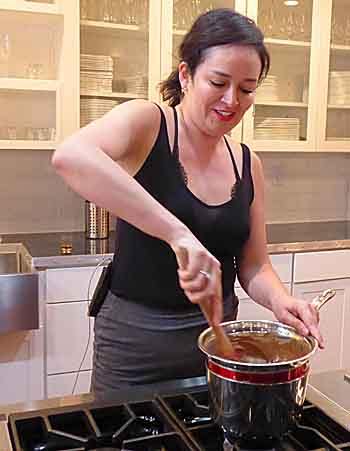 She began by melting chocolate and cream in a double boiler behind the counter. For best results, she said, use couverture chocolate rather than compound chocolate. Couverture contains cocoa better, while compound chocolate substitutes another oil.
For every pound of chocolate, Chavez-Graziano adds one-half cup of whipping cream. She also stirred in a little sea salt and a generous splash of bourbon. Then she removed the pot from the heat and set the mixture aside until it was cool enough to roll into small balls. For the final touch, she rolled each one in dark cocoa powder. Do not use Dutch-processed cocoa, she told us, because the processing alters the flavor by removing the natural acids.
Chavez-Graziano passed the tray of truffles to all the guests. "The most selfless way to express love to people," she said, "is to feed them."
We were only sorry that we had finished our bourbon.