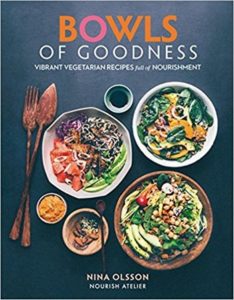 If there's one subject more contentious in Marseille than the sanctity of the Olympique football team, it's the proper recipe for bouillabaisse. Some sources argue that it's a poor fisherman's stew made up of bycatch, while the charter of the Marseille Bouillabaisse organization specifies at least four kinds of fin fish and two optional shellfish. That the dish is usually served in two courses and spiced with pricey threads of saffron argues that maybe it was always a dish for the wealthy.
Most of those fish species are expensive imports where we live, so we're always happy to find another way to enjoy the dish. Nina Olsson, the force behind Britain's NourishAtelier.com, has provided a really striking vegetarian alternative for bouillabaisse in her recent cookbook, Bowls of Goodness published by Kyle Books ($27.95). These vegetarian recipes, which include notes to make the dishes vegan and/or gluten-free, pay heed to culinary traditions and tried-and-true flavors while offering healthy plates for a plant-based diet. Her bouillabaisse keeps the spirit of the stew but skips the fish, relying on seaweed for the umami of the ocean. We prefer a pinch of saffron to the single thread she proposes.



FISH-FREE BOUILLABAISSE
Rustic saffron and vegetable soup with seaweed and rouille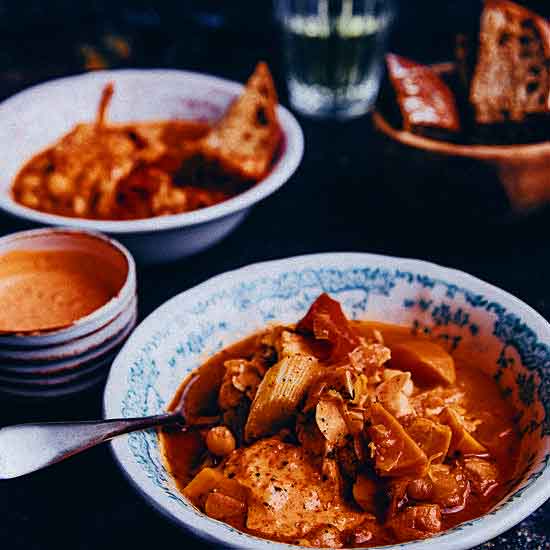 There's something very romantic about rustic soups such as bouillabaisse. As much as I like perfectly blended soups, the sense of the Old World that derives from a soup full of texture is hard to beat. This one comes from Marseille, the old seaport in southern France. In this recipe I have transformed what was originally a fish stew into a delicious vegetarian soup, infusing it with a seafood flavor from kombu seaweed.
A traditional bouillabaisse is made with a variety of seafood, often the leftovers after fishermen have sold the best of their catch. To duplicate the textures in a classic bouillabaisse I used a mixture of vegetables, giving cauliflower a prominent position. The soup's flavor is elevated by saffron, fennel, and almond. It is served with a tasty rouille sauce made with roasted pepper and mayonnaise, which is spooned into the finished soup and scooped up with bread. – Nina Olsson
serves 2 to 3
Ingredients
FOR SOUP
2 red bell peppers, 1 cut into strips and 1 left whole
1 sweet potato, peeled and cut into half-inch dice
2 cups cauliflower florets
olive oil
2 tablespoons fresh thyme
4 garlic cloves, sliced
1 fennel bulb, thinly sliced
3 shallots, thinly sliced
handful of almonds, thinly sliced
half leek, thinly sliced
4 cups vegetable broth
14 oz. can diced tomatoes
2/3 cup dry white wine
4-inch strip of kombu seaweed
2 bay leaves
1/4 lb. black olives
3 tablespoons nutritional yeast (optional)
1 teaspoon honey or maple syrup
8 oz. can chickpeas, drained
1 saffron thread
1 tablespoon Pernod (optional)
salt and pepper
extra-virgin olive oil
FOR ROUILLE
1 red bell pepper, roasted (see above)
1/2 cup mayonnaise (or Vegenaise to make a vegan version)
juice of 1 lemon
2 garlic cloves, crushed
pinch of ground star anise (optional)
1/2 teaspoon harissa paste
salt
rustic bread, to serve
Directions
Preheat the oven to 400°F and line a baking sheet with parchment. Place the peppers, sweet potato, and cauliflower florets on the baking sheet. Drizzle with olive oil and sprinkle with salt and thyme. Roast until soft, about 30 minutes. Remove from the oven and set aside. Once cool enough to handle, peel the skin from the whole red pepper, then halve and remove seeds, ready to make the rouille.
Blend all the ingredients for the rouille and refrigerate, covered, until ready to serve.
To make the soup, heat a saucepan over medium-high heat and add a drizzle of olive oil. Gently cook the garlic, fennel, shallots, and almonds for a few minutes. Add the leek and cook, stirring, for another minute. Add the broth, tomatoes, wine, kombu, bay leaves, olives, nutritional yeast (if using), honey, and salt to taste. Cover the pan and let it simmer slowly for 15 minutes. Add the roasted vegetables, chickpeas, and saffron, then continue to simmer for 10 minutes.
Remove from heat and discard the kombu and bay leaves. Add the Pernod (if using), and salt and pepper to taste. Drizzle with extra-virgin olive oil and serve with the rouille and rustic bread.