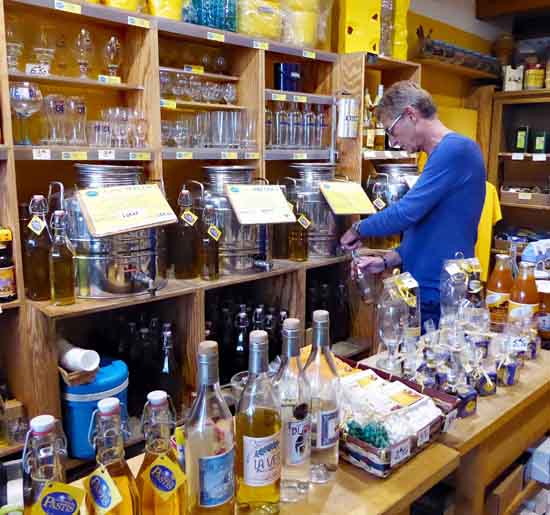 Amid all the shops selling olive oil soap in Marseille, we almost overlooked La Maison du Pastis (108, Quai du Port, Marseille, +33 (0)491-90-86-77, lamaisondupastis.com). True to its name, the delightful little shop specializes in the anise-flavored liqueur that is popular in Marseille and throughout southeast France. Pastis was widely promoted in the 1930s as an alternative to the more potent absinthe, which had been banned by the government. That way, the French could continue to enjoy an anise-scented "apero" or apéritif before dinner without the brain and liver damage linked to La Fée Verte (the Green Fairy). A few large producers dominated the pastis market for the first half-century or so. But by the 1980s, a number of boutique producers began to infuse different herbs and spices to create a seemingly endless variety of new flavor profiles.
La Maison du Pastis opened in 2001 and carries about 75 of the more than 90 French producers of pastis. La Maison also distills its own classic pastis with anise and licorice root, as well as several variants with coriander, cardamom, and assorted aromatic herbs. It even makes an unsweetened version that is technically a spirit rather than a liqueur. Edith, the shopkeeper, let us sniff several open bottles and then offered to pour us a taste. It was a little like having a zillion variants of licorice. Faced with the complexity, we preferred the clarity of the original formula.


Observing the ritual of pastis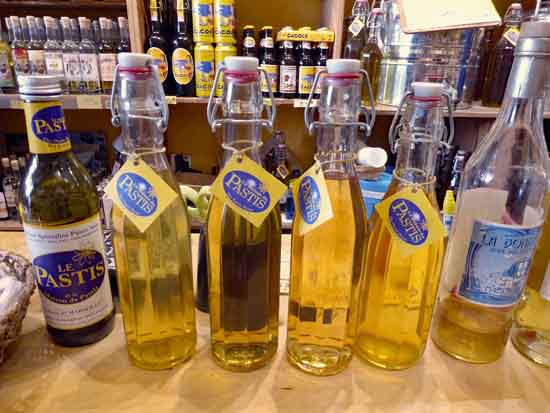 The classic way to drink, she explained, is to mix one part of pastis with five parts of water. There's even a special glass for serving pastis. It's so elegant that we'd bet some people drink the aperitif just so they can lift the delicate glass to their lips. Pastis is best chilled, and some drinkers add ice to their glass. But that's a matter of personal taste. Either way, it turns cloudy with the addition of water.
We decided on a bottle of the classic and told Edith that we would think of her when we enjoyed a drink before dinner back home in Cambridge. "Oh," she said with a smile, "some people drink it before lunch. And some people drink it all day."
By the way, in 1999 the French government lifted its ban on absinthe and you'll also find a number of brands on the shelves at La Maison du Pastis.