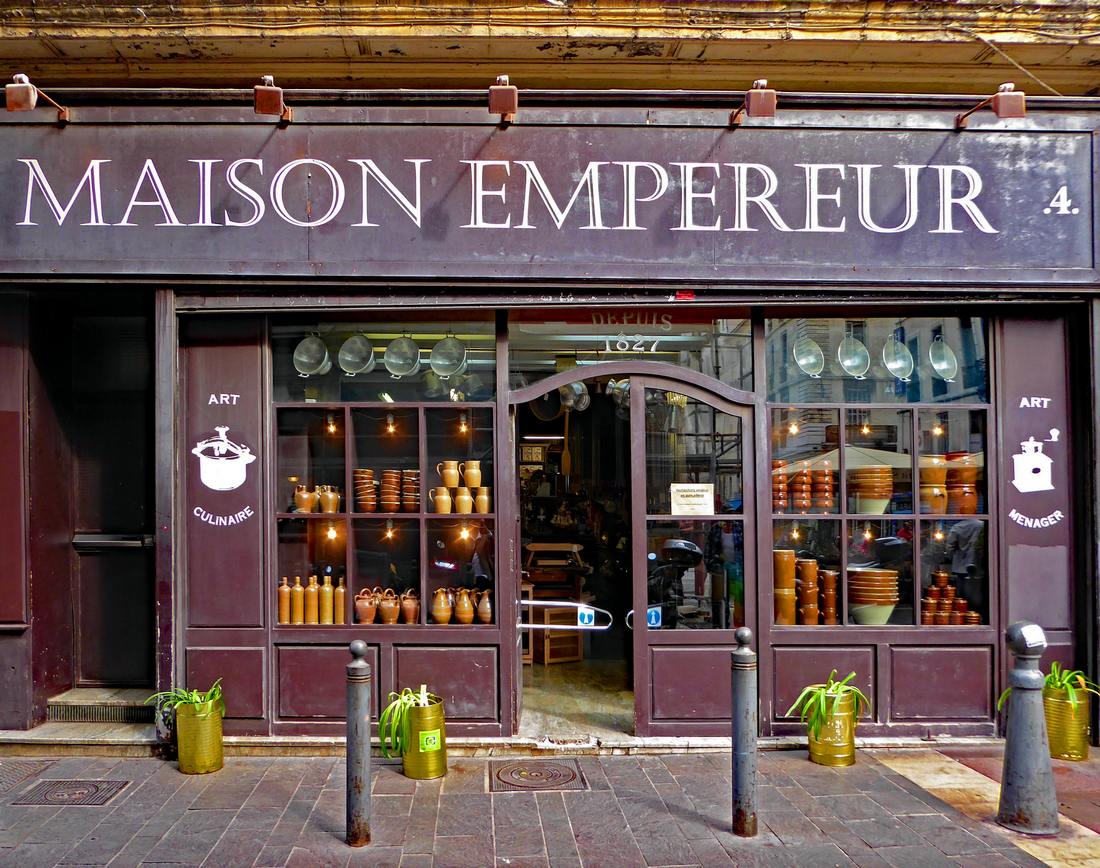 Julia Child reportedly lamented her husband Paul's transfer from Paris to Marseille in the early 1950s, but she took solace in the cuisine of Provence. Perhaps she had already assembled a full kitchen battery at E. Dehillerin in Paris (edehillerin.fr). If not, she also had the riches of Maison Empereur (4, rue des Récolettes, +34 04-9154-0229, empereur.fr) at her fingertips in Marseille. Tucked into a corner of old Marseille a few hundred meters from the Old Port, this "hardware store" (quincaillerie) founded in 1827 claims to be the oldest in France. More than 90 percent of the products sold at Maison Empereur carry the Enterprises du Patrimoine Vivant label, a certification of excellence in traditional artisanry and industrial processes.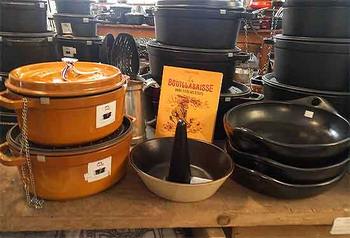 Yes, you can buy nuts and bolts and Bakelite doorbell buttons and porcelain lamp fixtures and all the other wonderful weird merchandise carried in old-fashioned hardware stores around the globe. But kitchenware is where Maison Empereur really shines. Its outside signage advertises art culinaire and art ménager. Those roughly translate as the everything you need for cooking and housekeeping. It is not a boast, simply a statement of fact. The kilometer of aisles in the series of interlinked buildings on the point where rue Musée and rue des Récolettes meet are narrow and jam-packed with goodies ready to be discovered. That could be every imaginable shape of aspic or chocolate mold, every known size of cast-iron frying pan or enameled stew pot, and every gadget your foodie heart could covet. The store's owners bill it as containing the wonders of Ali Baba's cave, which is amusing since the surrounding neighborhood is principally North African. Only our limited luggage space kept us from maxing out the credit cards.



Trés Provençal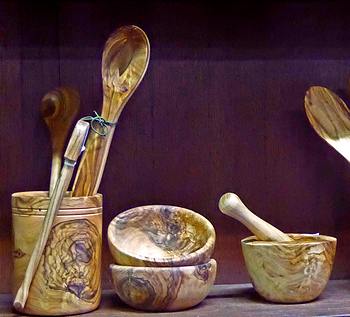 In addition to the industrial hardware, Maison Empereur also carries traditional hand crafts of Provence, including utterly beautiful salad bowls and utensils crafted from olive wood (right) or large olive-glazed ceramic pitchers decorated with white bands. Even the "saladier gratte ail" struck us a marvelously Marseillaise. It is a large ceramic salad bowl with a rough bottom intended for grating a head of garlic. If you want to make salad something of a fixation, Maison Empereur also sells kits for making your own vinegar, complete with a vinegar crock fitted with a spigot. For the true salad fanatic, the shop also carries a device to press your own olive oil at the table.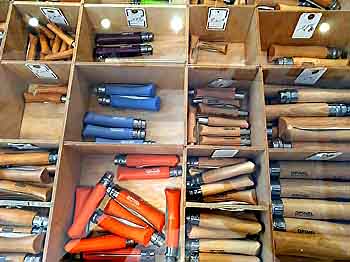 The traditional devices captured our attention even more than the innovations. We had to resist the temptation to buy a chocolate shaver (which can also be used with a round of hard cheese), chocolate pincers designed to break up sheets, or any of the dozen varieties of wooden kitchen utensils. We did succumb to the longstanding desire to own perhaps the world's finest wood-handled folding knife. The Opinel knives were invented in the 1890s in the Savoie region and the No. 8 with a plain wooden handle and a carbon-steel blade has become an icon. It fits the hand beautifully, has just the right curve in the blade to cut thick vines and tree shoots, and can be honed sharp enough to use as a straight razor. Even better, it is a classic that sells for less than €11. Naturally, Maison Empereur carries all the sizes and variations in its front room devoted entirely to knives and other cutting instruments.
Maison Empereur is open 9 a.m.-7 p.m. daily except Sunday.