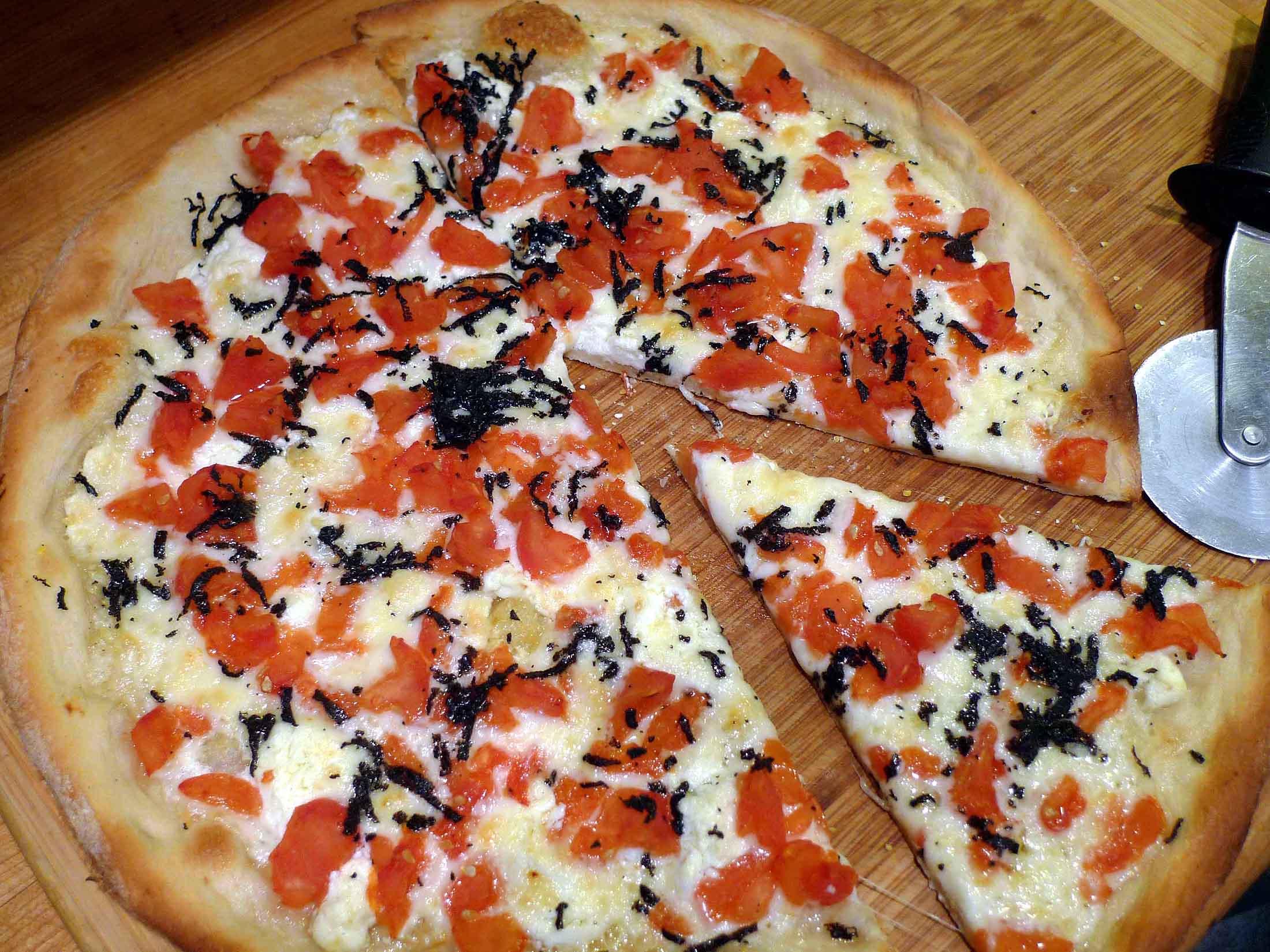 I got some of my best ideas about how to adapt truffles for home preparations from Doug Psaltis of RPM Steak (rpmsteak.com), RPM Italian (rpmitalian.com), and Paris Club (parisclubbistroandbar.com) in Chicago, who is the biggest user of Aussie truffles in the U.S. Psaltis credits his comfort level with truffles to the seven and a half years he spent working for Alain Ducasse (he opened Mix in New York).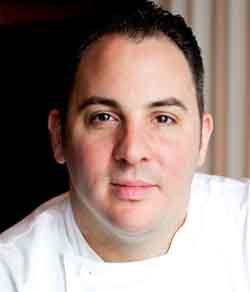 "I learned the best thing about truffles—that they are really delicate and not overpowering," he told me. "There are a lot of aromas to truffle dishes but what I really savor is the actual flavor of truffle. Handled right, it's light and delicate. You can add lots of butter and lots of cheese to make a Parmesan pasta with black truffle and it's great. But sometimes I just prefer some crushed truffle, a little bit of garlic and pine nuts and just a sprinkle of cheese tossed in great pasta. Then the truffle comes through."
Psaltis's advice to cut back on the fat gave me a new way of thinking about truffles, since most traditional truffle recipes pair the fungus with lots of butter, beef juices, or other fat. (I've even seen chefs in Italy's Piedmont shave white truffle over a plate of lardo, which is pure raw pork fat.) One of Psaltis's other favorite treatments surprised me.
"I love a great burrata with tomatoes and black truffles," he said. "You get a little bit of the earthiness and the tang from the burrata and the acid of the tomato and a little bit of raw garlic in there with the truffles."
I'm looking forward to trying both of Psaltis's treatments this summer when the new harvest is available. And when a chef of such accomplishment spoke about the simple pleasures of tomato, mild cheese, and black truffle, it inspired me to bring some of those same flavors together to make a black truffle pizza.
Restraint is part of the secret of any good pizza, and for a black truffle pizza it was even more important. I use a pretty standard pizza dough that's easy to make but requires several hours to rise. It's been adapted from a pizza class adaptation of a Cook's Illustrated adaptation of a New York baker's no-knead dough that rises in the refrigerator. It's best if it rises overnight in the fridge, but it works fine if you let it rise all day on the counter.
FOOD PROCESSOR PIZZA DOUGH

210 grams flour
1/4 teaspoon instant dry yeast
1 teaspoon sugar
150 grams ice water
3/4 teaspoon sea salt
1 tablespoon olive oil
In food processor fitted with steel blade, add flour, yeast, and sugar. Process 30 seconds to mix. With processor turned on, dribble ice water through feed tube until absorbed. Process another 30 seconds.
Let sit at least 10 minutes before proceeding. This allows the yeast to get a head start on the salt.
When the wait period is over, add salt and olive oil and process until the dough pulls away from the sides of bowl.
Turn out and place in greased 1-quart bowl to rise, preferably six hours or more. Punch down periodically when dough reaches rim.
This recipe requires some modest kneading on an oiled surface and then working by hand to stretch the dough into a 16-inch round. Cooked at 450°F, it produces a Neapolitan-style crust in about 10 minutes—crisp and browned on the bottom and slightly chewy on the top.
BLACK TRUFFLE PIZZA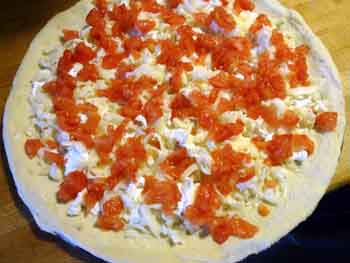 The firm cheese is an aged goat cheese from the French Pyrenees that has a grassy/fruity flavor and melts very smoothly. It's a bit of a splurge, but it's worth it for the perfect pairing with the delicate truffle flavor. The truffles only go in the oven for the last few seconds that the pizza is being cooked, mostly to activate their aroma and let the cheese melt around them.
Crust (as above) rolled out on pizza pan
3 ounces tomme de chevre Aydius, coarsely grated
1 ounce fresh goat cheese
1 cup diced fresh tomato, well drained
10 grams grated or shaved black truffle
1/2 cup fresh basil leaves, minced
Distribute cheeses evenly on crust and top with diced tomato, as shown above.
Cook until crust starts to brown on the bottom. Remove from oven and sprinkle pizza with black truffle. Return to oven to cook another 30-45 seconds. Remove from oven, sprinkle with basil, and cut into slices.