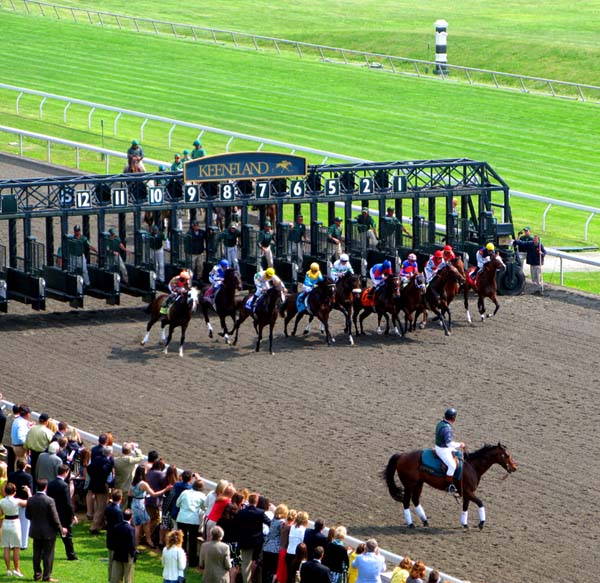 I was a little surprised when my friend Patti told me that I should wear a skirt or dress, or at least a nice pantsuit, when we went to the thoroughbred races at Keeneland (www.keeneland.com). But Patti knows that my travel wardrobe consists mainly of black jeans and white blouses – not a bad look if I do say so myself, but definitely not the right thing for Lexington, Kentucky's National Historic Landmark track. (Hats, by the way, are optional.) Keeneland, which is celebrating its 75th anniversary this year, was founded in 1936 to serve as an elegant showcase for the Bluegrass thoroughbred horse industry. Live races are held only twice a year (this year April 8-29 and October 7-29) and are quite an event. Keeneland is especially stunning in the spring when the dogwood, magnolia and redbud trees are in bloom.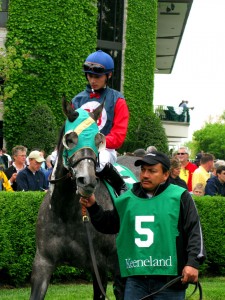 We could have gone more casual if we opted for general admission, but we wanted to make a day of it with a buffet lunch in one of the rooms overlooking the grandstand. Between visits to the buffet line for cheeses and salads, roast beef, roast chicken, and several pasta dishes, we pondered our bets and then rushed out to an open balcony to cheer on our horses as they sped around the 1 1/16-mile oval track. We also wandered out to the paddock area where horses warm up and seasoned handicappers can make a final assessment of horse and jockey before placing their bets. "Bet on the horse that finishes first," someone told me with a laugh. I didn't have much luck with my $2 bets, but I did secure the recipe for Keeneland's signature Bread Pudding with Bourbon Sauce. And that's a winner.
—
KEENELAND BREAD PUDDING WITH MAKER'S MARK BOURBON SAUCE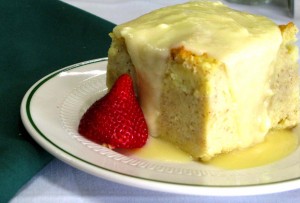 This recipe is included in Keeneland Entertains: Traditional Bluegrass Hospitality and Favorite Recipes, Fran Taylor's cookbook tribute to Keeneland's 75th anniversary. I have kept Fran's original format and size—big enough to serve a race weekend party.
Serves: 10 to 12
BREAD PUDDING
2 quarts milk
2 cups sugar
2 teaspoons vanilla
8 eggs beaten
2-3 quarts cubed white bread (or Sister Schubert rolls)
1 cup golden raisins
1 tablespoon cinnamon
Whisk sugar into milk until dissolved. Add eggs, vanilla and stir. Soak bread in mixture for several hours or overnight. Pour into Pyrex or stainless pan. Sprinkle with raisins and cinnamon and "push" into mix. Bake at 250 degrees for approximately 1 1/2 hours or until firm.
MAKER'S MARK BOURBON SAUCE

1 lb. butter
2 lb. powdered sugar
1 cup Maker's Mark Bourbon
Let butter become soft at room temperature and add powdered sugar. Whip bourbon into mix until it makes a frosting consistency. Ladle sauce over hot bread pudding and it will melt on its own.