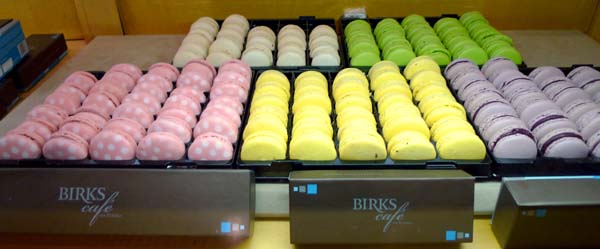 Montrealers have come to rival Parisians in their passion for macarons. Slowly but surely, pastry chefs all over the city have learned the techniques of making fabulous macarons – those delicate meringue sandwiches that bear only the slightest relation to the much cruder coconut-based American macaroon.
The leading macaron boutique for our money is Point G (1266 avenue Mont-Royal est; 514-750-7515; www.boutiquepointg.com). The name refers to "Glaces et Gourmandises," or ice cream and small pastries. In practice that means some fabulous artisanal ices (including a foie gras ice cream to take home and dollop on steamed asparagus), and close to two dozen inventive flavors of macarons, including lavender-blueberry, roasted pistachio, orange blossom, crème brûlée, lime-basil, and chocolate-hazelnut. The shop even has clear-plastic containers fitted to hold a dozen macarons for take-away.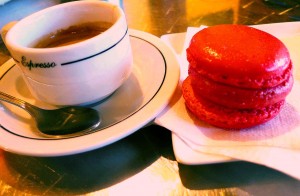 Le Péché Glacé (2001 avenue Mont-Royal est; 514-525-5768) is best known for the ice creams for which the cafe is named, but also serves macarons filled with coffee, caramel, chocolate, and lemon ice creams. They're tasty, but the ice cream can make the usually crisp cookies a little gummy.
These elegant treats aren't just the purview of bakeries and snack shops. Some of Montreal's best macarons come from the pastry chefs at Restaurant Europea (1227 rue de la Montagne; 514-398-9229; www.europea.ca), the fine-dining restaurant of master chef Jérôme Ferrer. The restaurant rivals our long-time favorite Restaurant Toqué! (900 Place Jean-Paul-Riopelle; 514-499-2084; www.restaurant-toque.com) as the top destination dining in Montreal. Ferrer is quite the entrepreneur. His Old Montreal snack shop Espace Boutique Europea (33 rue Notre-Dame ouest; 514-844-1572; www.europea.ca) often has macarons in the dessert case, and they're often available as dessert at his Bistro le Beaver Hall (1073 Côte du Beaver Hall; 514-866-1331; www.beaverhall.ca). You can even buy a box of these sublime macarons at Birks Café (1240 place Phillips; 514-397-2468; www.birkscafe.ca), which sits on the mezzanine of Montreal's most exclusive jewelry store.
Ferrer also offers cooking classes at Atelier Europea (www.europea.ca/atelier/index.html), the workshop in the basement of the flagship restaurant. The sessions on making macarons are taught by pastry chef Olivier Michallet, whose resume includes a stint at the legendary Paris pastry shop Ladurée, often considered the pinnacle of Parisian macarons. The classes are usually conducted in French, but cooking transcends language. They fill quickly, but David was able to secure a slot when we were there in early November finishing our research for Food Lovers' Guide to Montreal.
MACARONS Á L'ATELIER EUROPEA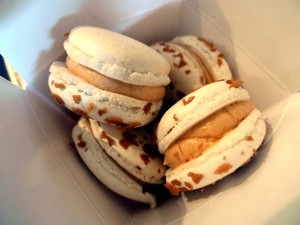 Makes 5 dozen cookies (30 sandwiches)
This is the recipe that the Atelier Europea uses in its classes. We have kept the original metric weights for ingredients because, as with all meringue-based recipes, weighing gives more consistent results than measuring by volume.
Ingredients
300 grams almond flour
300 grams powdered sugar
6 egg whites
90 grams water
300 grams granulated sugar
Directions
1. In a large bowl, combine almond flour and powdered sugar. Mix well. Add 3 egg whites and blend until thoroughly mixed to a smooth paste.
2. Add water to a non-reactive pot and stir in granulated sugar. Heat on low, stirring until sugar is well dissolved. Raise heat to high and monitor temperature with candy thermometer while preparing egg whites for meringue. Syrup should not exceed 121˚C (250˚F).
3. Place 3 egg whites in a metal mixing bowl (ideally in a stand mixer) and whip to medium peaks—not soft, but not stiff.
4. When sugar syrup reaches a temperature of 121˚C (250˚F), remove pot from heat. With mixer running, slowly pour syrup down side of bowl into egg whites. Increase speed of mixer and whip until whites form very glossy high peaks. Set meringue aside to cool.
5. Once meringue is cooled to warm room temperature, stir about a third of the meringue into the almond-sugar paste to incorporate well. Gently fold in the rest of the meringue.
6. Using a pastry bag with a 3/8-inch round tip, deposit about a teaspoon of batter per cookie onto parchment-covered baking sheet. Space about 1 inch apart. When baking sheet is covered, tap on counter to make batter settle. (Cover remaining batter with plastic wrap before assembling the next tray.)
7. Let sit uncovered for 15–30 minutes to allow a light crust to form. This helps ensure the desired texture of creamy interior and crunchy outer shell.
8. Preheat oven to 180˚C (350˚F).
9. Bake for 6–7 minutes, rotating pan halfway through.
10. Let fully cool on parchment paper. Then remove and make sandwiches. Europea macarons are often filled with rich and complex sweets like caramel fleur de sel buttercream, raspberry buttercream, chocolate ganache, or lemon curd. But we have found that purchased lemon curd or raspberry jam—or fresh berries—sure impress our friends.