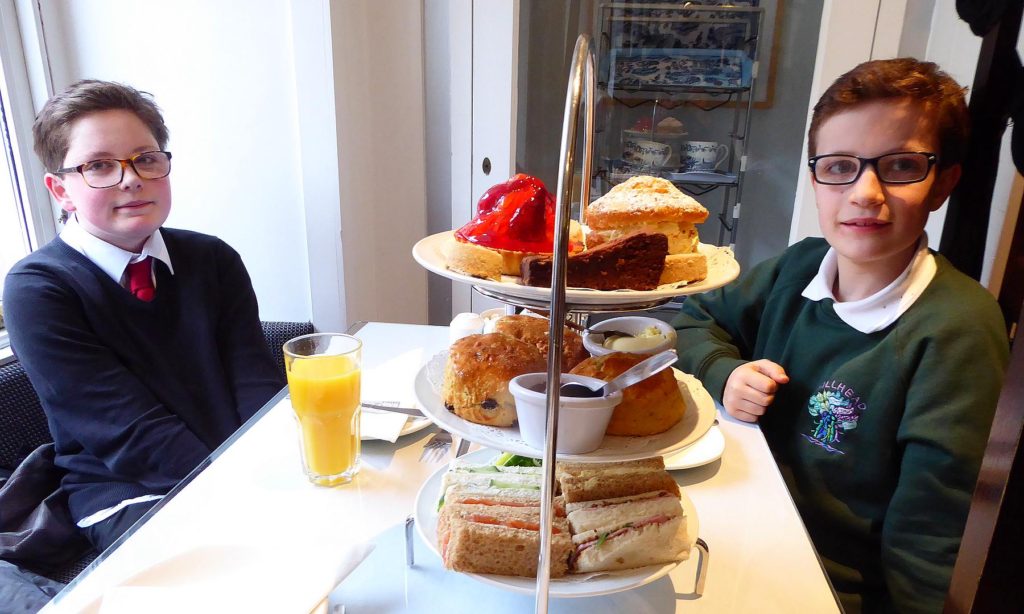 We look forward to the ritual of afternoon tea wherever we land in the British Isles. Stopping in a homey tea room for an afternoon "cuppa" is such a genteel tradition that it's hard to imagine that it was once at the forefront of a social revolution. But in the mid-nineteenth century, tea rooms were one of the few places where women could gather and socialize. Miss Kate Cranston was one of the pioneers of the movement when she opened her first tea room in Glasgow in 1878. She went on to operate four tea rooms in the city before she retired in 1928.
Miss Cranston proved to be a visionary as well as a shrewd businesswoman. To provide her patrons with an uplifting experience, she engaged up-and-coming designers to create the tea room interiors. She made her lasting mark with Charles Rennie Mackintosh, the Glasgow-born architect and designer most responsible for the city's signature look. Mackintosh collaborated with Margaret Macdonald, the artist and designer who was also his wife.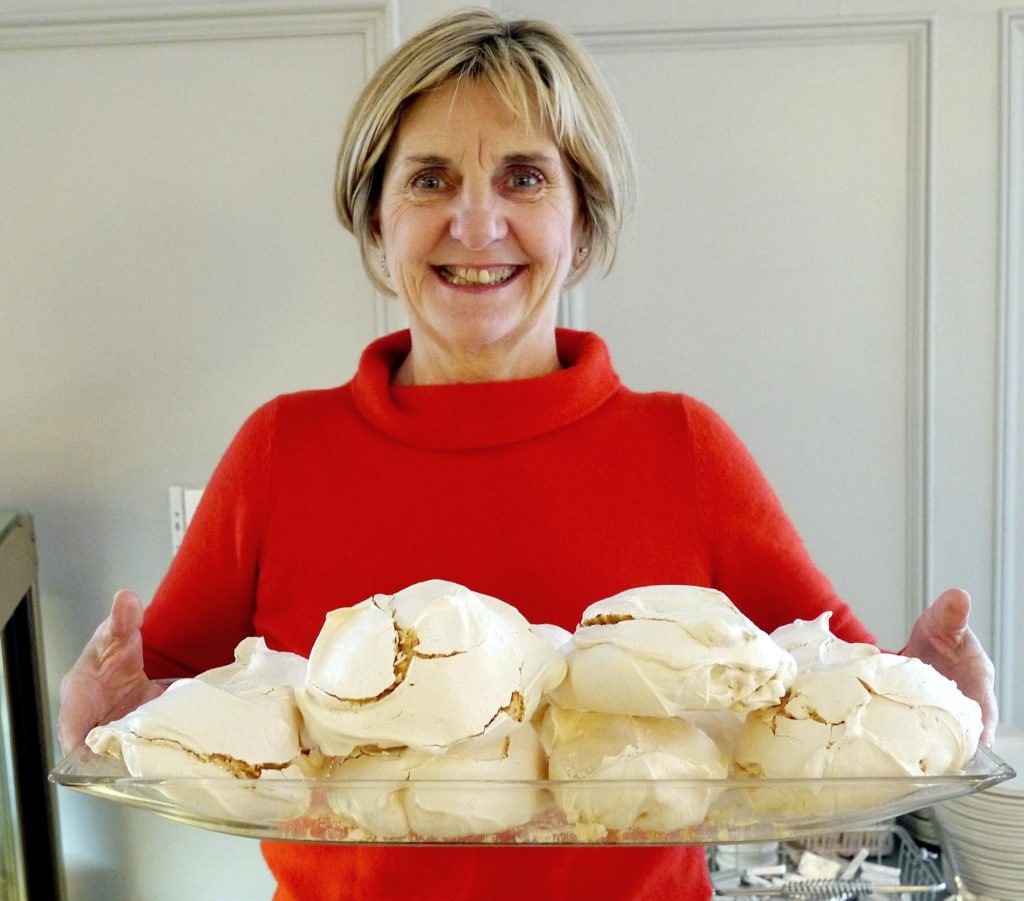 "Miss Cranston was old-fashioned in her dress, but she worked with young, inspiring architects," Anne Mulhern (right) told us when we stopped at her Willow Tea Rooms on the sunlit third floor of the Watt Brothers department store at 119-121 Sauchiehall Street. In 1983, Mulhern opened the first of her Willow Tea Rooms (willowtearooms.co.uk) in another location on that same shopping street. The interior was inspired by the collaboration between Miss Cranston and Mackintosh, right down to the straight, high-backed chairs. "It makes a difference when you sit in a high-backed chair to have tea," Mulhern said. And we have to admit that we did sit up straighter.
Modern tastes in Art Nouveau interiors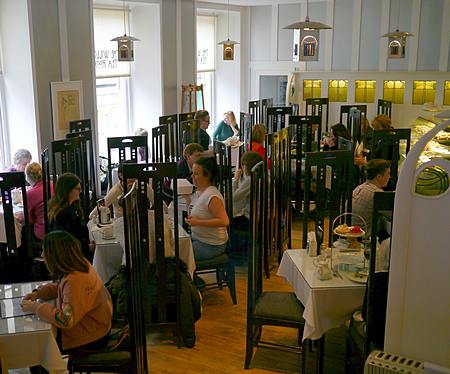 In addition to Sauchiehall Street, Mulhern also operates a tea room at 97 Buchanan Street, an even more upscale shopping destination. That two-level space is patterned after two of Mackintosh's most remarkable designs for Miss Cranston, the White Dining Room and the brilliant blue Chinese Room.
Much as Mulhern admires Miss Cranston, she found that the original tea room menus offered "a lot of obscure things like mutton pie." Instead of replicating it, Mulhern worked with chefs at the College of Food Technology to develop a menu that nods to tradition but caters to modern tastes. For example, she tops avocado toast with salmon smoked with Lapsang Souchang tea. Her homemade crab cakes come with a small salad of arugula, cherry tomatoes, and spinach. Some traditions just go on and on. Mulhern's large, puffy meringues remain one of the favorite sweets—usually with freshly whipped cream and seasonal berries.
Sweets are always the house specialty
We were particularly fond of the Willow Tea Rooms version Lemon Drizzle Cake. This old-fashioned UK-standby is enjoying revived popularity thanks to the Great British Bake Off television show. It was the perfect sweet bite to accompany a pot of the Willow's signature blend of Ceylon and Assam teas. Mulhern was kind enough to share the recipe, which we've adapted to American measures and ingredients. Like a lot of UK bakers, Mulhern uses "self-raising flour," which differs slightly from "self-rising flour" in the U.S. It contains softer wheat with less gluten and contains a lot of salt. We've substituted cake flour, baking powder, and salt. The resulting cake has a delicate, soft crumb.
LEMON DRIZZLE CAKE
Makes one 9"x5" loaf or 12 individual mini cakes
Ingredients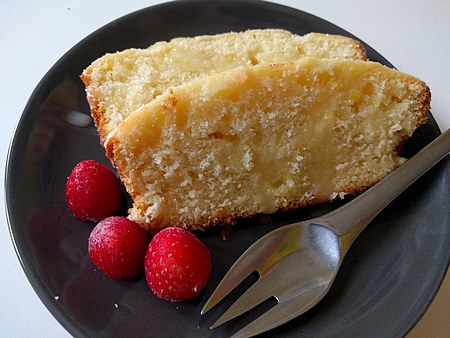 3/4 cup (170g) superfine sugar
1 1/4 cup (170g) cake flour
2 teaspoons baking powder
3/4 teaspoon sea salt
8 tablespoons (113g) butter
2 large eggs
grated peel of 1 lemon
juice of 2 lemon, separated
4 tablespoons milk
For icing
1 3/4 cups (200g) confectioners sugar
5 tablespoons lemon juice
grated peel from 1/2 lemon
Directions
Set oven to 350°F.
Grease and dust a 9"x5" loaf pan or small individual cake molds.
In a small mixing bowl, combine sugar, flour, baking powder, and salt. Whisk together.
In larger bowl, beat butter until fluffy and beat in eggs. Continue beating to add lemon peel and juice of one lemon. Beat in the dry ingredients, alternating with the milk until batter is smooth. Scrape into prepared pan or individual molds. Smooth the top(s).
Bake about 50 minutes (25 minutes for individual molds), or until a toothpick or cake tester pushed into the center comes out clean.
Turn out onto cooling rack and drizzle with about half the juice of one lemon. When cool, place on plate to ice. Combine confectioners sugar and lemon juice and grate in some lemon zest. Drizzle icing over top.