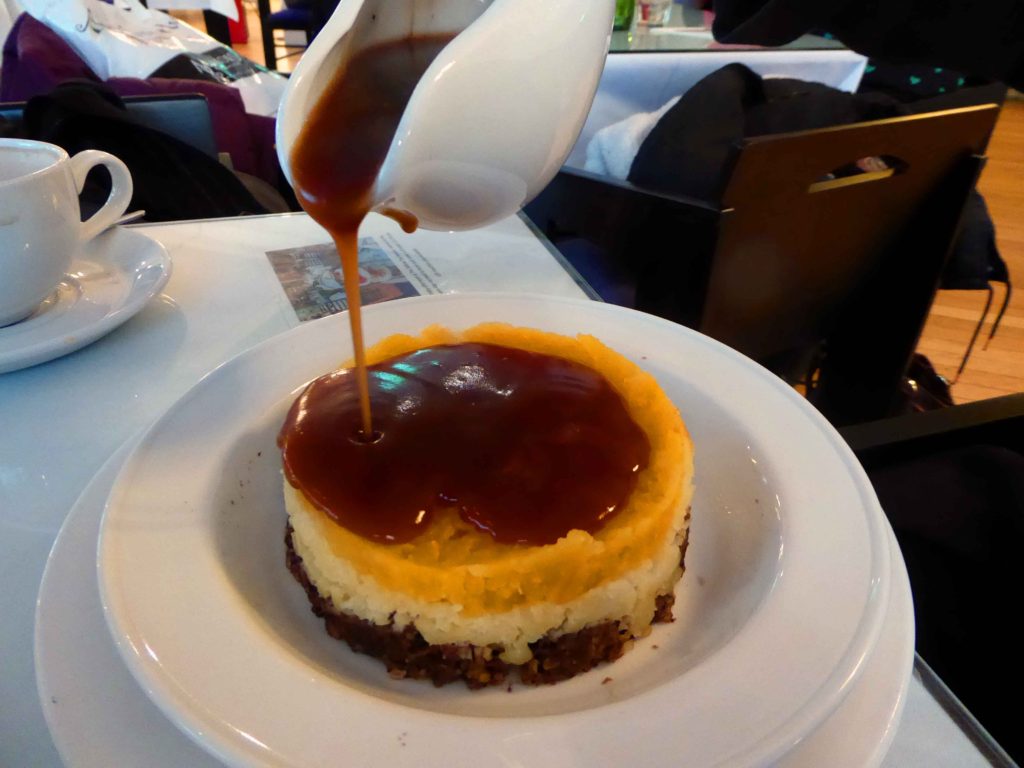 Canadian comedian Mike Myers once observed that Scottish cuisine is basically based on a dare. He was likely referring to Scotland's national dish, haggis. We have to admit that we didn't know what to expect of this traditional delicacy that Robert Burns hailed as the "great chieftain o' the puddin'-race." After all, it consists of minced sheep's heart, liver, and lungs combined with onion, oats, and suet—all cooked up in a sheep's stomach. That makes it the most extreme of savory puddings to have survived into the modern era. Yorkshire pudding is little more than pancake batter that soaks up the juices of a roast. Black pudding is a type of blood sausage with a lot of oatmeal in it that is usually served at breakfast next to baked beans.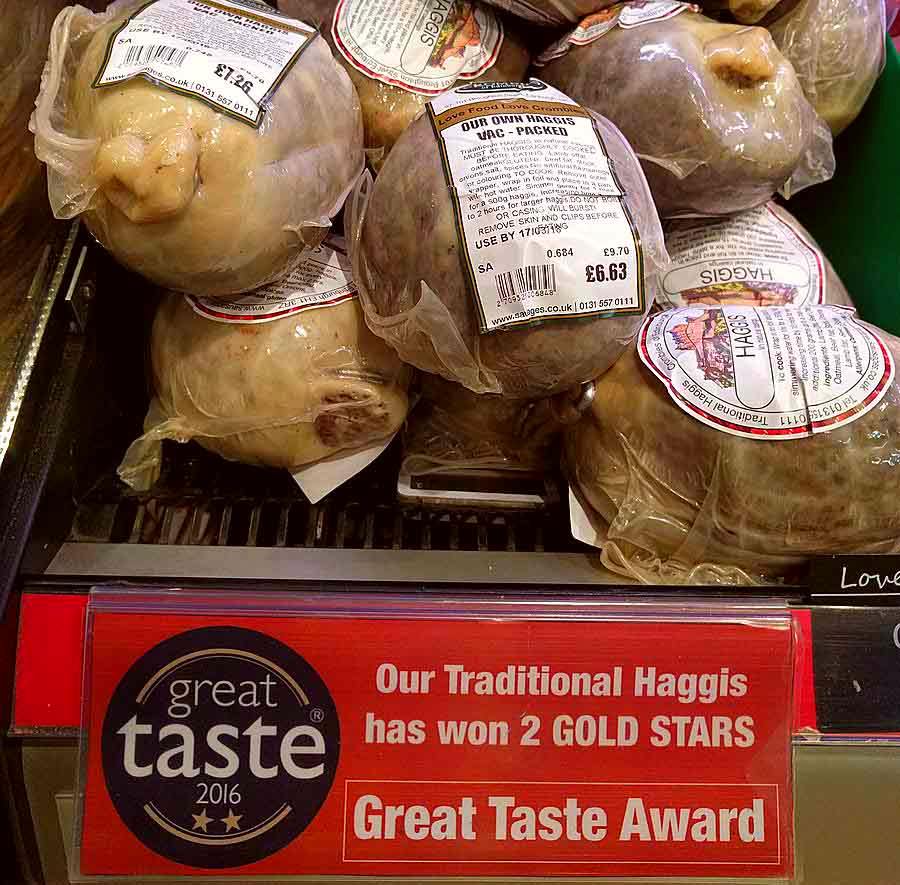 We quickly discovered that a good haggis is a very tasty dish. The traditional version is richly meaty and slightly sweet. It's also spiced, usually with cinnamon, nutmeg, and allspice. (Each haggis maker seems to have a proprietary recipe.) The haggis crafted at the exquisite butcher shop, Crombies of Edinburgh (www.sausages.co.uk), is celebrated across the country.
Scots often serve haggis with neeps and tatties (mashed rutabagas and mashed potatoes), as shown at the top of the post. That's a luncheon plate at the Willow Tea Room at Watt Brothers in Glasgow. The natives also tend to pour a dram of Scotch whisky. David has learned that he can eat pretty much anything that's accompanied by a dram of Scotch whisky.
Adaptable haggis is a many-splendored thing
Haggis is such a Scottish staple that vegetarian and even vegan versions are widely available. They tend to substitute lentils or split peas, barley, mushrooms, and Marmite for the meat and use pinhead oats (chunky broken pieces of oat groats) instead of the more conventional porridge oats (chopped-up rolled oats). Traditional or vegetarian, the taste is similar—an undertone of umami, a texture like chewy oatmeal, and front-of-the-mouth notes of warm spices. A dram of Scotch complements them all.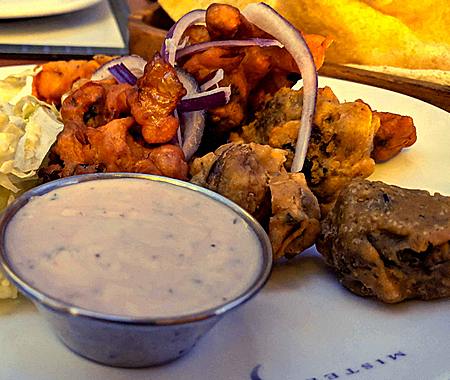 We also discovered that haggis makes itself at home in all sorts of cuisines. Grocery stores actually hand out recipes for making haggis nachos, sliders, cannelloni, and haggis and Stilton pizza. We had delicate deep-fried haggis balls at a very elegant afternoon tea at the Balmoral Hotel in Edinburgh and enjoyed haggis pakora in an Indian restaurant in Glasgow. (Extensive Indian and Pakistani immigration starting after World War II has made Glasgow the curry capital of the United Kingdom. Who knew?) The balls on the right of the plate at right are the haggis pakora. Coco Chocolatier in Edinburgh even makes a dark chocolate bar with haggis spices.
But don't count on bringing haggis home to the U.S. The USDA forbids the use of sheep's lungs in any meat product, so even the shelf-stable haggis sold in every gift shop is a no-no at Customs and Border Control. You'll just have to do as we did and eat your fill in Scotland.