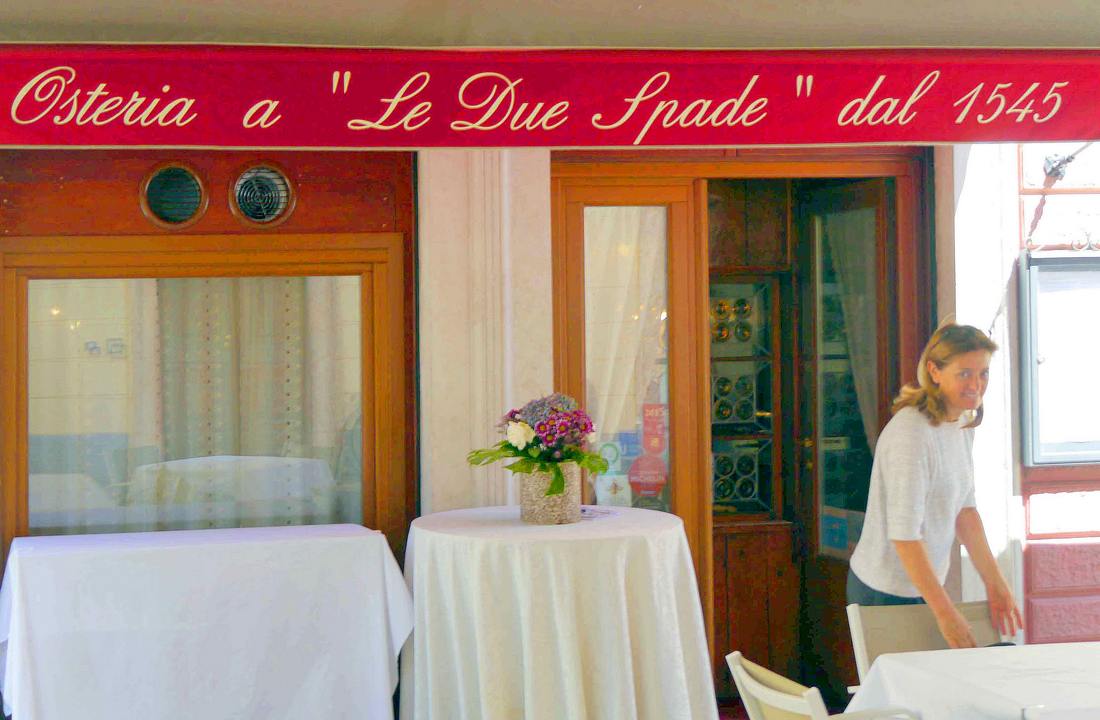 Batted back and forth between Italy and Austria over the centuries, Trento developed a cuisine informed by both traditions. Osteria a "Le Due Spade" (or "the two swords") claims to have served pilgrims since the 14th century. An attendee at the Council of Trent wrote in his diary on December 11, 1545, that he ate at the sign of the two swords and found the landlord "merry company." So the restaurant simply claims "dal 1545" on its sign.
The restaurant's creative local cuisine flashes forward nearly five centuries. Chef Federico Parolari and his staff make everything on the premises, including pasta and bread. They also use highly seasonal ingredients. I ate at Le Due Spade on the third week of May when I attended the Mostra Vini del Trentino. The appetizer plate below demonstrated the dual culinary traditions and the kitchen's commitment to seasonal local products.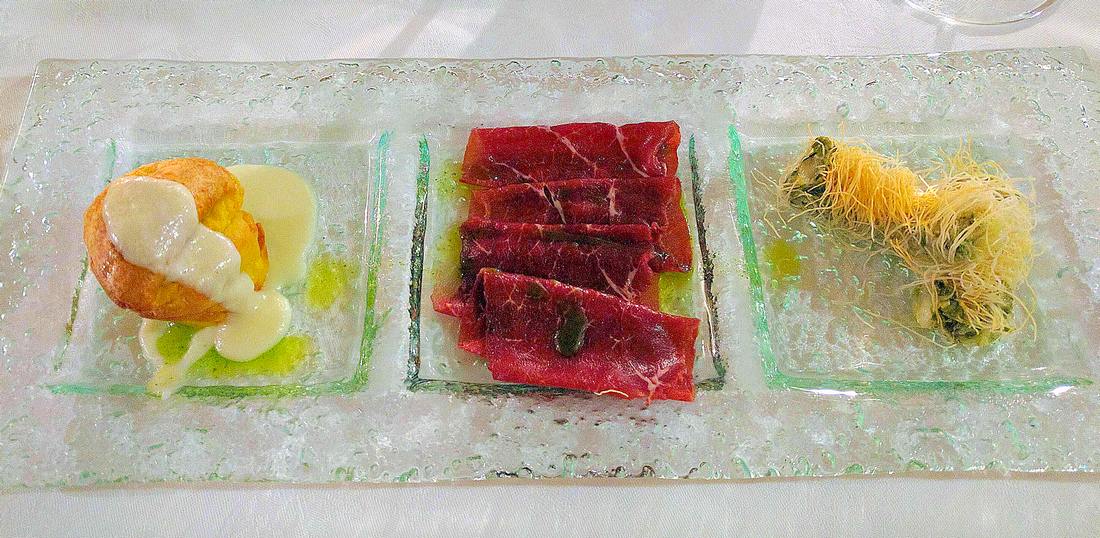 On the left stands a cheese puff—essentially a popover with cheese sauce and a trickle of basil oil. Four delicious slices of veal carpaccio make up the middle offering. A small drizzle of balsamic vinegar provides a sweet-and-sour complement that enlivens the flavor of the meat. Dairy farms dot the hillsides of Trentino that are not covered with vineyards. Free-range veal is plentiful, mild, and delicious.
The third appetizer was yet another variation on canderli, the bread dumplings of northern Italy. They are kissing cousins of Austrian knüdeln. Parolari gave this dumpling a delightful twist. Hop shoots—not the flowers that go into brewing, but the new spring shoots of the plant—were the primary component of the dumpling. They tasted slightly bitter, intensely green, and rather nut-like. Parolari wrapped each soft dumpling in shredded phyllo dough and baked them in the oven. One bite through the crisp crust reveals the oozing soft dumpling inside.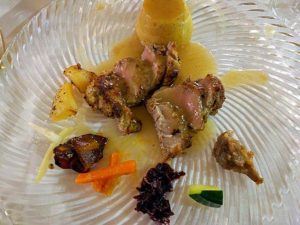 Portions at Le Due Spade are much more Italian than Austrian. Since the dishes boast bold flavors, a small amount suffices. My main dish of roast pork came as small pieces with explosive flavor accompanied by colorful, equally diminutive vegetables. The sweet carrot was balanced by even sweeter roasted onion. The braised radicchio supplied a touch of bitterness countered by the artichoke stem. The rich flavor of the pork itself supplied the salt and umami. The plate nodded to tradition but seemed utterly up to date/
Osteria a "Le Due Spade" (Via Don Arcangelo Rizzi, 11, Trento; tel. +39 (0)461 234-343; www.leduespade.com) offers two tasting menus and a full a la carte menu, along with local wines. Nearly 500 years of satisfied diners can't be wrong.