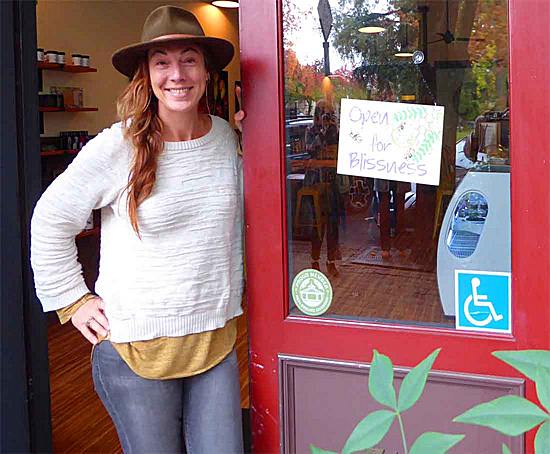 Other than drinking a strawberry mango smoothie for breakfast every morning, I haven't really embraced the "juicing" trend. Sure, I know that juicing is an easy way to consume a greater variety of fruits and vegetables that will give your body a good dose of nutrients. And those nutrients may raise energy levels and promote clear, healthy skin.
I also figured that California would be the perfect place to see what juicing was all about. I was right. The Nectary—and its founder Gia Baiocchi—provided the perfect introduction. Baiocchi opened the first Nectary in Sebastopol in 2014 and opened her second location in Healdsburg (312 Center Street, 707-473-0677, thenectary.net) in July 2017.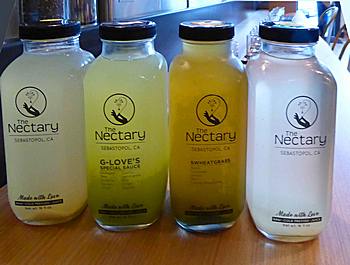 The shop offers a multitude of products, including smoothies, chai, some prepared foods, and juices for one-day or multi-day cleansings. But I decided to ease my way in with some of Baiocchi's cold-pressed juices, which are made by hand with organic ingredients and no refined sugar. "Swheatgrass," for example, combines apple, cucumber, lemon, mint, and wheatgrass. It is, as Baiocchi described it, "like a green lemonade."
Baiocchi is particlarly fond of "G-Love's Special Sauce," a combo of pineapple, pear, romaine, spinach, chard, cilantro, mint, lemongrass, ginger, and orange. Noting the sweetness from the pineapple, Baiocchi pronounced it "a green juice with training wheels."

Juicing like a chef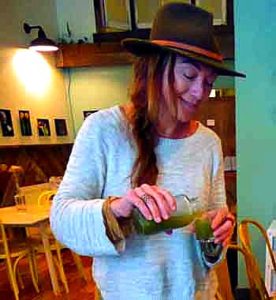 I was struck by the subtle blend of flavors. Baiocchi, in fact, brings a similarly perfect blend of skills to her operation. She has studied herbalism and Chinese medicine and "thinks of food as medicine" that can "empower people to take their health into their own hands." Prior to becoming "queen bee" of The Nectary, Baiocchi was also was a chef at the vegan/raw food Blooming Lotus Restaurant on the island of Kauai in Hawaii.
She brings a chef's sensibility to her juices. "My background in cooking comes in handy," she agrees. "I look at the fruits, vegetables and herbs available and think about how to create a complex flavor profile. It is as if I'm was making a soup or a salad." (She passed on the recipe for her delicious veggie analog to tuna salad below. It's a great example of the chef's mind at work.)
Nutrition and flavor go hand in hand for Baiocchi. "I always tell people to 'chew your juice,'" she says with a smile. "Digestion begins in your mouth."

SAVE-THE-TUNA SALAD
Gia buys her almonds direct from local farmers, but American almonds on store shelves are pasteurized and therefore won't sprout. Look for raw organic almonds from Spain, such as those packed by Terrasoul.
Ingredients Part 1
1/2 cup almonds (soaked & sprouted)
1/2 cup sunflower seeds (soaked & sprouted)
1/4 cup + 1 tablespoon water
1/4 cup + 1 tablespoon lemon juice
1 1/2 teaspoons dried dill
Ingredients Part 2
1/4 cup dill pickles (diced)
3 tablespoons celery (minced)
2 tablespoons red onion (minced)
1 tablespoon Dijon mustard
1 1/2 teaspoons dulse flakes
1 1/2 teaspoons nori flakes
1/2 teaspoon salt
Directions
Blend "Part 1" ingredients in blender until smooth. Mix "Part 2" ingredients in mixing bowl. Stir "Part 1" into "Part 2." Enjoy as is or as a dip with your favorite crackers!