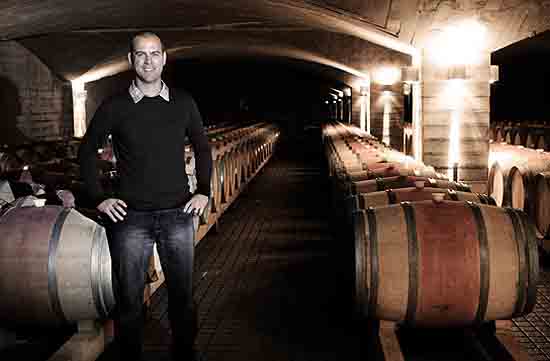 Matt Stafford (above) isn't just any winemaker. He's a winemaker who came to the trade originally as a soil scientist. The post-grad diploma in viticulture and oenology came later, but the grounding (no pun intended) in soil might just make him the ideal person to make wine for Craggy Range (www.craggyrange.com) in New Zealand. Stafford was in Boston a few weeks ago to introduce some of his wines. New Zealand has become notorious for popular sauvignon blanc and pinot noir–even though the former often tastes medicinal and the latter like cherry cough syrup. It was a pleasure to taste elegant New Zealand wines that spoke first and foremost of terroir.
It was clear that Stafford wanted to confound expectation when a few of us gathered at L'Espalier for dinner. Instead of pouring a sauvignon blanc as an aperitif, he poured the intense Kidnappers Vineyard chardonnay that drank like a Chablis. It's grown in Hawke's Bay on a shallow, clay loam soil aired out by cool sea breezes, a combination that intensifies the varietal flavors. At $22 a bottle, it's a good alternative to its French counterpart.
By contrast, Craggy Range's Gimlett Gravels vineyard, also in Hawke's Bay, is a patch saved from being turned into a gravel mine. The combination of stony soil with terrific drainage and intense sun and heat makes the vineyard excellent for growing the very ripe components for Te Kahu, a soft Bordeaux blend of merlot, cabernet franc, cabernet sauvignon, and malbec. Also priced at $22, it was gentle enough to pair with quail breast served with walnut polenta.
Stafford contrasted Te Kahu nicely with Sophia, a different Bordeaux blend (it includes more petit verdot than malbec). Although the blend is closer to the right bank Bordeaux wines, the cabernet sauvignon and cabernet franc are much more pronounced than in Te Kahu, giving Sophia more of a left bank flavor profile.

All the grapes represent the best from Craggy Range's vineyards and they're all hand-selected and destemmed. At $76, Sophia has good aging potential. The 2013 we tasted is still a little closed and the tannins are tight, but there's a lot of promise in the fruit.
The biggest red from Craggy Range is another Gimlett Gravels wine, Le Sol. Made from 100 percent syrah from heritage stock brought to New Zealand 150 years ago, it provides a powerful flagship for the winery. Rich, seemingly sweet from the high alcohol content, and full of fruit with licorice and green herbal overtones, Le Sol has the approachability of a good pinot noir, but the body and intensity to drink well with strong meat dishes. L'Espalier threw a veritable mixed grill at the wine—rack of lamb, spare ribs spiced with ras el hanout, garlic sausage, and some charred eggplant. The spare ribs and eggplant were the best match, but it was interesting to see how a New Zealand syrah could bridge the gap between the balanced style of the Rhone Valley and the more aggressive hot-weather style of Australia. Suggested retail is $107. It would be spectacular with a powerful game dish, though we'd suggest double-decanting.