I went to Lubbock, Texas, last fall for Buddy Holly's birthday (September 7) in his home town. I stayed a while to eat and drink, and the next batch of posts will hit a few of the highlights of this truly friendly West Texas city and center of the Texas High Plains American Viticultural Area. And since it was West Texas, the logical place to begin is a magnificent barbecue joint.
Evie Mae's Pit Barbecue is ironic in a good way. The meats here are outsized and deeply … meaty. As a Texas pal once said, it's the kind of barbecue that puts hair on your chest. (She meant that figuratively, of course.) It's smoky and just fatty enough and so full of itself that every brisket or rack ought to be branded on the fat cap with a Lone Star. Yet apart from the white bread and buns, everything on the menu is gluten free. That includes the cornbread, the cakes, and even the crust on the delicious pies.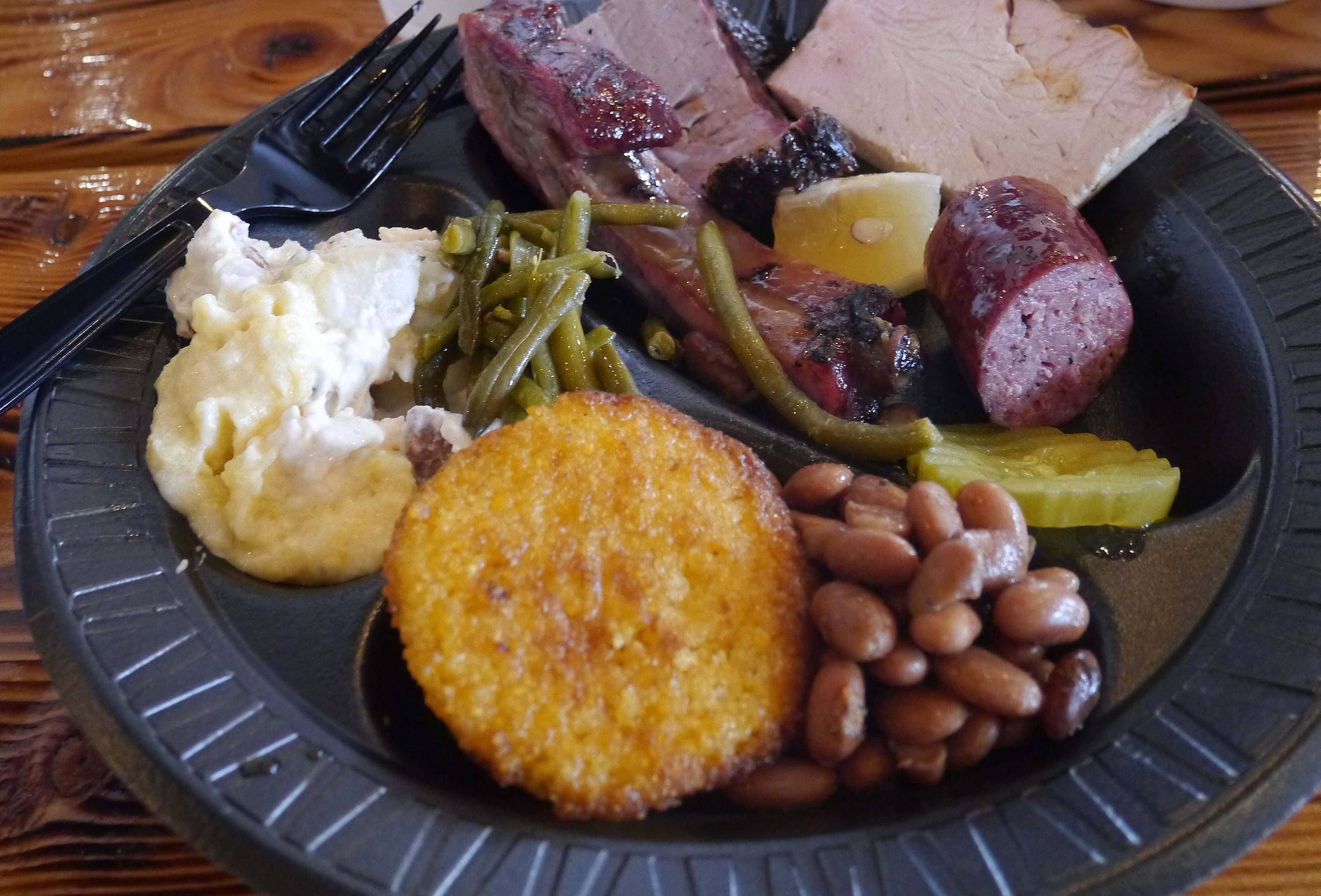 This place that makes the most primitive of food—fire-roasted meat—also caters to celiacs. Arnis Robbins (above) and his wife Mallory own and run Evie Mae's. Arnis even has a side business welding together backdraft smokers of his own design. Mind you, he's a big guy—built like a linebacker. He also happens to be celiac, which is how Evie Mae's got started. The couple started cooking all their own food to avoid the cross contamination that's inevitable at most restaurants. Their own barbecue turned out to be so good that they moved to Lubbock from Tucson and launched a food truck, named for their little daughter, Evie Mae. The truck was so successful that they launched a brick-and-mortar location just outside Lubbock city limits. It's open Wednesday–Sunday, 11 a.m.–2 p.m.—or, more likely, until all the meat is sold.
Texas Monthly even includes Evie Mae's on its Top 50 Texas BBQ list. And well they might. The brisket is falling-apart good, and the beef ribs could bring a cowboy to tears. The pork ribs are the best—smoky, tender, and just sweet enough from the final glaze. The house-made sausages are pretty fantastic as well. The spicy ones are studded with green chile peppers, betraying the couple's roots in eastern New Mexico. When the Texas Tech Red Raiders have a home game, you can bet plenty of Yetis are packed with Evie Mae's.
Evie Mae's Pit Barbecue. 217 US-62, Wolfforth, Texas; 806-782-2281; www.eviemaesbbq.com.