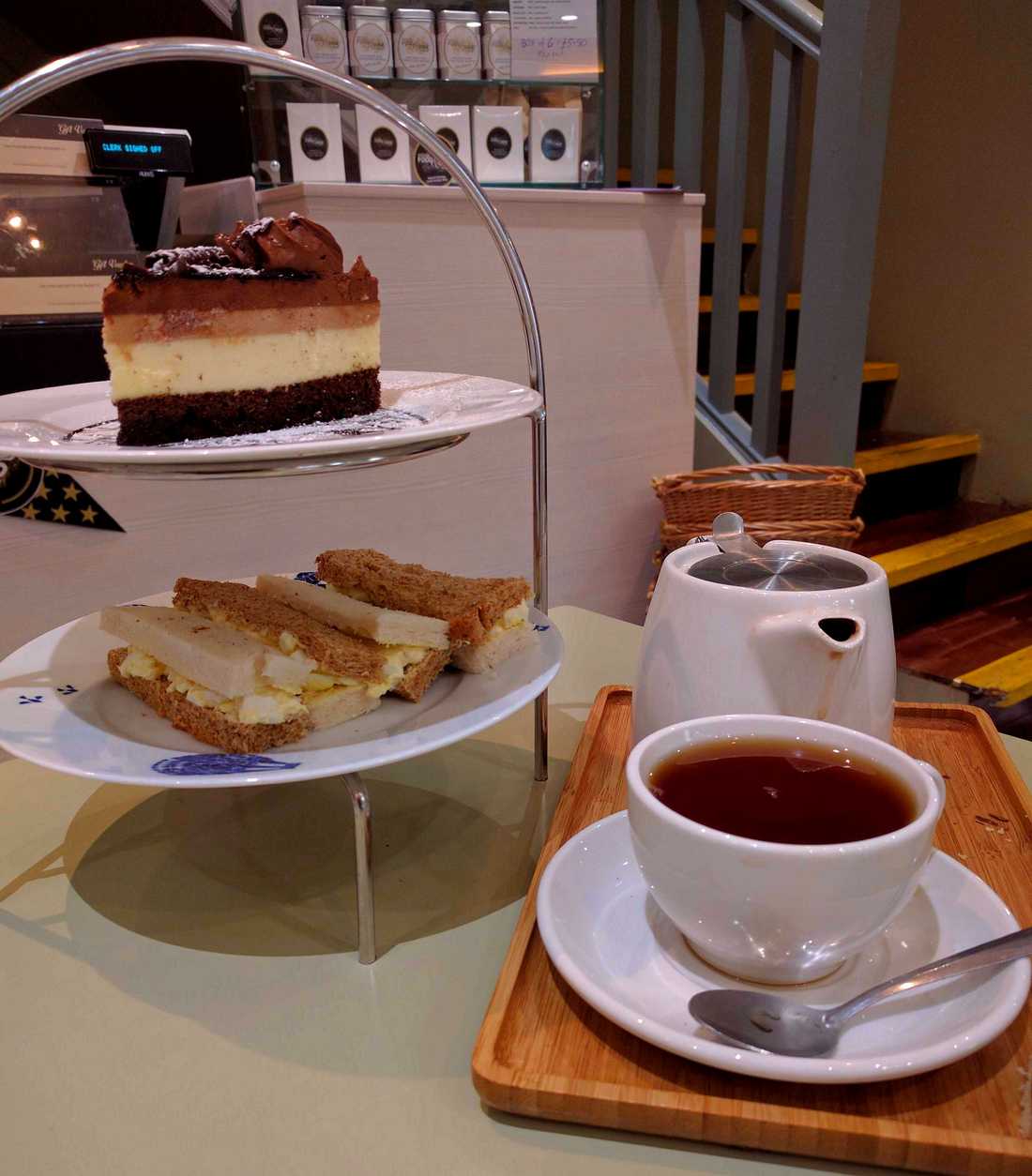 Aptly named Good Food & Wine is a gourmet treat shop and casual cafe that serves afternoon tea all day long. It's tucked into the Queen's Arcade shopping center between Fountain Street and Donegall Place, Not only is it steps from Belfast City Hall and the Linen Hall Library, it's also handy to the central shopping district. Mind you, afternoon tea here is not the lifted pinkie, fine porcelain, hushed ambiance formal tea. For that experience, visit the nearby Merchant Hotel (16 Skipper St., 28 9023 4888, themerchanthotel.com), the poshest address in the city.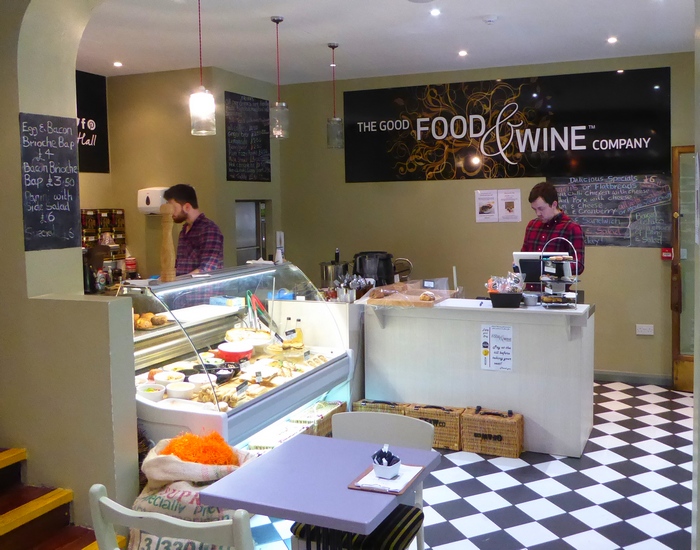 But at £7.50 per person, it's hard to beat Good Food & Wine for a tiered tray of finger sandwiches and sweet treats and a pot of brewed looseleaf Belfast Blend. (It contains 90% Assam and 10% Tanzanian black teas.) The selection of sandwiches and treats varies by the day. When we stopped for a respite, we were served four egg salad finger sandwiches on alternating white and dark bread and slices of a three-layer chocolate torte. Even if you just stop in for a cup of tea or coffee, you'll find a sweet treat at the edge of the saucer. Often, it's a tiny square of a classic Northern Irish "tray bake" called the Millionaire's Bar. It stacks a layer of shortbread, a layer of caramel, and a layer of chocolate.
The Millionaire's Bar (also sometimes called Millionaire's Shortcake) is a popular treat in Belfast. Most versions are topped with semisweet or milk chocolate. For a change of pace, Good Food & Wine sometimes uses white chocolate (legally called "white confectionery" in the U.S.). We played around with a few recipes and came up with the version below. The sprinkle of sea salt on top enhances the toasty flavor of the caramel.
Good Food & Wine, 12-16 Queen's Arcade, 28 2766 8879, thegoodfoodandwinecompany.co.uk
MILLIONAIRE'S BARS

A few notes about the recipe: Measurements are largely given by weight. Since many baking ingredients vary widely by volume, weighing the components guarantees that the recipe comes out the same each time. As far as we can tell, no one makes golden syrup on this side of the Atlantic. Imported cans of Lyle's Golden Syrup are available in gourmet shops and well-stocked grocery stores. Nothing can substitute for the toffee flavor, as the syrup is made partially with invert sugar.
Makes 16-20 pieces
Ingredients
For shortbread
225 grams (8 oz.) all purpose flour
175 grams (6 oz.) butter, cold, cut in small cubes
75 grams (2 3/4 oz.) granulated sugar, ground fine in spice grinder or food processor
For topping
150 grams (5 oz.) butter
394-gram (14 fl. oz.) can condensed milk
100 grams (3 1/2 fl. oz.) golden syrup
2 tablespoons heavy cream
350 grams white chocolate, grated or cut very small
sea salt for finishing (Maldon flake or similar)
Directions
Preheat oven to 300ºF. Line a 9×9 inch baking pan with aluminum foil.
In food processor, combine flour and small cubes of butter. Process in pulses to consistency of fine breadcrumbs. Add ground sugar and pulse until combined.
Place mixture in lined pan and spread evenly with back of a spoon. Press down shortbread firmly to pack tightly in pan.
Bake for 30-35 minutes until pale golden brown. Remove from oven and set aside to cool.
As shortbread is baking, begin to prepare the caramel layer of topping. Place butter, condensed milk, and golden syrup in saucepan. Stir occasionally while heating until butter melts and mixture is smooth.
Raise heat to bring mixture to a boil, stirring often. When the caramel thickens and turns golden brown, remove from heat. When it has cooled a little, pour over the cooled shortbread, spreading evenly over the surface. Set aside to cool completely.
When caramel is cooled, prepare chocolate layer. Bring water to a simmer in bottom of double boiler. In top of double boiler, heat the cream over direct heat until simmering. Place over simmering water in double boiler and add white chocolate, stirring until mixture is smooth. Pour over pan and smooth to edges. Sprinkle sparingly with finishing salt and let cool before cutting.