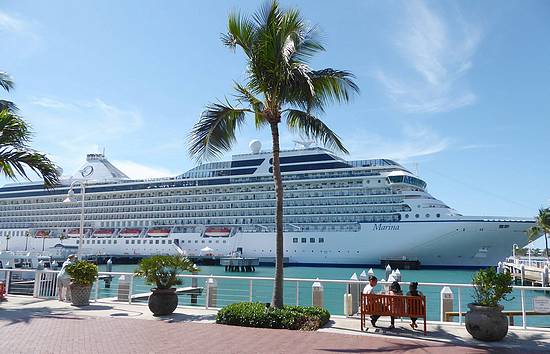 Despite an industry-wide upgrade to shipboard dining in recent years, few cruise lines dare to make the culinary experience a brand signature. But Oceania (oceaniacruises.com)—the middle sister in the Norwegian-Oceania-Regent family—has embraced the plate. We sailed the western Caribbean aboard Oceania's Marina in February and can report that it was a tasty trip.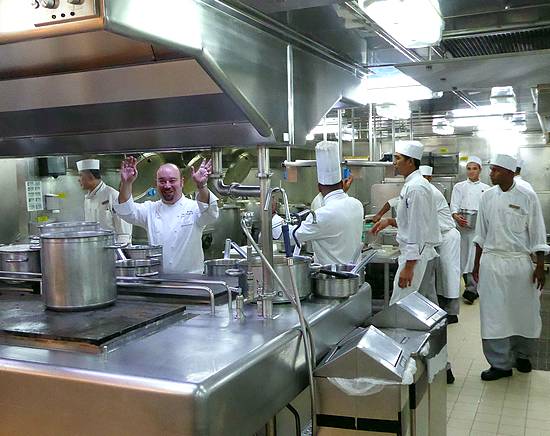 The Marina's galleys were designed before the rest of the ship. With a capacity for 1,250 passengers, she has the largest number of square feet of galley space per passenger of any comparably sized vessel afloat. That translates into a massive central galley and smaller galleys for each of the individual restaurants and for cabin service. Marina was originally planned at 54,000 gross tonnes, but the finished galleys pushed her over 60,000.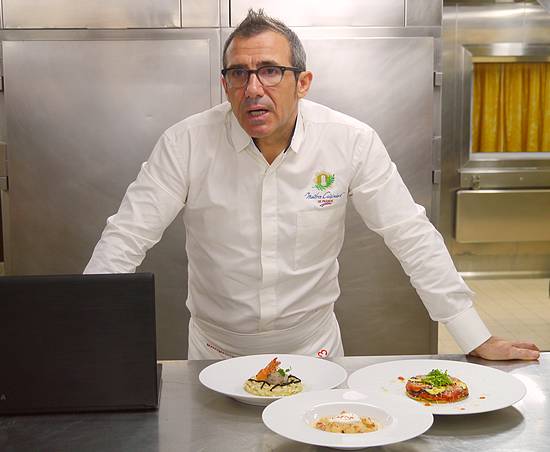 During our sailing, Marina had more than 140 cooks aboard. Jacques Pepin, the former personal chef of Charles de Gaulle, is the gastronomic godfather of the Oceania line, and contributed to the line's culinary vision. Two chefs who are members of the prestigious Maîtres Cuisiniers de France (MCF) oversee the galleys directly. One of them, Frank Garanger (above), explained the organization. "We hire young cooks from all over the world and bring them up in the system of the classical kitchen," he said. "It's the same system you'd find in any five-star restaurant in Europe."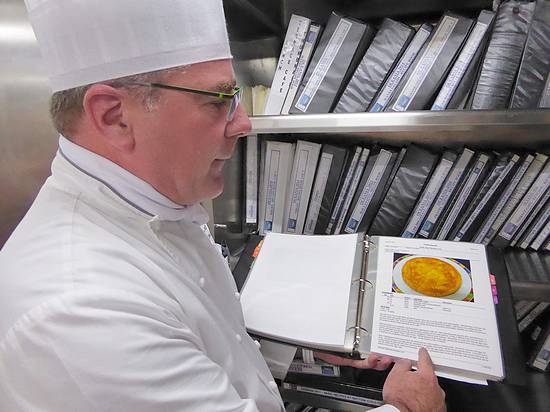 Laurent Trias, also an MCF, showed us the library of more than 2,000 recipes. Binders fill shelf after shelf. Each recipe includes detailed directions and photo of how the finished dish should be plated. We did some quick math and realized that the galleys were producing about 25,000 individual meals each week.
Great taste cooked to order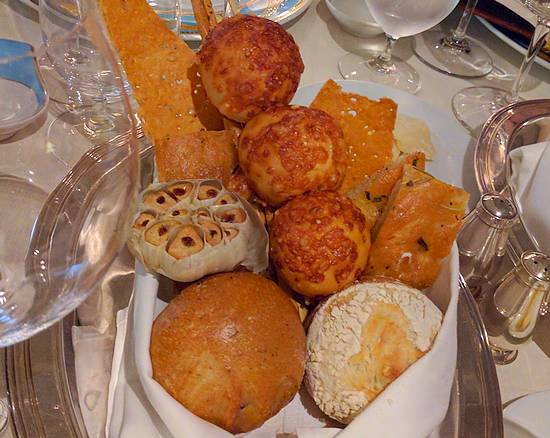 Twenty-five cooks deal entirely with pastry, and the bread ovens aboard Marina would be the envy of many a bakery ashore. Working almost entirely with French flour, the bakers create all the baguettes, rustic loaves, beignets, croissants, muffins, and even bagels served morning, noon, and night at the various shipboard restaurants. (That's the bread basket at Toscana pictured above.) Maybe getting to see the bakery skewed our perception, but we found breads and pastries uniformly superb throughout our voyage.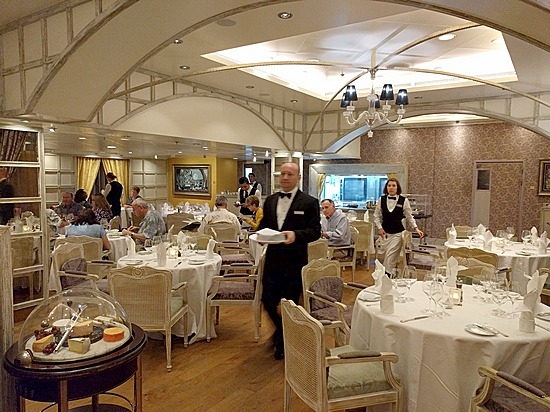 Even the offerings in the buffet restaurant (Terrace Cafe) are a cut above most cruise food. But Marina also has six fine-dining restaurants, including Jacques (pictured above), featuring the food of Jacques Pepin. Restaurant themes range from Italian to French country and steakhouse to pan-Asian. Only one—a wine and food tasting restaurant—carries a surcharge, though all require reservations. We'll be writing about some of the options in a later post.
Fortunately, gastronomy is a participatory sport aboard Marina. The ship's culinary center is a state-of-the-art culinary classroom for a hands-on cooking school at sea. Port excursions also include some culinary expeditions—foraging for local foods, visiting local restaurants, trying local dishes. (More to come on those subjects, too.)