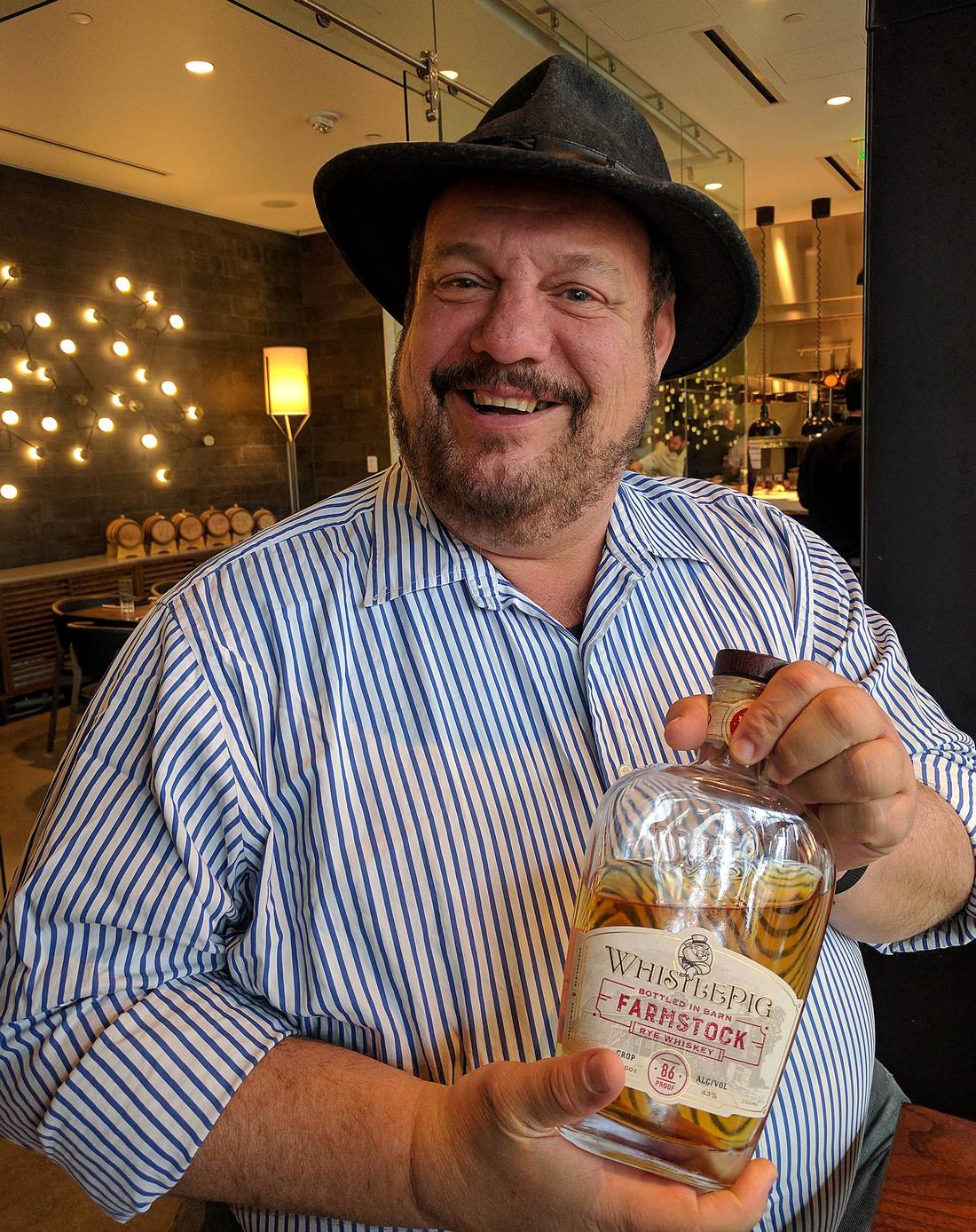 As a Kentucky-born grandson of a contract whiskey distiller, my allegiance to bourbon as a spirit of choice is practically genetic. But the older I get, the more I'm inclined toward the drier, spicier sensations of good rye for a serious, contemplative tipple. And I've had to become less of a Kentucky chauvinist ever since master distiller Dave Pickerell (above) and founder Raj Peter Bhakta started releasing aged ryes from WhistlePig (whistlepigwhiskey.com) in Vermont. The distillery has 10, 12, 14, and 15 year old whiskeys in release.
Those are all made from stock rye spirit that WhistlePig buys from Canada and Indiana. That's how a new distillery was able to bring whiskey to market even before they built their first copper still in 2015. Their exquisite straight rye (10 years old, 100 proof) scored 96 of 100 points with Wine Enthusiast, while the Robb Report (no, I didn't make the selection) rated the 12-year-old Old World Cask Finish as "Best of the Best." The latter is aged in a mix of American oak, Port, Sauternes, and Madeira casks. You might say it's rye for single malt Scotch drinkers. The 15-year-old Straight Rye is 92 proof and finished in barrels made from oak cut on WhistlePig's farm in Shoreham, Vermont.
Because Vermont is about the northernmost growing region for oak, the trees grow very little each year. As a result, the growth rings are closer together and impart more aromatics to the aging spirit than standard oak casks. The 15-year-old shows that influence with pronounced caramel and vanilla notes with hints of allspice and orange.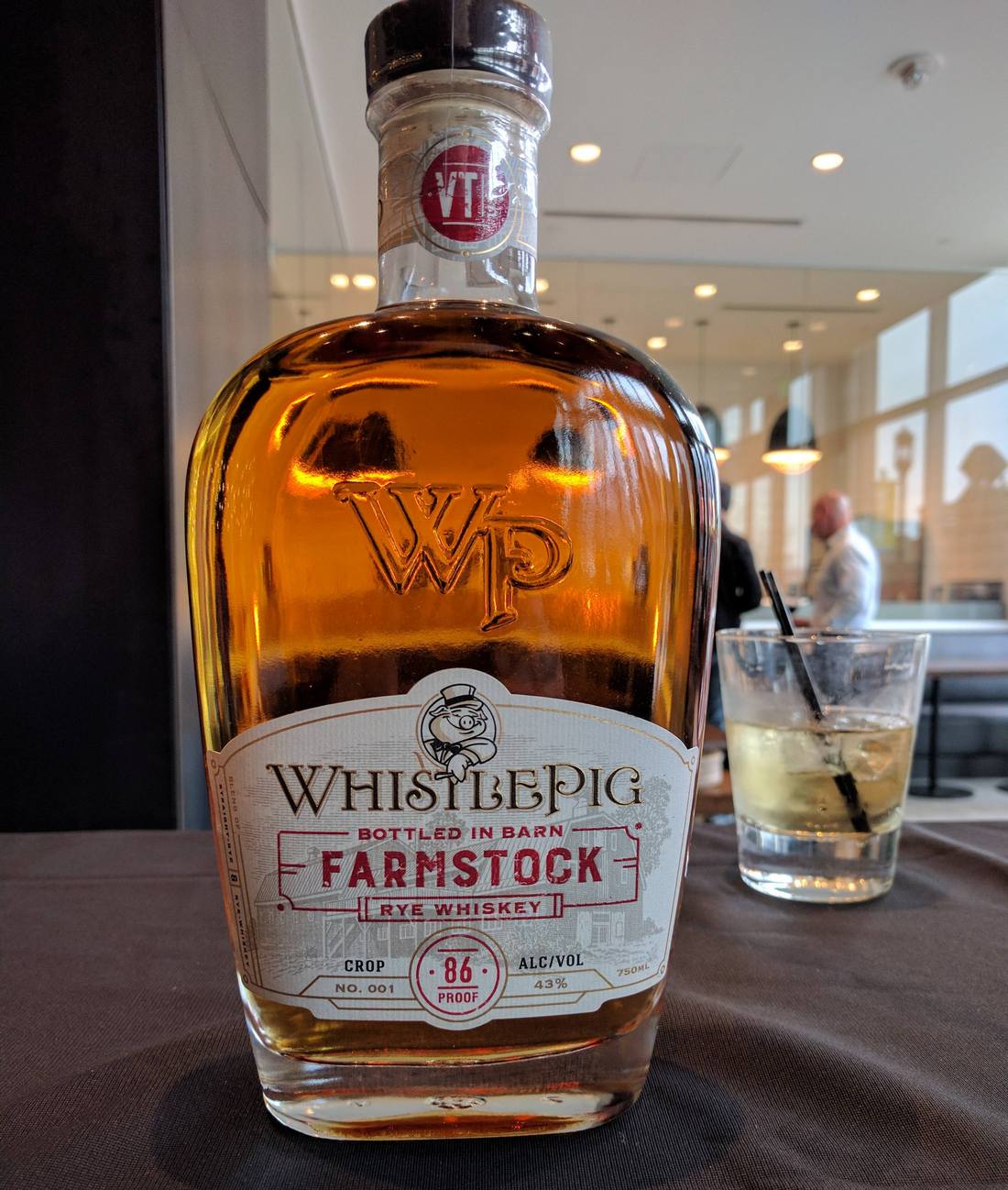 Terroir shines through

"This is the first chapter in the migration of the brand," Pickerell said when he was in Boston to launch Farmstock Rye, the first WhistlePig rye that features spirit distilled from rye grown on the farm, cut with artesian well water, and aged in Vermont oak. Of course, only 20 percent of the blend is produced entirely on site. That will change, Pickerell explains, as the percentage in Farmstock increases every year until it is 100 percent rye, water, and wood from the farm.
"We call it triple terroir," Pickerell says, showing that he is as good at marketing as he is at distilling. "Since it will change every year, we expect some whiskey collectors might want to lay down a few bottles as an investment." (Shelf price is around $80.)
Me, I've never believed in having a closet full of unopened bottles. The pleasure in whiskey lies in the glass. Farmstock Rye is a dynamite sipping whiskey. The young Vermont rye gives a smart, spicy kick. The Vermont oak barrels in two different toasts along with some #3 char bourbon barrels provide three different layers of vanillin. They're clearly stratified, and each represents a different source spirit combined with the barrel type that Pickerell chose to best complement it.
WhistlePig was offering rye cocktails for the launch party. I commented to Pickerell that it seemed a shame to muddy the flavor of good whiskey with mixers. "I won't tell you how to drink," he said, "but I've always felt that great whiskey makes a cocktail even better." Then he took a sip of Lipstick on a Pig and smiled.
LIPSTICK ON A PIG

2 oz. WhistlePig Rye
1/2 oz. dry vermouth
1/2 oz. maple syrup
2 dashes aromatic bitters
Stir ingredients with ice and strain into chilled cocktail glasses. Garnish with an orange peel or fresh cherry.