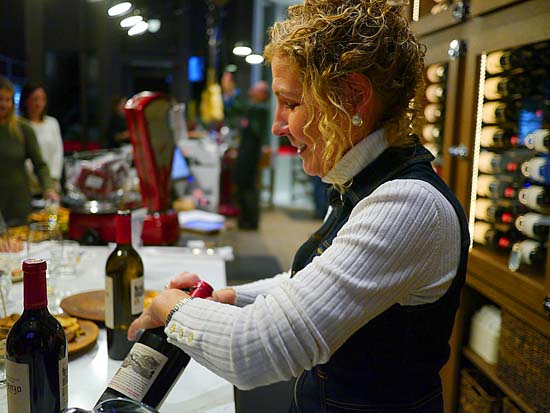 No one would ever accuse Peter and Cathy Seghesio (above) of mailing it in, even if their new salumeria, butcher counter, and wine-tasting shop opened in Healdsburg's former post office back in August. Journeyman Meat Company (404 Center St., Healdsburg, 707-395-MEAT, journeymanmeatco.com) has swiftly become the source for charcuterie in Sonoma County, and that's hard work.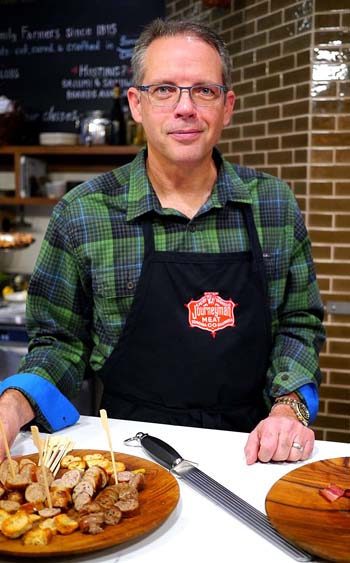 Peter Seghesio (right) spent much of his adult life overseeing the Seghesio Family Vineyards wine operation, bringing its old-vine Zinfandel to national prominence. When the winery was absorbed by Crimson Wine Group, he threw himself into learning traditional Italian butchery and charcuterie.
"You see a salumeria on every block in Italy," he says. "It was something we felt our area lacked."
Peter and Cathy also launched Journeyman wine company. They use the high-altitude San Lorenzo vineyard for their estate wines, including a 100 percent Zinfandel (Rockgarden) and a spectacular old-vine field blend called The Pearl. When Peter's greatgrandther bought the property in 1896, it already had a young Zinfandel vineyard. Scientists at UC Davis have helped identify other varietals interplanted with the Zin, including Petite Sirah, Carignane, Grand Noir, Alicante Bouschet, Negrette, and Mataro. The Pearl has huge fruit (mainly blackberry), bright spice (cinnamon and clove), and an aromatic hint of bay laurel. (Wine Spectator scores The Pearl at 95.) Journeyman also makes a Chablis-style Chardonnay and a cherry-blackberry fruity Pinot Noir.


Salumi, sausages, and meat cuts from Sonoma herds

The charcuterie upholds the high standard set by the wines. In fact, the Seghesios built their own USDA-certified salumificio in nearby Cloverdale using Italian equipment imported from Parma (where they know a few things about prosciutto). The hogs, lamb, and bison are all sourced from local farms. "It was important to us that all our products have a sense of place," Peter says.
For beef, the Seghesios purchase Angus yearlings and raise them to about 1,200 pounds, harvesting one animal per month. They also purchase some Wagyu to meet demand at the butcher counter.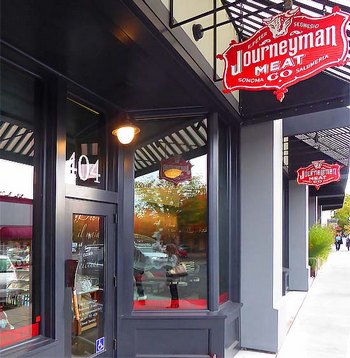 "We all want to eat better meat," Peter says. "We want to know what goes into it." Journeyman sausages are made, in many cases, from family recipes, and are delivered daily from the salumificio.
In addition to charcuterie boards, the shop also serves a limited food menu using a wood-fired oven. The white pizza has roasted leeks with Journeyman cured bacon and a farm egg, while the red pizza is topped with family-recipe sausage, local peppers, and soft Taleggio cheese.
If you have a bigger appetite (or want to counteract the power of several glasses of San Lorenzo red wine), order the Butcher's Steak. It's a small steak (3 ounces) roasted in the oven and served with arugula, shaved Parmigiano Reggiano, and grilled bread.