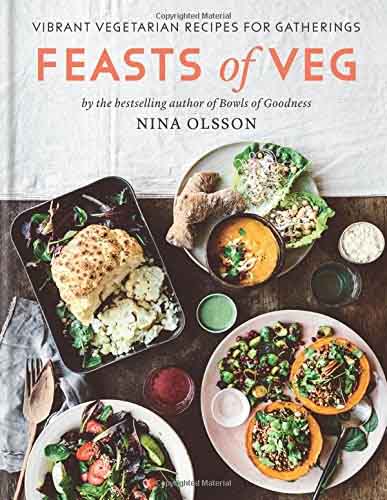 Some things are the same the world over. Sharing good food with friends and family is "one of the most enjoyable things to do in life," says Nina Olsson, author of Feasts of Veg (© 2018 Kyle Books, photographs © Nina Olsson). That's as true in Olsson's native Sweden as it is in her current of residence in Amsterdam—or in our home in Cambridge, Massachusetts.
Olsson has drawn on world flavors to assemble a group of recipes for gatherings and celebrations. It's a book full of heart and the spirit of generosity that comes with cooking and sharing food. Someday we will host a bake-your-own pizza party or host a fancy sit-down dinner with Smoky Shiitake with Pea Farrotto and Chai Tea Sauce. But because most recipes serve four, for now we are content to make a meal for the two of us and then enjoy the leftovers the next day.
Vegetable-based books offer new opportunities for every season. Olsson says her Herbed Beet, Lentil, and Feta Salad "has a French thread running through the ingredients … from the Dijon mustard to the Puy lentils and the tarragon and aromatic fresh thyme." But it's equally at home celebrating the fall harvest here in New England. Olsson has kindly allowed us to share her recipe.

Herbed Beet, Lentil, and Feta Salad
Serves 4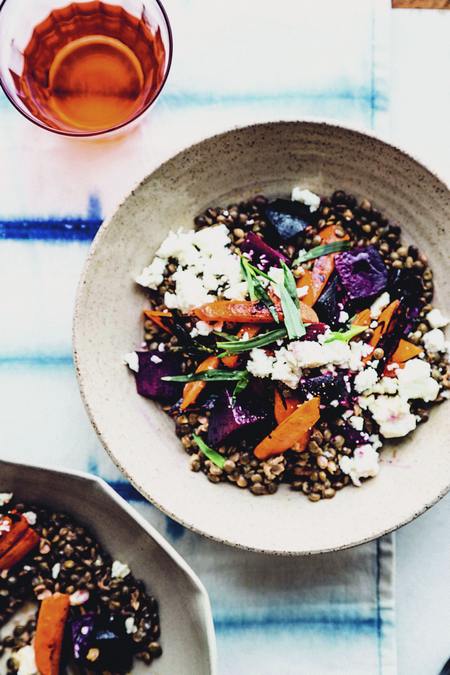 4 medium beets, washed
8 small carrots, scrubbed and sliced lengthwise
olive oil, for roasting
1 tablespoon fresh thyme leaves
4 cups vegetable stock or water
2 handfuls of baby spinach leaves
7 ounces feta or soft fresh goat's cheese
a handful of tarragon leaves, minced
extra-virgin olive oil, for drizzling
7 ounces Puy lentils, rinsed and drained
salt and freshly ground black pepper, to taste
Dijon Dressing:
3 tablespoons olive oil
2 tablespoons red wine vinegar
1 tablespoon mayonnaise
1 teaspoon Dijon mustard
1 teaspoon honey or agave syrup
2 garlic cloves, crushed
1 teaspoon fresh thyme leaves
1/2 teaspoon salt
freshly ground black pepper, to taste
Preheat the oven to 400° F. Wrap the beets individually in foil and set them on a baking sheet. Put the carrots in a bowl, drizzle with olive oil and sprinkle with salt, then toss to coat. Transfer to the baking sheet and sprinkle with the thyme. Roast for about 45 minutes or until the beets are tender, but keep an eye on the carrots and remove them from the oven earlier if they look done. Let the beets and carrots cool, then peel the beets and cut them into small wedges.
Meanwhile, bring the stock or water to a boil in a saucepan. Add the lentils, reduce the heat, and simmer gently for 20 to 25 minutes until tender. Drain and rinse in cold water. Shake off the excess moisture and let air-dry for a few minutes.
Whisk together all the ingredients for the Dijon dressing in a bowl until well combined.
Tip the lentils into a large serving bowl, drizzle with dressing, and season to taste with salt and pepper. Add the baby spinach and the roasted beets and carrots, then crumble the cheese over the top. Sprinkle with the tarragon and add a drizzle of extra-virgin olive oil.