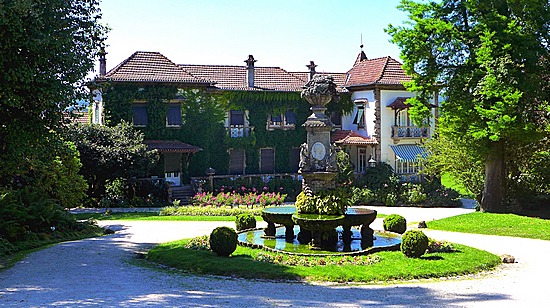 Having just spent a week popping around some of the wine regions of Portugal, I'm struck again at what good value modern Portuguese wines offer and, with the exception of port, how little known they are in the U.S. As noted in my last post (see below) even the port world is trying to catch up with contemporary drinkers, emphasizing cocktails with white port and (I think) somewhat less successful rosé port.
Vinho verde is another category of Portuguese wine that a few Americans know. Certainly the low-alcohol, often bracingly acidic wines of the north coastal region are a perfect fit with summer dining. I stopped at historic Quinta da Aveleda (above), where the venerable low-end Casal Garcia brand with its blue and white lace label has financed more sophisticated wines.
The quinta has stunning gardens full of aristocratic follies, but the recent turn toward planting many more vineyards with the Alvarinho grape is no folly at all. The adjacent area in Spain, the Rias Baixas in Galicia, has proven that this noble white grape can stand with any of the cold climate whites in Europe. Aveleda and a few others are bent on proving that the Portuguese-inflected version can be every bit as robust and sophisticated as the Spanish.
With a few exceptions, Portuguese winemakers seem very conflicted about their grape varieties. On one hand, they work with at least a dozen major grapes and several dozen lesser varieties. Traditionally, most wines were labeled by region (Dão, Douro, Alentejo, etc.) or by the house name (Lancer's, Mateus). But Portuguese winemakers are convinced that modern wine buyers want to know the grapes in the bottle. Personally, I'm not so sure. A concern for putting unfamiliar grape names on the bottles has led to some interesting but not always integrated blends that include Cabernet Sauvignon or Syrah, both international varieties that grow well in Portugal but often lack regional character.
Quinto do Crasto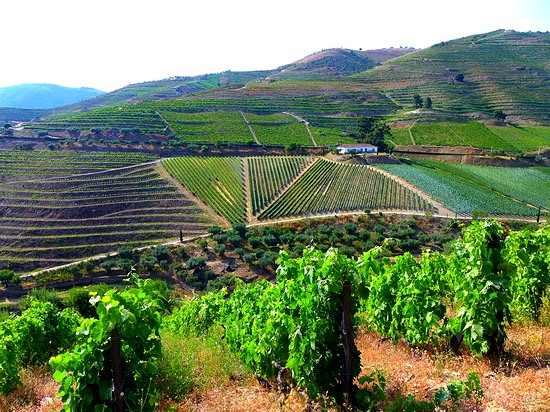 But then I visited Quinta do Crasto (above), a Douro producer in one of the hardest-to-reach spots on the north bank of the Douro between Pinhão and Régua. It pays to make the trip because the wines are terrific and they now offer a few rooms where travelers can stay in style (www.quintadocrasto.com, +351 254-920-020), as you can see here.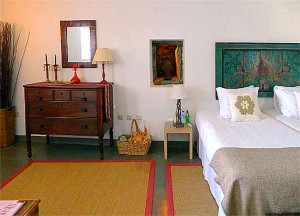 We tasted our way through the whole portfolio, and it was an eye-opening experience. Hands down the greatest of the reds (Vinha da Ponte) came from vineyards more than 95 years old that were planted in a field blend of at least 30 different grapes.

Quinto do Crasto is involved in a project to identify each grape by its DNA and plant "ark" vineyards to preserve these varieties—many of which are obscure even to the Portuguese. At the same time, the quinta is also replanting vast areas of vineyards in single varietals. Winemaker Manuel Lobo has produced a series of single varietals, including the noblest of the Portuguese grapes, Touriga Nacional, and the quintessential grape of the whole length of the Douro River, Tinto Roriz (called Tempranillo in Spain where the river is the Rio Duero).
Both wines are pressed by foot treading in open stone vats (lagars) before continuing fermentation in open stainless steel vats. Interestingly enough, the same process was followed for the old vines field blend Vinha da Ponte. All three were aged in 225-liter new French oak barrels—the single varietals for 16 months, the Vinha da Ponte for 20 months.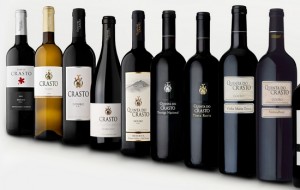 All three were 2010 vintage wines, and all three are superb. At this stage, they all benefit from decanting (or at least opening) a few hours before consumption, and their firm structures promise a long life in the bottle. Yet I find them ready to drink and true to type. The Vinha da Ponte balances a lot of fresh red fruit character nicely with finely structured tannins that should give it good longevity. The Touriga Nacional is a natural winner, from the violets on the nose to the hints of dark chocolate in the aftertaste. The Tinta Roriz appeals to me because Tempranillo is an old friend dressed in new clothes here. Lobo coaxes out the piney high notes to complement the dark fruit and doesn't back away from the mineral finish. It's a great food wine.
But to be truthful, I would base my decision to buy these wines on the quality I expect from Quinto do Crasto, not the name of the grape. I'm delighted to drink the single varietals, but I'm just as happy to drink the Quinto do Crasto name.