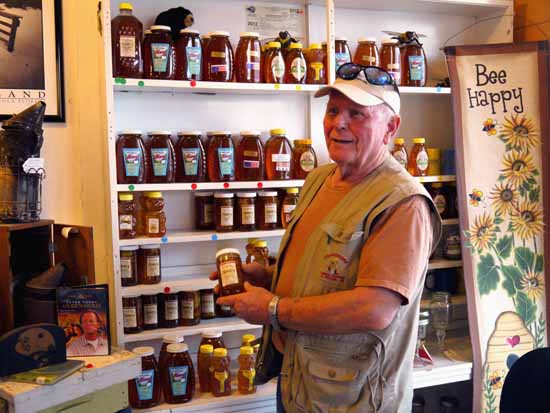 Honestly, the oysters were what first drew us to Apalachicola, the sleepy little town on the Florida panhandle where a barrier island at the mouth of the Apalachicola River creates perfect conditions for the tastiest bivalves on the Gulf Coast. (But more about that in our next post.) Pat wrote about some of the town's charming characters (and a delicious chocolate kumquat cake) for the Boston Globe. Here's the online version.
One of those characters was John Lee (pictured above), whose shop Retsyo, Inc. (that's "oyster" backwards) sells all manner of Apalachicola souvenirs – including the honey that bees make from the nectar of the white tupelo gum tree in the miasmal swamps of the Apalachicola River. According to Lee, this so-called "champagne of honeys" is reputed to do everything but cure the plague. He even claims that it's the only honey that diabetics can eat without disturbing their blood sugar levels.
We can't vouch for Lee's good-natured claims, but we can say that tupelo honey has a distinctive taste – sort of high, sharp, and slightly metallic, but with musky undertones. Lee also likes to toss recipes off the top of his head. His suggestion of a salad dressing made from olive oil, lime juice, "a dime's worth of honey," and hot sauce was intriguing enough that we played around to get the proportions right. Scale it up if you like to have lots on hand. We sized it for the juice of one lime (about 3 tablespoons) so we can make it fresh each time.
TUPELO HONEY AND LIME DRESSING
3 tablespoons fresh lime juice
1 tablespoon honey
3 tablespoons olive oil
1 dash hot pepper sauce (Tabasco works well)
1/8 teaspoon sea salt
a grind of black pepper
Combine all ingredients and agitate well until emulsified. Toss with salad greens and serve.