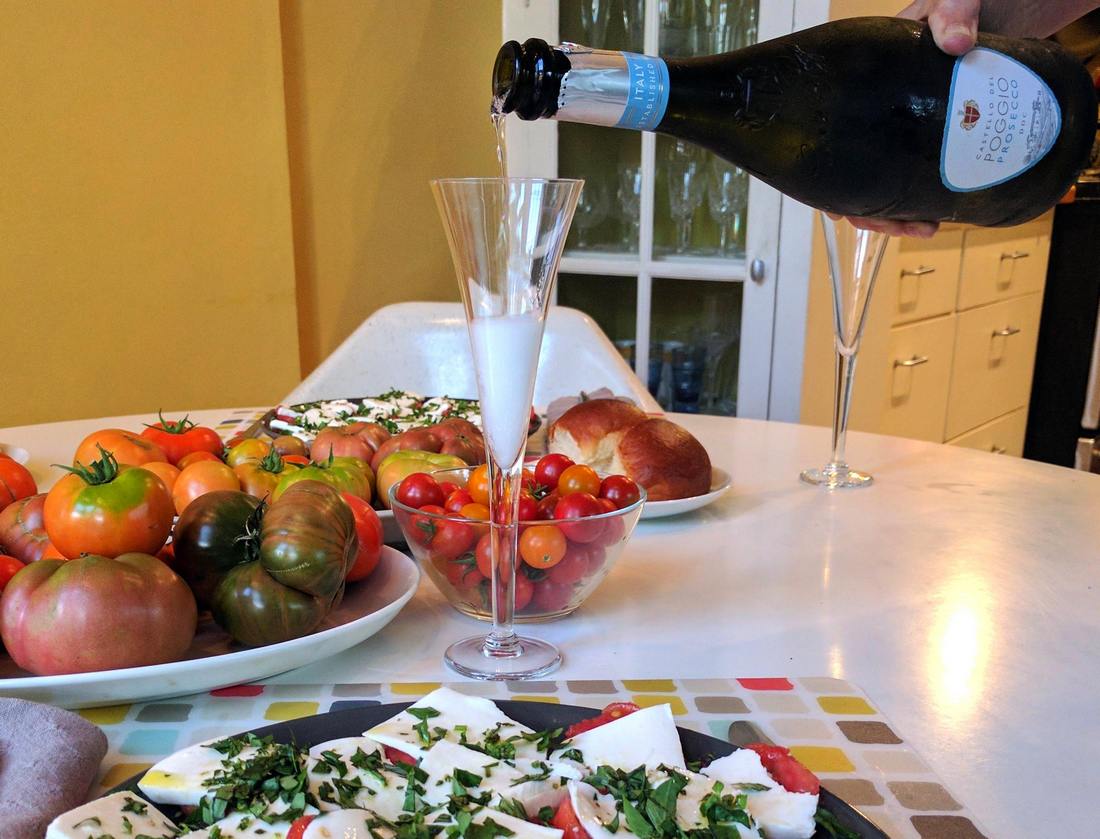 North Americans used to love sweet wines. We used to love them so much that we became ashamed of our preference for residual sugar. For the last few decades, every casual wine drinker on the continent would insist, "Oh, I only drink dry wines"—as if that preference made them more sophisticated. Leaving aside the fact that residual sugar in a wine can be a highly subjective experience, anyone who always insists on bone-dry wines is really missing the boat.
So it's a pleasure to see that Piemonte-based Italian wine giant Zonin (www.zoninusa.com) is bringing the full line of its Castello del Poggio wines to North America as part of its "Hello Sweet Life" campaign. Since Zonin took over the estate based in Asti in 1985, Castello del Poggio has maintained the high quality of its Barbera d'Asti and Dolcetto Monferrato while also developing a full line of red, white, and rosé sweet wines.
We gave a couple of the "Sweet Life" wines a try with dishes that take advantage of the fullness of summer. As you can see in the top photo, we have a delightful glut of ripe tomatoes. (Those with green shoulders are ripe—they're just green-ripe tomatoes of a variety we grew from Spanish seed.) So we are in the midst of Caprese salad season. Since most of our tomatoes also have strong acid profiles, we wondered how they would fare with a Prosecco DOC demi-sec. Beautifully, as it turns out. The pronounced flavor of the Glera grapes in Castello del Poggio's version really accentuates the milkiness of the fresh mozzarella. Retail is $10-$12.

Moscato a real peach of a dessert wine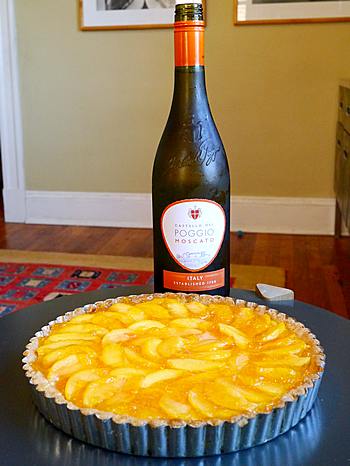 The Asti region has been known for Moscato Bianco wines since at least the 14th century. And hip-hop clubgoers, we're told, have made sparkling Moscato their drink of choice ever since Jay-Z launched a boycott of Cristal a few years back. Of course, Martini & Rossi long ago ensconced its Asti Spumante as a Christmas season sparkler.
The Castello del Poggio Moscato we tried was a still wine—rich with the Moscato flavor, about 7% alcohol, and markedly sweet. The Bianco version of the Moscato grape tends to maintain a pleasant acidity, even when fully ripe. The acidity gives the Castello del Poggio Moscato some presence; it's not just a sweet and simple sipper. The wine also shows notes of nectarine, muskmelon, and dried apricots.
While we know from experience that a wine with that profile can be excellent with wintry roast meat dishes (sort of like a liquid chutney), we decided to try it with the other fruit in abundance right now: peaches. We made the simple peach tart shown here. The crust is about one-quarter almond flour and it has an almond-scented frangipane in the bottom. The topping is simply sliced fresh peaches with a light glaze. Almond and Moscato (or Muscat) are a classic pairing, and the juiciness and slight bitterness of the peaches only amplified the harmonies. Retail is $10-$12.