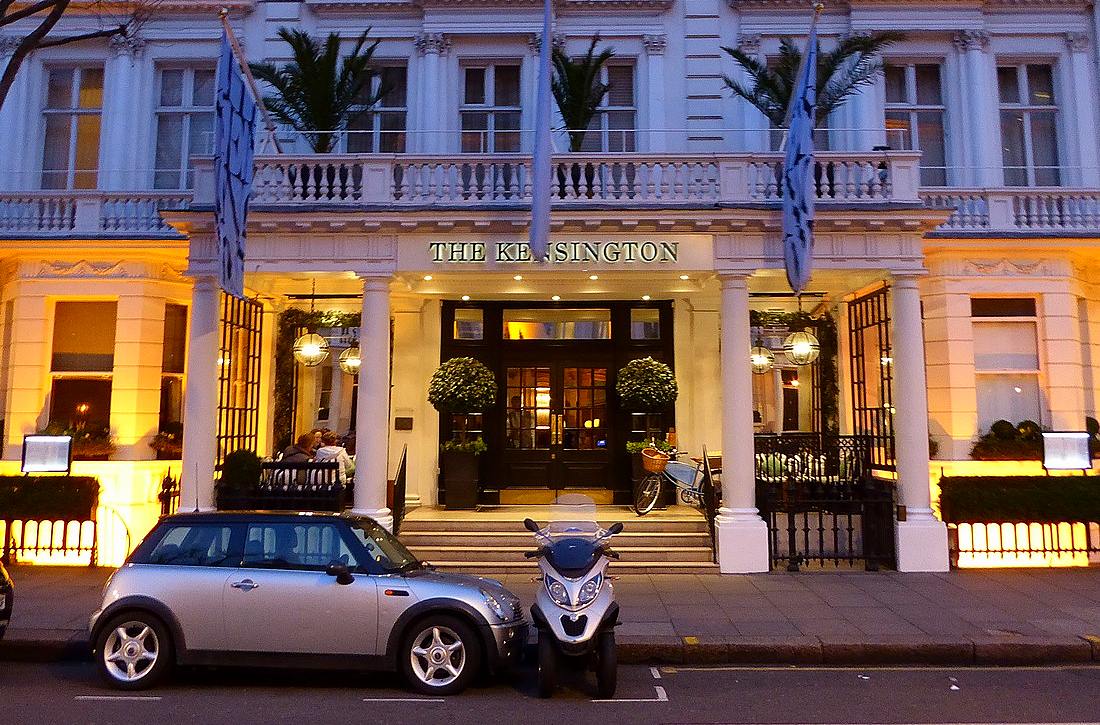 Years ago on a visit to London, David and I interviewed Benny Hill for a feature in an American magazine. We were surprised when his publicist suggested that we meet the comedian known for his bawdy humor for afternoon tea. It seemed a bit, shall I say, refined. But, in person, Hill turned out to be a gentle man, perhaps even a bit shy. And the ritual of the tea service made for a very relaxed couple of hours.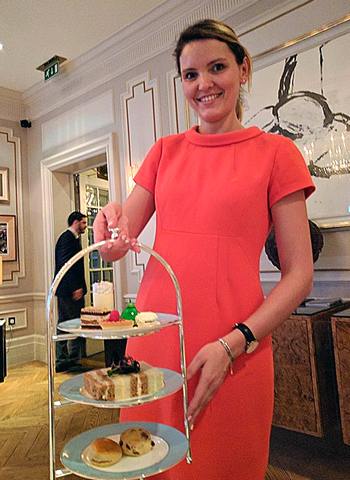 The experience sold me on the afternoon tea tradition. Now I make a point of sampling tea in a different spot whenever I'm in London. On my last visit, I spent a lovely afternoon with a couple of friends in the Kensington (at top). It's one of the three hotels in London owned by the Doyle Collection, a group of Irish family-owned luxury lodgings (doylecollection.com).
As the name suggests, the elegant white stucco building sits in a neighborhood associated with royalty. Prince William and the Duchess of Cambridge are the latest in a line of royal family members to occupy Kensington Palace. The red brick palace is an easy walk from the hotel. Surrounded by wrought iron gates, it sits on the western edge of the sprawling Kensington Gardens. The Gardens are filled with statuary and beautiful plantings. On an afternoon stroll, I even encountered a 1932 Rolls Royce converted to an ice cream truck.
Chef's treat at the Kensington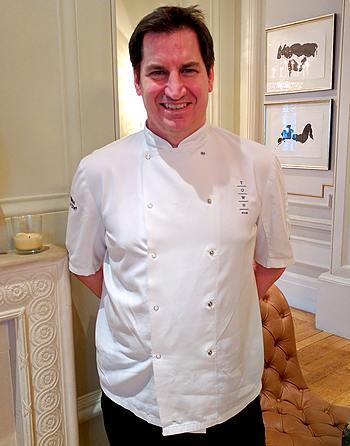 But the best afternoon I spent was in the Drawing Room of the Kensington hotel. The weather was still chilly enough to enjoy the warmth of the fireplace as tea service began. The Kensington serves teas from the London-based Rare Tea Company, which sources its own white, green, and black teas. Kensington Executive Chef Steve Gibbs (right) oversees the Town House restaurant as well as afternoon tea.
Gibbs has been at the hotel since Town House opened about two years ago. In keeping with the Doyle Collection's ethos of warm, relaxed service, and comforting menus, Gibbs likes to create what he calls "updated classic foods, with a bit of a twist." He also enjoys the showmanship of an elegant presentation.
Gibbs is even particular about how the sandwiches—including potted Argyle smoked salmon with crème fraiche and roast Devon Red chicken with cranberry—are cut. Like all breads that I sampled at the Doyle hotels, the buttermilk scones were just right: neither too dry, nor too heavy.
Tea is the perfect setting for Gibbs to indulge his refined sense of presentation as well as his sly wit. For my friends and me—all from the U.S.—he inscribed "Have A Nice Day" in chocolate around the edge of a scrumptious plate of pastries (below). The coffee Opera cake, coconut rum macaron, and bitter chocolate and raspberry choux were, figuratively speaking, the icing on the cake.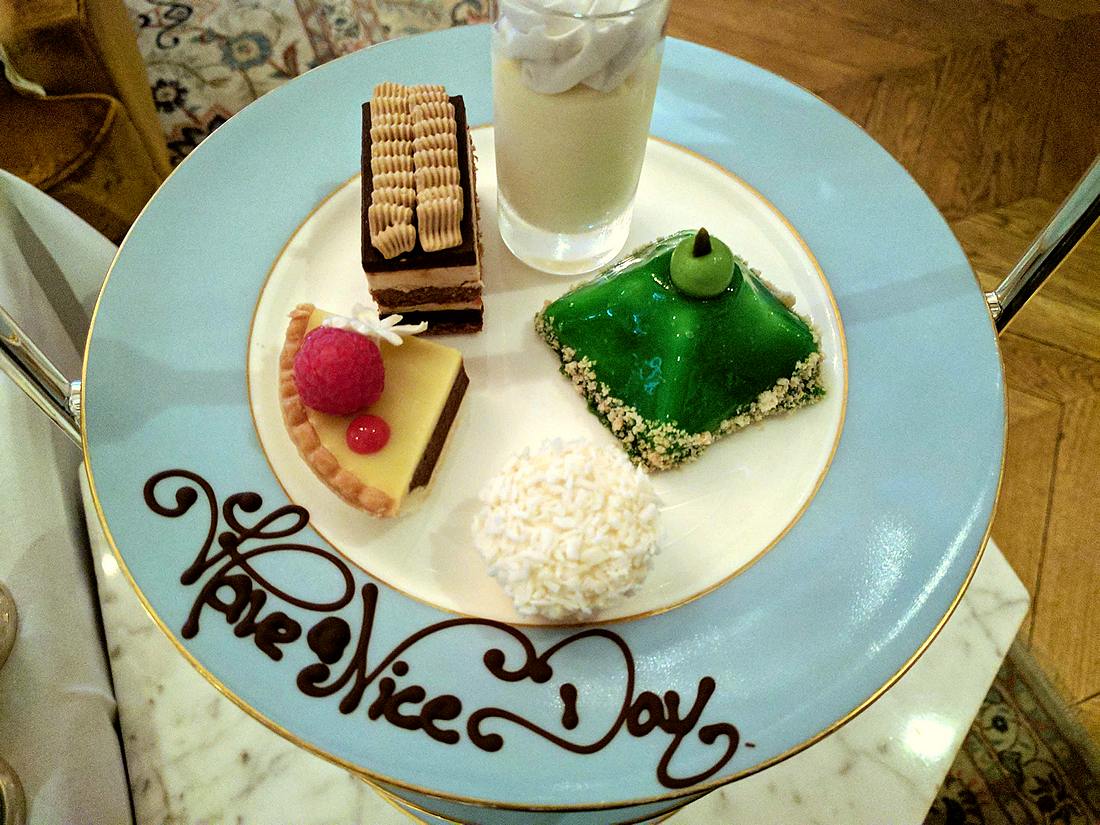 A pastry lesson for home

I asked Gibbs to share a recipe so that I might get a sense of how his kitchen makes such delightful pastries. He kindly shared his recipe for four individual blueberry pies. Following Gibbs' commitment to fresh, local product, I waited for the short but sweet season of wild Maine blueberries to try the recipe. Rather than making four individual pies, I cut the recipe in half to make a six-inch pie, which is more than adequate for four servings. You could also make a nine-inch pie with the full recipe. My adaptation of Gibbs' recipe follows. I have kept his measurements in grams because following them exactly makes a far better pie than using the approximations of so-called "English" measure. Brushing egg white on the top crust makes it nicely crisp.
BLUEBERRY PIE

Makes 4 individual 4-inch pies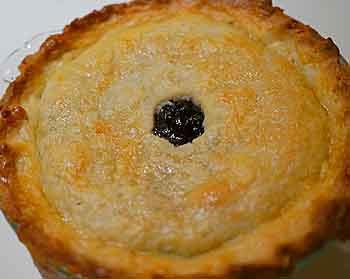 Ingredients
For the pastry
125g unsalted butter
180g superfine sugar
1 large egg, beaten
250g all-purpose flour plus additional for dusting surface
For the filling
600g blueberries, fresh or frozen (fresh better)
120g superfine sugar
1 tablespoon water
2 teaspoons cornstarch
1 egg white
1 tablespoon superfine sugar
Crème fraîche for serving.
Directions

Cream the butter and sugar together until smooth and creamy. Add the beaten egg, scraping the sides of the bowl every so often if you are using a mixer. Fold in the flour. (For greatest ease, this can be done in a food processor. Just don't overmix the flour at the end.)
Put the blueberries into a saucepan with the superfine sugar and tablespoon of water. Bring to a simmer and cook for 2 minutes.
Dilute the cornstarch with a little water, add to the blueberries and simmer for 2-3 minutes stirring occasionally. Remove from heat and scrape into a bowl to chill in the refrigerator.
Roll the pastry to 5mm (about 1/4 inch) thick and cut discs big enough to slightly overlap a 10cm (4 inch) non-stick pie dish. Fill to the top with blueberry filling, Cut another 10cm disc then cut a quarter- size hole in the middle. Place on top and crimp together. Brush with slightly whipped egg white and sprinkle with superfine sugar.
Repeat for other three pies.
Preheat oven to 400°F. Bake for about 15 minutes or until golden brown for 4-inch pies. The 6-inch pie takes about 25 minutes and the 9-inch pie will take 35-40 minutes.
Serve with dollops of crème fraiche.