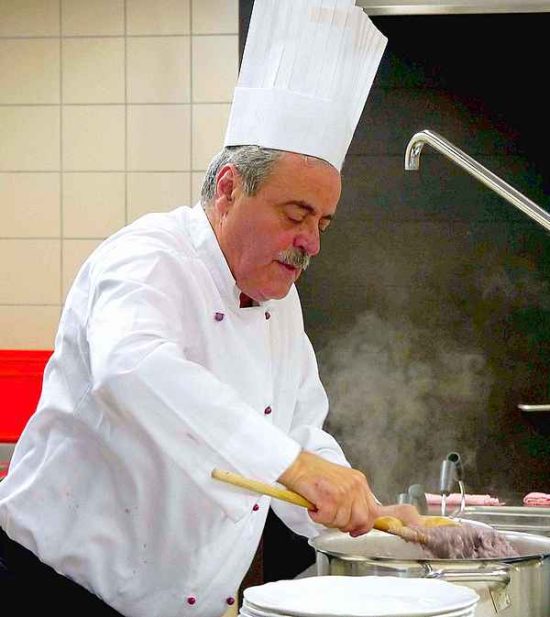 If you're going to spend all morning tasting 128 wines, you really need some hearty food to follow up. The Trento cuisine is a fascinating blend of Italian and Germanic foodways, and it's well suited to the regional wines. After we sampled our way through the wines, most of us had absorbed enough alcohol, even without swallowing, that we really needed a good meal. The Trentino wine consortium made sure we got it!
We started with a glass of light white wine made from the Incrocio Manzoni Bianco grape. It's part of a group named for professor Luigi Manzoni (1888-1968), who experimented with crossing a number of grapes during the 1920s and 1930s at Italy's oldest school of oenology in Conegliano, north of Venice. The bianco cross of riesling and pinot bianco (pinot blanc to French speakers) does quite well in cold climate, high altitude vineyards like Trentino's. In fact, it's often too vigorous and has to be aggressively pruned to keep from overcropping. A fairly delicate wine, it has just enough astringency to clear the palate before a meal.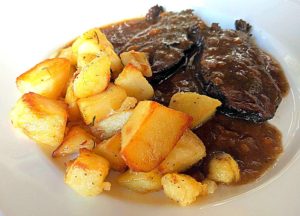 The meal was a humble feast of straightforward dishes typical of the region. We started with a red wine risotto—a treat when it's made with the local Teroldego red and the local grating cheese—before moving on to braised veal cheeks with roasted potatoes (right) and, for dessert, a beautiful apple strudel.
The local grating cheese, Trentingrana DOP, is made in a part of the province that falls within the delimited region for Grana Padano DOP cheese, but it has the name "Trentino" prominently stamped in the form that makes the big wheels. Since it's hard to find in the U.S., substitute a 24-month Grana Padano or Parmigiano-Reggiano cheese for the same effect.
Note that the chef stirred the risotto vigorously (see photo at top of post), almost folding the mixture as it cooked. The recipe below follows the traditional way to make risotto—about a half hour of stirring—though you could also use our pressure cooker method (see this post: https://hungrytravelers.com/learning-under-pressure/) by reducing the volume of liquid to about twice the volume of rice. Note that the alcohol and the tannins in red wine affect the cooking time, making it about 25 percent longer than using mostly broth and a white wine. But the extra time is worth it for the perfect melding of red wine and aged cheese with the creamy mouth feel of the dish.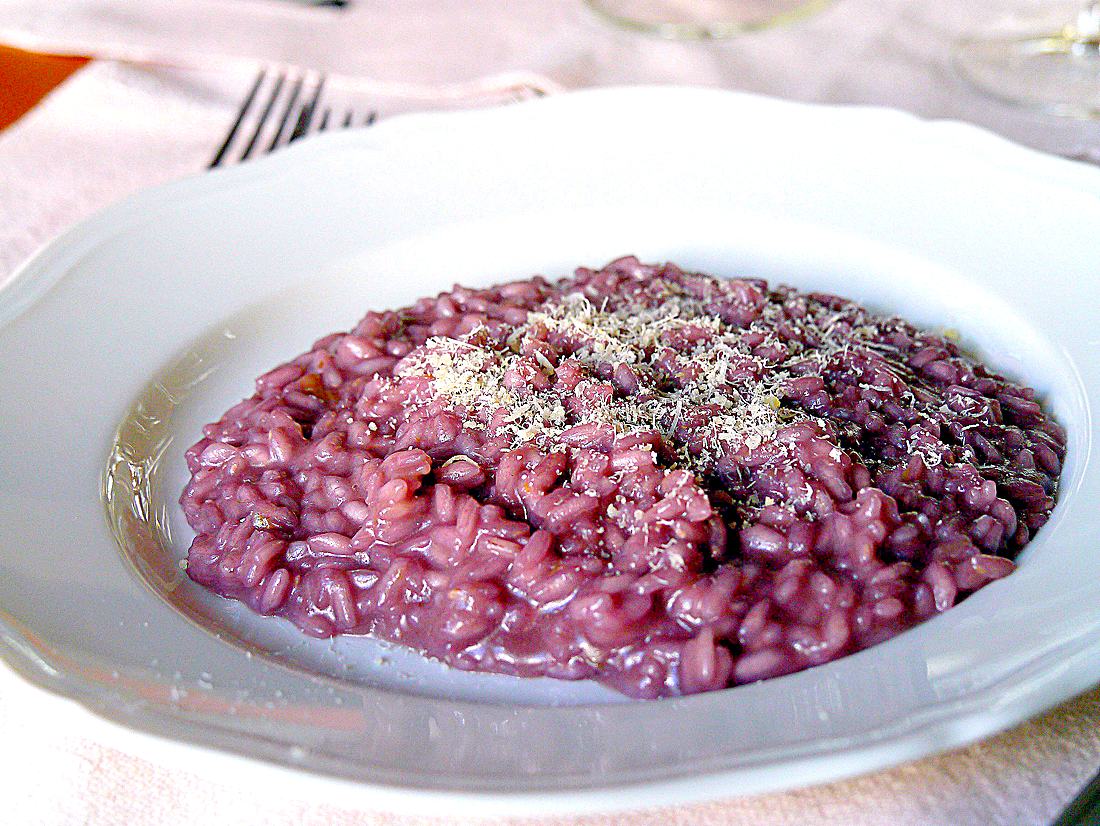 RED WINE RISOTTO
Serves 4
Ingredients
2 cups beef broth
2 1/2 cups red wine
1 tablespoon olive oil
1/2 cup minced shallots
1 1/2 cups arborio or carnaroli rice
4 tablespoons butter
salt and pepper to taste
1/2 cup grated Trentingrana (see above)
Directions
Place broth in a medium saucepan and add 2 cups of the red wine, reserving the remainder.. Bring the mixture to a simmer over medium-high heat. Reduce heat so wine-broth is hot but not simmering.
Heat oil in a large, heavy-bottom pot (a Dutch oven works well) over medium-low heat. Add shallots and and cook, stirring occasionally until shallots are soft and translucent. Add rice and 2 tablespoons butter and stir to coat.
Stir in the reserved half cup of wine and cook over medium heat, stirring until wine is absorbed. Stir in a half cup of the hot wine broth and adjust heat to a simmer. Cook, stirring constantly, until the liquid has been absorbed. Add more wine broth, 1/2 cup at a time, stirring after each addition until most of the liquid has been absorbed. It will take 25-30 minutes for nearly all the liquid to be absorbed. At this point, the rice should be creamy and glistening with a starch coating but still be al dente when sampled.
Adjust to taste with salt and pepper. Stir in the cheese and remaining 2 tablespoons of butter and remove from heat.
Remove pot from heat and cover to let rest about two minutes before serving in shallow bowls. Pass extra grated cheese.