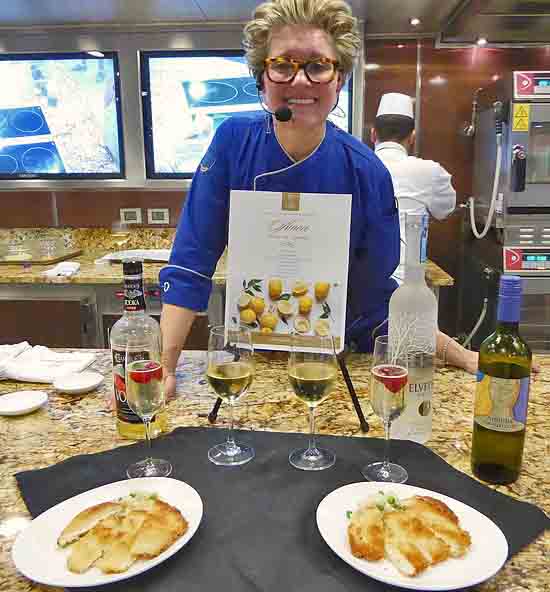 "Acid is as important to a chef as a knife," executive chef Kathryn Kelly (above) tells her culinary class aboard the Marina. "Use acid instead of salt to bring out the flavors in food."
Kelly is such a believer in gastronomic acids that she builds an entire cooking class around the signature tart fruit of the Mediterranean: the lemon. She calls the class "Amore—Love of Lemons," and it's a zinger. In two hours, up to twenty-two students learn to make egg-lemon soup, limoncello, preserved lemons, fennel salad with preserved lemon, lemon risotto, chicken scallopine al limone, drunken limoncello cakes, and lemon-basil gelato.
When Oceania Cruises (oceaniacruises.com) decided to make food the centerpiece of their voyages, the founders knew they needed more than good fine-dining restaurants. In this age where every experience needs a DIY component to make it seem authentic, they committed to a full-fledged on-board cooking program. And they found just the right person to run it. Kelly was teaching at the Culinary Institute of America in 2010 when Oceania Cruises wooed her to serve as culinary enrichment director.
She designs and often leads culinary shore excursions as well as the cooking classes. When the ship is at sea, the center usually offers two classes per day. When it is docked, there's usually only a single class. Since passengers can sign up for classes when they book their cruises, many classes are fully booked before the ship ever leaves port.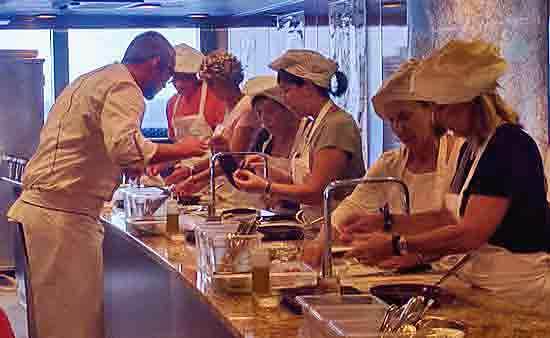 Intensive classroom experience

The state-of-the-art culinary education center has eleven combination prep and cooking stations, each of which will accommodate two students. The instructor—Kelly or another chef—demonstrates dishes at the front of the room where overhead mirrors and video screens allow every student to see what's going on. Typically the teacher runs through a recipe, then sends the students back to their stations to execute.
Kelly notes that the popularity of the lemon class is exceeded only by the "Fish Master Class." It teaches students how to handle six different fish and shellfish and prepare a striking dish with each. "A lot of people hesitate to cook fish at home," Kelly says. "This class gives them the techniques and the confidence."
The lemon class is full of bonuses—like a quick lesson in proper pan-frying technique when making the chicken scallopine with lemon and capers. "You want the oil just half the thickness of the meat. When you flip it over, no part gets double cooked and you don't get a brown line down the middle."
Or, when cooking risotto, she has every student bite down on a grain of rice at the eight and one-half minute mark. It provides a sensory memory of the point where the risotto is exactly half done. (Done properly, her risotto recipe cooks exactly seventeen minutes.)
The rustic little cakes for dessert are a special treat. She cautions that the thick dough should be placed roughly into the ramekins. "That way it cooks up with lots of holes and crannies to soak up the limoncello!"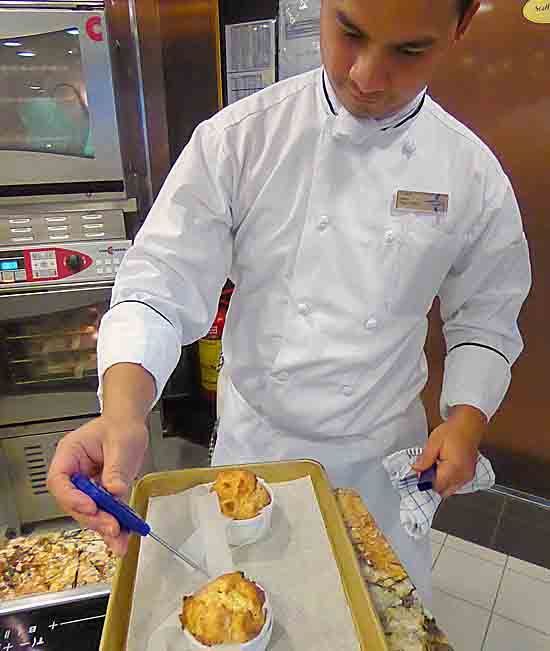 DRUNKEN LIMONCELLO CAKES

Kelly says that she adapted this cake from her great aunt's recipe. Any liqueur or liquor will suffice to make the soaking syrup, but limoncello is lighter and fresher than most.
Serves 4
Ingredients
Limoncello Syrup
1/2 cup sugar
1/4 cup water
1 cup limoncello
Cakes
1 tablespoon plus 4 tablespoons butter, room temperature
1 cup almond meal
1 tablespoon all-purpose flour
1/4 cup fine semolina
1/2 teaspoon baking powder
1 large egg, room temperature
1/2 teaspoon vanilla extract
1/4 cup sugar
Zest of 1 lemon
Directions
For Limoncello Syrup
In a small saucepan over medium, melt the sugar in the water. When cool, add the limoncello. Divide the simple syrup into four small soaking bowls, large enough to hold small cakes but not much larger.
For Cakes
Preheat the oven to 350°F. Butter four 6-ounce ramekins using 1 tablespoon of the butter. Cut parchment paper lifts (1-by-8-inch strips) and place two in each ramekin in a crisscross pattern.
In a medium bowl, whisk together the almond meal, flour, semolina and baking powder. In another medium bowl, mix the remaining 4 tablespoons butter, egg, vanilla, sugar and lemon zest. With a spatula, fold the wet mixture into the dry mixture and blend into a thick batter. Spoon one-quarter of the batter into each of the ramekins and bake for 10 to 12 minutes, until thoroughly cooked (instant read thermometer registers 210°F in the center).
Soak the Cakes
Remove the cakes from the oven and allow them to cool slightly for 3 minutes. While they are still warm, but not hot, lift the cakes from the ramekins and place in the small bowls with the limoncello syrup mixture. Allow the cakes to soak up the syrup for 15 to 30 minutes.
To Serve
Lift the cakes from the bowls and place on small plates. Top with gelato. (Kelly makes lemon-basil gelato for hers.) Here's how it looks: