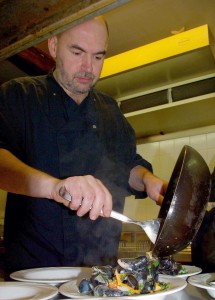 As Belgians will attest, beer is every bit as good as white wine for steaming mussels. Chef Eric Cauwbarghs of the Brasserie Kouterhof, which is attached to the 't Wit Gebrouw brewery in Hoegaarden, Belgium (about a half hour east of Brussels on a commuter train), showed me this straightforward but aromatic way to make a hearty winter dish of mussels and vegetables. The brewery's Hoegaarden witbier (white beer) is made with Curaçao orange peel and coriander, and the aromatics make a big difference in the flavor of the mussels. When I can't find Hoegaarden witbier at home (it's distributed selectively by Anheuser-Busch), I substitute another wheat beer and augment it with a little fresh orange zest.
MUSSELS IN WITBIER


Ingredients
2 pounds mussels
2 teaspoons olive oil
1 small onion, chopped fine
3 cloves garlic, thinly sliced
1 stalk of celery, cut diagonally in 1/2 inch slices
2 small crowns broccoli, sliced 1/4 inch thick on the long diagonal
1 large red pepper, seeded and cut in 1/2 inch strips
3/4 cup Hoegaarden witbier
1/4 teaspoon anchovy paste
1/4 cup heavy cream
3 scallions, thinly sliced
1/4 cup chopped parsley
Directions
1. Scrub mussels in cold water, removing any adhering beards or barnacles and discarding any broken mussels or any that don't close when touched by cold water. Reserve cleaned mussels.
2. Place olive oil in large sauté pan with tall sides. Warm over medium heat. Add onion and sauté until soft, about 2 minutes.
3. Add garlic, celery, broccoli, and red peppers. Turn heat to high. Stirring continuously, sauté until broccoli begins to soften, about 2 minutes.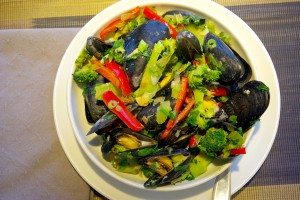 4. Add mussels to sauté pan. Add beer and anchovy paste and stir constantly over high heat until mussels open (2-3 minutes). Pour in cream and stir until warmed through.
5. Add sliced scallions and chopped parsley to pan. Stir well over high heat for another 30 seconds.
6. Serve with freshly cut bread, cold beer, and extra bowls for the shells.