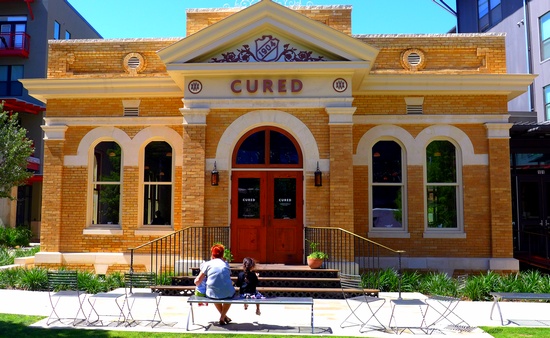 Long known as the cradle of Tex-Mex cuisine, San Antonio has definitely upped its game in the last few years. Until recently, a smattering of upscale, fine-dining restaurants like John Besh's Lüke on the Riverwalk and a plethora of steak houses formed the city's gastronomic constellation. That's changing quickly and a lot of action is taking place in the suddenly trendy Pearl District. San Antonio's spring-fed eponymous river made it an important beer-brewing town in the 19th century. The predecessor to Pearl Brewing opened in 1883, and the factory didn't close until 2001. The subsequent redevelopment of the 22-acre former Pearl complex is still underway, but it's already ground zero for serious foodies. Not only does the complex contain the San Antonio campus of the Culinary Institute of America, it has several terrific restaurants. Steve McHugh's superb gastropub Cured (306 Pearl Parkway, Suite 101, 210-314-3929, www.curedatpearl.com) joined the neighborhood at the end of 2013.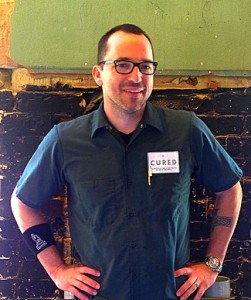 McHugh came to San Antonio from John Besh's flagship New Orleans restaurant August to open the old-fashioned German-style brasserie Lüke. Diagnosed with non-Hodgkins lymphoma in January 2010, he fought back. Once his doctor pronounced him in remission, he fulfilled his dream of opening his own restaurant. Since his specialty is charcuterie — he buys whole hogs and cures the parts in a glass-walled meat locker prominently featured in the dining room — he named his restaurant "Cured," a name with dual meanings. In addition to making his own hams and sausages, he crafts a whole range of charcuterie. A dollar from each charcuterie plate goes to a different charity each quarter.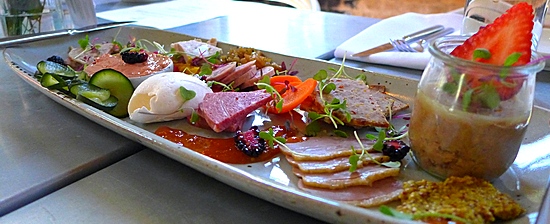 The food is terrific, and the lively ambience is infectious. The dishes are simple — a gumbo using his own smoked pork and andouille sausage, for example, or seared redfish with asparagus, citrus, and shrimp — yet they're always thoughtful combinations of flavors.
The Cured Burger is the talk of San Antonio and would make a big hit at any July 4 cookout. Here's a slightly simplified version of the recipe.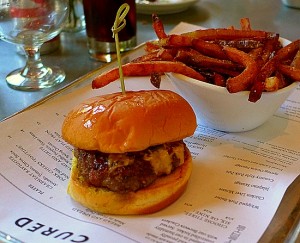 CURED BURGER

Three things make chef Steve McHugh's burgers so delicious and juicy. The meat is part beef, part cured bacon. McHugh is liberal with his application of salt and pepper. And he tops the burgers with an amazing smoked onion jam before putting cheese on top to melt. When we're in a hurry, we ask our butcher to grind the meat for us and we use the very good Roasted Garlic Onion Jam from Stonewall Kitchen.
Makes 6 burgers
For the Burgers
Ingredients
1 1/2 pounds top round, cut into large pieces
1/2 pound good quality bacon
Salt and pepper to taste
Directions
Grind the top round and bacon alternately through a large die (3/8") so that there is a good beef-to-bacon ratio. Switch to the smaller die (3/16") on your grinder and regrind the meat to a smooth consistency. Divide the burgers into six patties. Season your burgers with salt and twice as much pepper than you think. Pepper is the key to a great burger. Grill to medium well-done.
For the Onion Jam
Ingredients
4 yellow onions, top and bottom removed, peels left on
1/2 cup rice wine vinegar
1/2 cup water
1 cup sugar
Directions
Using your smoker, hot smoke your onions for 4 hours until completely soft. Peel the onions and place into a food processor and blend with vinegar and water. Place them in a pot along with the sugar and cook for 2 hours until a jam-like consistency has been reached. Reserve for later.
Assembly
Top the burgers with a spoonful of the onion jam and top with your choice of cheese. While Cheese is melting, place the rolls on the griddle to brown. Assemble and destroy!