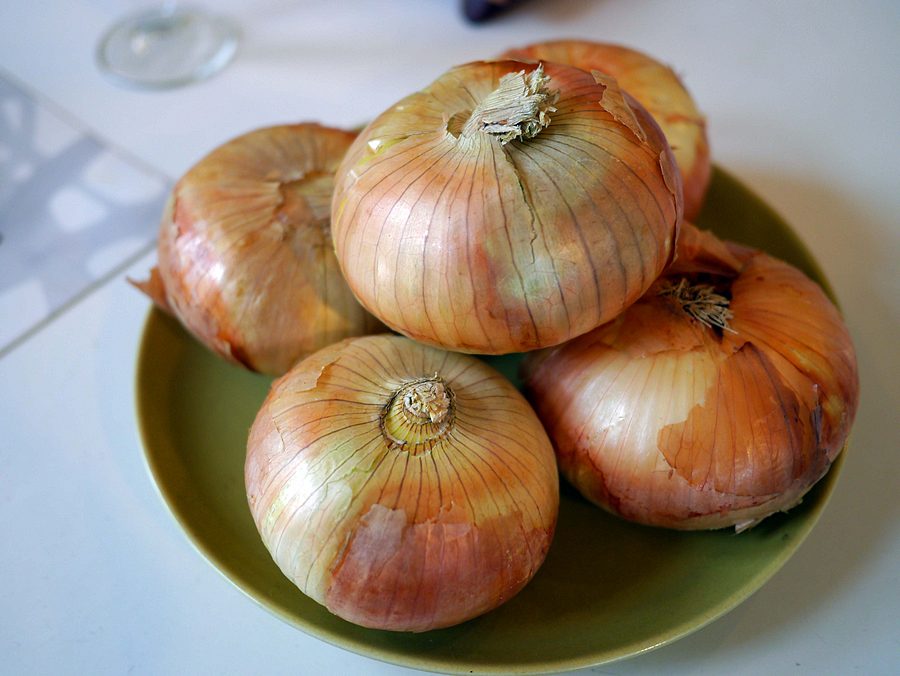 Vidalia onions are among the fruits and vegetables that mark the seasons of the year. We always love the challenge of eating our fill of such seasonal produce for the few short weeks that it's fresh. We've been a little impatient with the official state vegetable of Georgia because the harvest came late this year at the end of April. The onions are just starting to flood into the market.
It's not that hard to eat a lot of them in their short season. Their combination of high water content and low levels of the sulfur compounds that make other onions pungent means that you don't tear up when you slice Vidalias. Moreover, they impart a sweet onion flavor to dishes even before they are caramelized.
For an easy preparation, we like the Southern standby of baked onions. Wrap a peeled onion in a strip of bacon, hollow out the top and fill it with a bouillon cube, and bake at 400°F for about 45 minutes. It's for real onion-lovers. Vidalia onions also make good onion soup.
But our favorite is an Alsatian style onion tart. Usually sold in slices at bakeries in Alsace, this is what we think of as a custardized version of a pissaladière. We like to make it in an 18cm fluted French tart pan because the pan does all the work to make it look fancy. And 18cm (a little over 7 inches) is just right for two people to split with a green salad. If you don't like using strained bacon grease, substitute lard or vegetable shortening.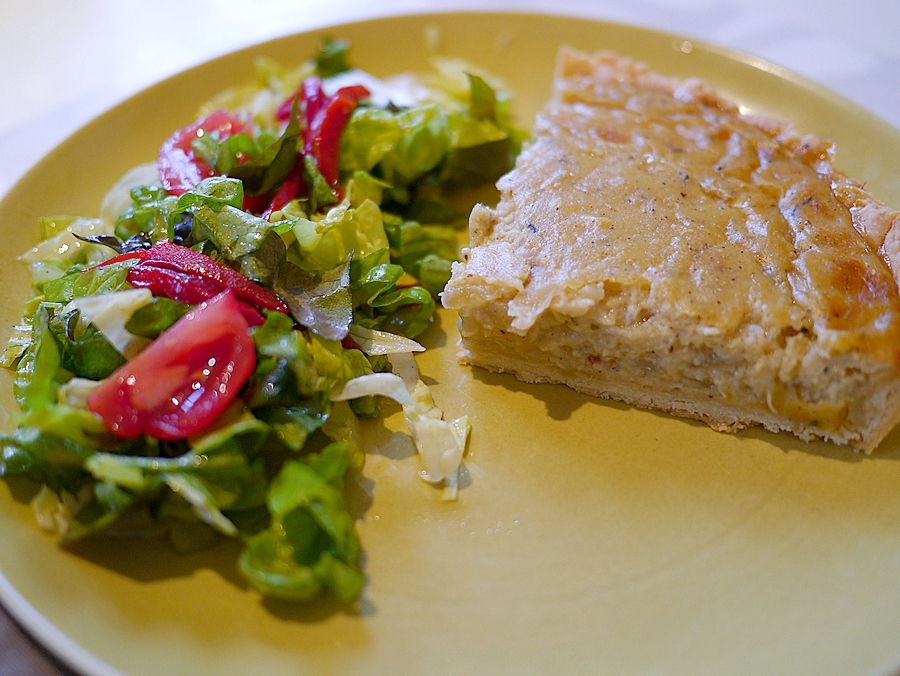 ALSATIAN ONION TART
Ingredients
For pastry
1 cup flour (142 grams)
1/8 teaspoon salt
4 tablespoons chilled butter
2 tablespoons strained bacon grease
3 tablespoons ice water
For filling
2 slices bacon, cut into 1-inch strips
4 tablespoons butter
5 cups thinly sliced onions
1/2 teaspoon dried thyme
Salt and pepper to taste
1/3 cup water
1/3 cup flour
1 cup milk
2 eggs
Directions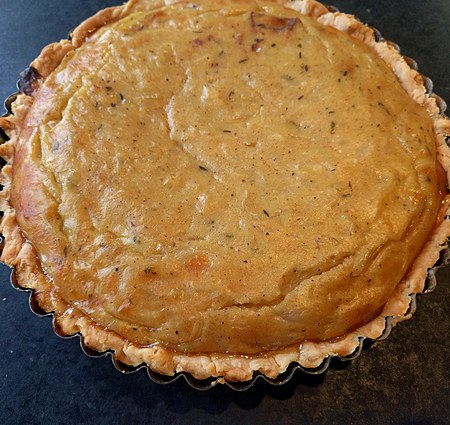 To prepare the pastry dough, place flour, salt, butter, and bacon grease in a food processor and pulse until the mixture resembles coarse meal. Add ice water 1 tablespoon at a time, pulsing to mix. The dough will clump but not form a ball. Transfer to work surface and press pieces together to form a ball, then flatten. Wrap in plastic wrap and refrigerate at least 1 hour.
Set oven to 375° F.
Cut two squares of waxed paper from a roll. Place one on work surface and dust lightly with flour. Unwrap dough and place on dusted paper. Press to flatten further and dust with flour. Place second piece of waxed paper on top and roll out into a circle about 1/16 inch thick. Peel off top layer of waxed paper and flip dough into 18 cm tart pan, pressing edges into the flutes. Prick bottom several times with fork. Using pie weights, bake pastry shell in oven for about 25 minutes or until lightly browned.
Directions for filling and finishing
Make the filling while shell is baking. A chicken cooker (a 10 inch extra deep cast iron skillet) is perfect for preparing filling. Place bacon pieces in pan and cook slowly until crisp. Remove bacon to paper towels to drain. Without draining, melt 2 teaspoons of butter in pan and add the onions, thyme, salt, and pepper. Stirring often, cook for about 5 minutes until onions begin to soften. Add water and cover pan. Cook over low heat 25-35 minutes, stirring often, until the onions are soft and amber colored. Remove onions to a strainer and let cool and drain.
Remove pastry shell from oven. Renove pie weights and let shell cool on wire rack.
Wipe out the heavy skillet and add remaining butter. Melt and stir in flour, mixing well. Cook over medium heat a few minutes into roux begins to brown lightly. Slowly whisk in milk, and stir continuously until well-incorporated and mixture thickens. Remove from the heat and fold in drained onions. Then fold in eggs, one at at time. Add in bacon pieces.
Fill pie shell with this mixture and bake 35 minutes, or until filling is just set. Let cool on rack and serve at room temperature with a green salad.