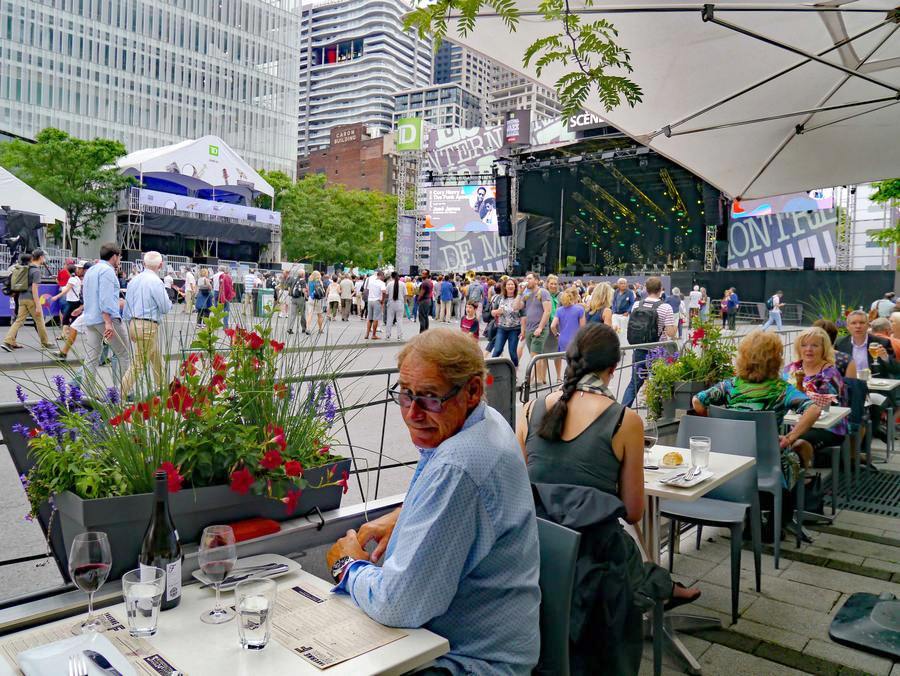 Two spectacular and chic dining venues on the Place des Festivals give some diners front-row seats for outdoor concerts during the Montreal Jazz Festival. Known simply as "F" and "T" to most Montrealers, they are the semi-casual little siblings of a couple of high-end gourmet restaurants. They're built along the side of the Place des Arts complex. As you might expect, their food offerings are far removed from the casual handheld fare offered at the kiosks inside the festival grounds.
Taverne F (below, left) (1485 rue Jeanne Mance, 514-289-4558, tavernef.com/en/) is the offspring of the city's go-to fine Portuguese restaurant, Ferreira Café on rue Peel. F focuses on petiscos, small plates meant to be shared. They range from pastéis de bacalhau (cod cakes with dried olives and red pepper) to polvo grelhado (grilled octopus, chick peas, pickled red onions, roasted peppers, and a Piri Piri emulsion). Just a reminder: Portugal makes some pretty great rosés for sipping. Sight lines, as you can see in the photo at the top of the post, give a decent view of the main stage at the head of Place des Festivals. Just one problem—dining companions should switch sides between courses so each gets to see the stage.

Brasserie T! (above, right) (1425 rue Jeanne-Mance, 514-282-0808, brasserie-t.com) shares some DNA with the ultra-fine dining venue Restaurant Toqué! Chef Normand Laprise started a revolution in Canadian cuisine when he opened Toqué! some 25 years ago. His "cuisine de produits" was built on the premise of close collaboration between the chef and his producers and suppliers. Whole fields of some farms were dedicated to the vegetables that he promised to buy. That restaurant remains at the forefront of North American dining, but T! is where Laprise fans go just to have fun with a confit salmon and fennel salad, one of Laprise's signature versions of foie gras, or a good old cheeseburger and fries (available with extra bacon, of course). T! is closer to rue Ste-Catherine than F, so the view of the stage is less direct. The sound, however, is fine.